'Time-sensitive requirements no more limited to E-commerce segment'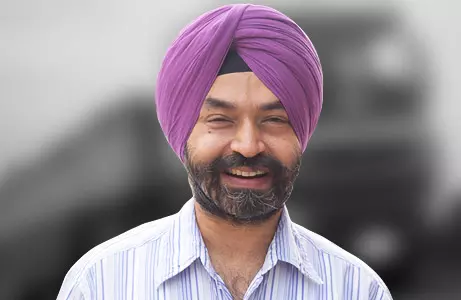 Full truckload (FTL) road logistics is a significant market space, that contributes around USD 50 billion to the country's GDP. However, it is highly fragmented and asset-heavy, and cumbersome owing to the manual mode of operations. Hoping to change this, Zast Logisolutions started as a service provider for time-sensitive cargo for e-commerce, courier, pharma, and retail in 2015. Today it is a high-speed, long-distance technology-aided trucking aggregator. ITLN spoke with Pervinder Singh Chawla, the Co-founder of Onmove by Zast Logisolutions to understand how it is building an eco-system for efficient trucking solutions.
Since its inception in 2015, what has the journey of Zast/OnMove been like? What is the size of its fleet and drivers who are currently onboarded with the platform and how many total deliveries have you clocked in India and overseas?
We started with a fixed, scheduled (two-way/one-way) trucking service in 2016 on limited long-haul lanes. We identified that one-way on-demand placement is the pain point of customers and to address the same, we increased the frequency of one-way service and started offering the service across the country.
Today we offer on-demand Full Truck Load services across all major hubs in India and also in SAARC countries and do 6000+ deliveries in a month. Onmove engages with a wide nature of partners including single truck owners (ownership limited to 1 – 3 trucks), promoters with a mid-sized fleet ( 10 – 40 trucks), and large fleet owners ( 100 + trucks). We have a network of 1000+ aggregated fleets dedicatedly running on our platform. Onmove aims to create a network of asset owners and customers in major geography in India and SAARC countries. Since inception, we have clocked 1.5 lacs long-haul FTL deliveries.
What is the size of the company and what are some of its growth figures in 2019, 2020, and 2021. What differentiates it from its competitors?
We are currently at a monthly run rate of 30 cr and growing at a CAGR of ~80% year on year for the past 4 years. We differentiate ourselves from our competitors in our offering of reliable one-way on-demand service with the use of tech to eliminate inefficiencies and create value for the whole ecosystem.
What are the current inefficiencies plaguing the current trucking industry that results in unreliable services? How much of these can be solved by technology and what are some of the other moving parts of this sector that can fix it?
The current inefficiencies that plague the trucking industry include:
-Information asymmetry on demand and supply
-Bloated costs due to low utilization of asset
-Nil visibility of the financial status of asset owners
Here, technology becomes a huge enabler to solving problems in this space, and different stakeholders including asset owners, customers, financial institutes, NBFCs, and OEMs need to come together to make a strong output.
How is Zast building an eco-system for efficient trucking solutions for time-sensitive cargo by controlling and selective aggregation of fleet owners?
Onmove is an aggregation platform that brings selective fleet owners together to offer time-sensitive cargo to customers who need reliable service. Onmove brings in efficiency by reducing waiting time, smart routing of vehicles, and optimizing the loads through load stitching. Onmove also serves the working capital requirements of fleet owners as all expenses in trucking are before asset–load engagement however receivables have reasonable credit days.
Can you explain how you are using technology and tech-enabled tools to plug the inefficiencies plaguing the trucking industry and using it to make it more reliable especially for time-sensitive cargo?
The time-sensitive movement needs 24*7 visibility of vehicles on a common platform so that load planning can be done. This needs smooth API integration across different GPS providers. Onmove uses its proprietary technology to create visibility of all assets and workflows that cut across drivers, owners, Onmove, and our customers. Our aim is to enable the small fleet owners with smart tech to provide financial visibility, digital load matching for better asset utilization, and digital payment solutions for their drivers by offering a one-click tech platform for all the information.
Considering that you have clocked an impressive CAGR of 80% in the last 5 years, what is the roadmap that you have for the future? What kind of expansion plans are on the horizon and are you looking at funding or investments for the same?
Our roadmap is to offer the Onmove model to customers in other segments that value the time-sensitive movement of cargo and also make the tech offerings available for customers. We have made inroads with industrial customers and with a proven model we hope to continue with the past growth rate.
What are some of the government initiatives that have been favoring the trucking industry in the last two years and what are some specific policy changes or updates that are expected when it comes to growing the trucking sector in India?
There are a lot of government initiatives that are aimed to make transportation efficient. Some of these initiatives that are acting as a catalyst for the growth of the sector in an efficient way are Gati Shakti, GST, E-WayBill, investment plans in road infrastructure, and digital India.
The pandemic has accelerated the need for time-sensitive goods and services, especially in the pharma, perishables, cold chain logistics, and infrastructure sectors. Do these factors affect the trucking industry and have brought changes?
The pandemic has only accelerated the pace of the transformation of industries to move material on time. Time-sensitive requirements now are not limited to the E-commerce segment and it is being demanded by customers in major segments where the value of goods is high or where the value of delivery is key like in the pharma industry.
What are some of the learnings the company has had during the pandemic and what are some changes that you have inculcated as a company for its customers and its functioning as a result?
One learning we had during the pandemic was that as an evolving organization we need to make processes and systems that work in a connected manner independent of situations. Another very important learning is that business should build long-term connections and think of value for the stakeholders it is associated with and not of short-term profits based on temporary situations. We continued sticking with our partners and employees during the tough pandemic times which helped us to build goodwill and become a brand that is synonymous with long-term association and benefits.
Zast Logisolutions is on its way for a brand change, kindly explain the reason for the change and what bearing it would have on the brand identity (if any)? What would it be called henceforth, do clarify the same?
Onmove Logistics Private Limited is a 100% subsidiary of Zast Logisolutions Private Limited. We are building Onmove as a brand of Zast now. The reason for picking Onmove is twofold Onmove as a name is more relatable to the industry we work in and it's a name which everyone can say especially many of our drivers, who are small fleet owners.