Go First, Lulu Group ink MoU to transport cargo from Srinagar to Sharjah
The UAE-based Lulu Group is expected to initially source horticulture, agricultural products and handicrafts from J&K and Go First is expected to provide logistical support for the same.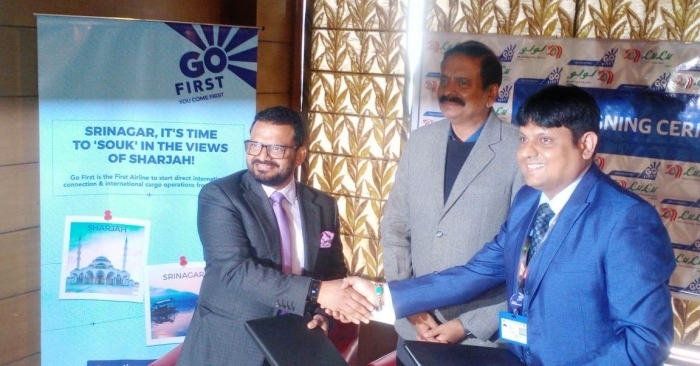 November 2, 2021: In a first, private airline Go First has inked a pact with the UAE-based Lulu Group to transport cargo from Srinagar to Sharjah earlier this week.
Go First was among the first airlines to start an international connection from the Kashmir valley and with this new development will be adding international cargo services from the sector as well.
The MoU(memorandum of Understanding) was signed between Mohit Dwivedi, the head of corporate affairs at Go First and Lulu Group director Salim M A in the presence of Ranjan Thakur, the principal secretary of Industries and Commerce, Jammu and Kashmir. While the MoU follows a similar one that J&K government had inked with the Dubai government, the Lulu Group is expected to source horticulture, agricultural products and handicrafts from J&K initially.
At the press meet, Lulu Group Director Salim MA spoke about the group's commitment to exporting fruits, vegetables, antiques and crafts to Gulf nations.
The airline is set to begin cargo operations from this December and is mostly expected to move perishable cargo from the valley to the Gulf region. The development is expected to buoy the fortunes of local farmers, growers and artisans in the valley.
Welcoming the move, Asif Jehangir, MD of Shaheen Agro Fresh Pvt Ltd, a cold storage chain in Pulwama told ITLN, "This is a welcome move as it will enable us to utilise our cold storage capacities and export the Kashmiri Grade Apples to Gulf nations even during off season. Due to the perishable nature of many fruits and agro produce, we could only cater to domestic markets but now we will get an opportunity to explore more business in the Gulf nations. While apples are mostly exported via sea owing to high freight fares, this development is significant for Kashmiri cherries which have a much shorter shelf life."
Incidentally, just last year, the Lulu group had announced a plan to set up a food processing centre in Srinagar for sourcing an array of agri products from Jammu and Kashmir. This is in line with the commitment made by the retailer during Indian PM Modi's visit to UAE back in 2019, aimed at sourcing a wide range of agri products from J&K and boosting exports of Kashmiri products.
"It is a good start and a move that will ease out the logistical challenges and the connectivity issues to Gulf countries that the region is facing. This move can be very beneficial to the local economy. This will also work well with the 2 lakh plus MT of private cold storage facilities available in Kashmir which is sufficient for the current demand and production. Currently J&K's horticulture industry stands at Rs 12,000 crore, with the major share taken up by apples, saffron, almonds, cherries and a small share is of walnuts. But the infrastructure needs to be ramped up if the demand surges. Another constraint the handicraft sector was facing was that they needed to travel outside of the state for testing/grading facilities but now they can directly export them to these retailers without any delays or additional costs," said Irfan Ahmad Guju , Chairman FICCI, J&K and Leh.
Sources close to the development aver that this is the first time that cargo is expected to be taken on a daily flight from the valley and that freighters may also be considered in the future for the exports.
Operated by an Airbus A320neo, the maiden GO FIRST flight G8 1595 departed Sheikh ul-Alam International Airport in Srinagar on October 23. Go First currently operates flights four days a week between Srinagar and Sharjah which is soon expected to become a daily flight, that will help boost trade ties between J&K and the Gulf regions.