GMR Hyderabad Air Cargo: Riding the surge
GMR Hyderabad Air Cargo (GHAC) has shouldered the responsibility to safely and efficiently handle and transport a significant quantity of inbound and outbound vaccine shipments from/to the region.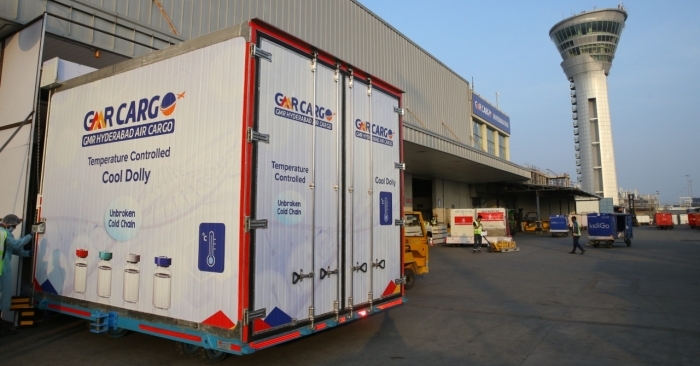 The Hyderabad region is set to be the single largest concentration of Covid-19 vaccine manufacturing capacities globally, with an estimated 3.6 billion doses of various makes of vaccines expected to be produced by facilities in the region over the next 18-24 months. And GMR Hyderabad Air Cargo (GHAC) has shouldered the responsibility to safely and efficiently handle and transport a significant quantity of inbound and outbound vaccine shipments from/to the region.
The last seven months of 2021 has kept GMR Hyderabad Air Cargo (GHAC) extremely busy. With Hyderabad touted as India's nerve centre for global vaccine manufacturing, the cargo terminal, a subsidiary of GMR Hyderabad International Airport Limited (GHIAL), has been at the forefront of Covid-19 vaccine transportation - right from the first consignment of Covishield vaccines in January 2021 until handling the recent single largest import consignment of around 3 million dosages of Russian made Sputnik V vaccines into India in June 2021. Armed with a World Health Organisation-Good Storage and Distribution Practices (WHO-GSDP) certification, GHAC has been continuously serving outbound and inbound vaccine shipments within temperature-controlled zones.
In its efforts to improve cargo handling at the terminal, GHAC is taking many product-specific initiatives to enhance infrastructure and service levels at every touchpoint. On the landside, the cargo terminal has expanded truck docks which will further speed up cargo acceptance and processing while enhancing operational efficiencies. Inside the terminal, GHAC has upgraded the entire export processing area into a temperature-controlled zone of 15-25˚C to provide added assurance of temperature stability to all export consignments handled at the terminal.
In view of the rising movement of temperature-controlled commodities such as pharma and vaccines, GHAC has increased capacity of all existing cold rooms in the terminal with different temperature zones such as such as 15 to 25 degrees, 2 to 8 degrees and -20 degrees Celsius. Similarly, it has expanded its existing partnerships with suppliers of active/passive cooled containers to offer the largest on-airport pool of such ULDs in the country today, and this is backed by a new dedicated 'Cooltainer Yard' for storage of these cool containers.
To maintain the unbroken cold chain on the airside, the terminal has introduced a unique temperature-controlled cool dolly to carry temperature-sensitive shipments from the terminal to the aircraft parking bay without risking exposure to the weather elements.
GHAC recently partnered with Dubai Airports for the launch of 'HYDXB-VAXCOR', a first of its kind strategic initiative in the industry to address the unique logistical challenge of moving vaccines between Dubai and India through the Hyderabad airport as a hub. "As a result of this agreement, the journey of the Covid-19 vaccine logistic cycle, from the manufacturing units to the airport, hub logistics to delivery, further to the end-customers are being streamlined. This is being carried out through a rollout of customised and simplified processes, along with infrastructural support. Once the vaccine exports pick up from India, this trade route will add immense value to the air cargo community," explains Saurabh Kumar, CEO, GMR Hyderabad Air Cargo.
GHAC has also been gearing up towards technology enhancements and has been recently integrating Vaccine Ledger, a next-gen blockchain solution to deliver enhanced track and trace solution and real-time monitoring of vaccine shipments from Hyderabad. For this, GHAC and Aerospace Engineering announced a partnership with Singapore-based technology startup StaTwig. "We have embarked on this partnership to enable the option of closely monitoring the real-time tracking of vaccine consignments moving through our cargo terminal. Vaccine manufacturers who use our facilities find this ability to be quite useful. As the solution uses blockchain technology it connects all the stakeholders across the value chain and is easy to use," said Saurabh Kumar.
In addition to the Vaccine Ledger, the terminal is also working on a range of digitalisation initiatives at GHAC aimed at improving operational efficiency, improving safety and security and enhancing all-round service quality. Some of the focus areas include new solutions for shipment track and trace, real-time temperature monitoring, automated weight volume dimensioning and safety video analytics.
Apart from pharmaceuticals and vaccine transportation, GHAC is giving equal impetus to perishable transportation. To amplify its efforts, GHAC has upgraded and expanded its export facility by converting most of the areas into 15-25˚C temperature-controlled zone to offer enhanced benefits for perishable shipments.
"We continue to work closely with shippers, industry bodies, government agencies and even farmers and their representatives to ensure that we offer the right set of facilities, services and information flow to enable the perishables trade to flourish in our catchment area. Based on the unique requirements of various types of perishables, we are also upgrading our cold room facilities," Kumar added.
From Telangana and neighbouring regions, the cargo terminal gets a variety of fresh fruits and vegetables including mangoes, pomegranates, arils, leafy vegetables, okra and chilli among others. The terminal also caters to exports of marine produce including prawns, shrimps, ornamental fish and other forms of live/chilled fish.
History has proven that out of chaos often comes opportunity. As GHAC continues to operate in today's environment, it has developed strategies to be successful, even in turbulent times. With its significant investment in infrastructure and strategies for growth, the terminal is proving to be preferred gateway for temperature-controlled shipments.
This article was originally published in Indian Transport & Logistics News' July - August 2021 issue.