Frankfurt Airport to host Auto SCM Summit for a third time at India's premier auto manufacturing hub
November 28, 2018: Pune, India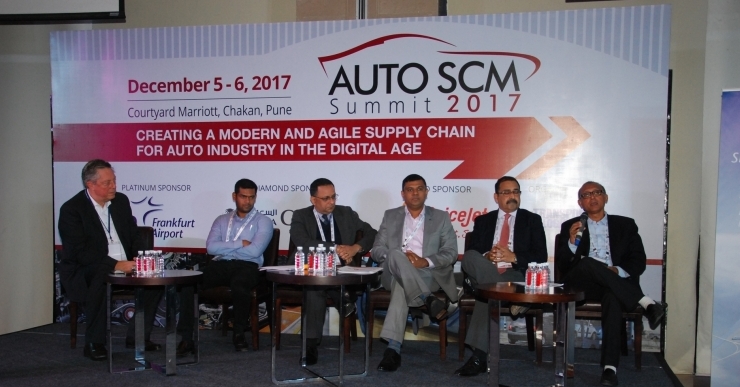 November 28, 2018: Pune, India's premier auto manufacturing hub, will host the Auto SCM Summit for a third time in a row supported by Frankfurt Airport, Europe's leading cargo airport. With the core theme of 'The changing landscape of Indian auto industry and the role of supply chain logistics', the two-day conference will be held on 5 & 6 of December 2018 at the Courtyard Marriott in Chakan, Pune.
Organised by the Indian Transport and Logistics News (ITLN), the event is supported also by Dachser, SpiceJet, Indospace and KredX. Federation of Indian Export Organisations (FIEO) and Indian Institute of Materials Management are significant partners for the event.
Commenting on the Auto SCM Summit partnership, Roland Weil, Vice President, Sales - Cargo, Fraport AG said, "The automotive supply chain traffic to and from India has been increasingly contributing to the cargo flow via the Frankfurt Airport. Therefore, we see the Auto SCM Summit 2018 in Pune as another perfect opportunity to maintain and grow the active dialogue with the Indian shippers and forwarders as well as with the government bodies and Federation of Indian Export Organisations (FIEO) to further enhance the airport service quality in Pune, Mumbai and Frankfurt."
Talking about Frankfurt Airport's continued support, Weil added, "As a result of last years' conferences, we enhanced our active dialogue with airlines to grow the cargo capacity between Germany and India. One of the first successes is the reintroduction of Air India's Mumbai-Frankfurt passenger flights (started on October 16, 2018) offering an average of 20 metric tonnes of cargo capacity per operating day."
Weil emphasised that since Frankfurt Airport stands for high quality standards and offers a manifold range of cargo services, it wants to learn more about the increasing needs and requirements of the Indian auto manufacturing industry and Frankfurt's Indian business partners to further enhance their service levels.
India surpassed Germany to be the fourth largest automobile market in the world in 2017, trailing behind China, USA and Japan. Pune is the main auto hub in India with the Pune-Talegaon-Chakan automobile cluster having an installed capacity of 1.1 million vehicles and three million two and three wheelers. The Indian automobile industry is on the cusp of transformation with the new emission norms and 'mission electric'.
The two-day conference is dedicated to address the concerns of the automobile manufacturers, airlines, airports, 3PLs, and other supply chains stakeholders, while highlighting the supply chain trends, multimodal growth, infrastructure support, digitisation and regulatory impact.
The speakers include Amit Borkar, GM-SCM, A Raymond; Achal Paliwal, CEO, TMLD, a subsidiary of TATA Motors; Sudhior Gurtoo, MD & CEO-India, Leadec Industrial Services; Surendra Mahindrakar, GM-After Sales, Nissan; Manoj Singh, Senior VP and head - cargo, GVK-MIAL; Huned Gandhi, MD, Air & Sea Logistics, Indian sub-continent, Dachser; Keku Bomi Gazder, CEO, AAI Cargo Logistics & Allied Services Company; Sandeep Sharma, GM, SpiceJet, among others.
The event is intended to provide insights and a networking platform for the automotive supply chain stakeholders.