Flower Logistics Africa 2019 focuses on visibility of flower industry through digital transformation
October 24, 2019: The fourth edition of Flower Logistics Africa had a full house representing a cross-section of the entire value chain of flower trade.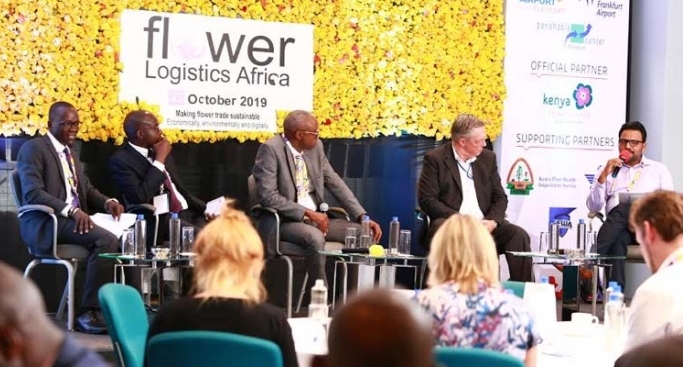 October 24, 2019: The fourth edition of Flower Logistics Africa had a full house in Nairobi representing a cross-section of the entire value chain of flower trade from Africa and outside. The core theme of the day-long conference revolved around "Making Flower Trade Sustainable: Economically, Environmentally and Digitally."
The participants deliberated on the typical challenges and changes faced in the floriculture industry as a whole, which is the fastest-growing sub-sector among Kenyan exports, with annual growth of more than 7 percent. The discussions delved into flower trade sustainable practices in the changing economy, Kenya's preparedness for big exports & new markets, and packaging innovations in flower transport.
In July 2019, African leaders from 54 countries signed the African Continental Free Trade Agreement (AfCFTA), the world's largest free trade area by the number of countries. While speaking on the impact of the implementation of AfCFTA on African flower trade, Clement Tulezi, the CEO of Kenya Flower Council, mentioned that for a long time, Kenya has over-relied on the European market. "I believe that we can diversify into other markets and become competitive even if we have other people who are present in those markets. We believe in the quality of our products, and with better promotion and entry into those markets, we are able to make headways," he said.
"It's easier for a person in Lagos to export flowers from Amsterdam than from Nairobi. This poses a challenge to us & we need to redefine our logistical processes to make African markets more commercially viable" - Clement Tulezi, @kenyaflower #FLA2019 #FlowerLogisticsAfrica pic.twitter.com/UrmorgfYgd

— FLA2019Kenya (@FlowerLogistics) October 23, 2019
While addressing the closure of some flower farms in the country in the past few weeks, Clement observed that the cost of doing business in Kenya is very high; interest rates, freight costs, taxes, availability of water, etc. "We have to be aware of these complexities and realities that are part of our business now, and be able to press the right buttons so that we have the right responses from the national government, central government, and all the players in between."
While discussing digital transformations and how data can improve transport and logistics for Africa, Jacob Bwana, the Cargo Commercial Manager at Kenya Airports Authority implored the different stakeholders present to digitalize the processes along the value chain. "This is what enhances data sharing and visibility of the processes, and this is what creates reliability and gives value proposition for the air freight business," he added.
At the moment, some of the challenges that Kenya Airport Authority and the air freight industry at large are facing include the lack of quality infrastructure, lack of open skies in the continent, and transportation of good across borders for final deliveries.
The event which was organised by Logistics Update Africa, a sister publication of ITLN, and was sponsored by Kenya Airways Cargo, Holland Flower Alliance, Saudia Cargo. The conference was also supported by industry associations such as Kenya Flower Council (KFC), Kenya Plant Health Inspectorate Service (KEPHIS), Kenya International Freight and Warehousing Association (KIFWA), and The International Air Transport Association (IATA).
Logistics Update Africa (LUA) is a bi-monthly magazine that brings news, views and stories of and from Africa about the continent's evolving transport and logistics industries. LUA is one of the four publications from STAT Media Group, the earliest business to business trade publication in transport and logistics in the world.