FROM MAGAZINE: Filling the gaps in logistics industry
Kushal Nahata, who bootstrapped FarEye along with two of his batch mates, talks about transforming logistics and supply chain industry using digital tools and software as a service and address the gaps in the industry with innovative customer first solutions using automation and machine learning.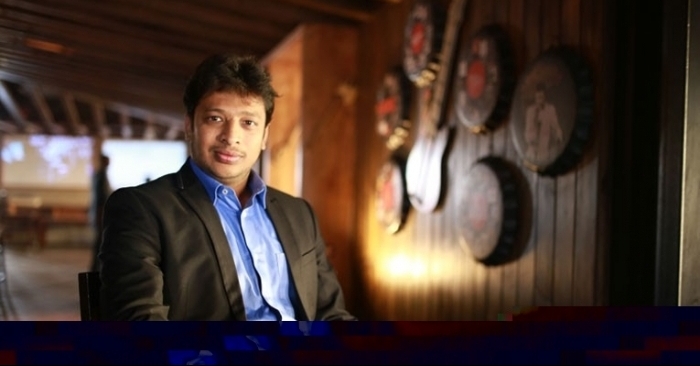 Kushal Nahata, who bootstrapped FarEye along with two of his batch mates, talks about transforming logistics and supply chain industry using digital tools and software as a service and address the gaps in the industry with innovative customer first solutions using automation and machine learning.
Reji John
Kushal Nahata, an electronic and telecommunication graduate from Kalinga Institute of Industrial Technology, Bhubaneswar in Orissa, founded FarEye along with Gautam Kumar and Gaurav Srivastava, two of his engineering batch mates. When I met him at his office in Noida, a suburban city of Delhi just across the state line in Uttar Pradesh, on a Saturday morning in October, he told me an anecdote. He said during his school and college days, he used to be worried and anxious about the arrival of his examination admit card by post. And he would have no means to find the status of its delivery. "Even today this seems to the experience for students around the country. Unless and until you get that card, you don't know what to do," he said.
That was the thought that triggered Nahata and his friends to start FarEye in 2013. They were creating a technology solution to an urgent problem in the logistics sector for the rapidly growing eCommerce industry. While the West had Amazon making waves, the East saw Alibaba making huge investment in eCommerce market places and in eCommerce logistics infrastructure. At that time, in India, a lot of companies in eCommerce began to raise funds and offer goods for sale online at huge discounts. In the early days of eCommerce, buying a product on online marketplaces was an experience full of uncertainty. There were teething problems with all Indian eCommerce companies particularly in the last mile delivery of goods purchased online. The whole process was cumbersome, inefficient and meant loss of time and money for the company.
"Our understanding was till the time you complete your purchase or order online, your experience is beautiful; but once you move beyond that, things begin to fail and disappoint. There is lack of visibility of your product when it is in transit. Just like the admit card, you don't know when the ordered packet will reach you. And that is where we found an opportunity," said Nahata. "Someone had to solve this problem and provide the visibility," he added
Soon the trio discovered that the logistics business was riddled with inefficiencies. Their start-up aimed to digitally transform the business with innovative 'customer first' solutions using automation and machine learning, and address the gaps in the logistics and supply chain industry.
According to Nahata, the way forward was either you build a logistics company and improve it or a build a technology and let the logistics company use it to become a lot more reliable or predictable. "We did not want to be a disruptive player but chose to be an enabler for the logistics ecosystem. We created a technology platform for logistics operations in order to optimise supply chain and provide predictive analytics leading to improved efficiencies and new revenue streams," he added.
After talking to several eCommerce players, in 2013 FarEye tied up with Jabong to help its then logistics arm GoJavas with product delivery. As they built their start-up they soon realised that it is important to take key stakeholders in the logistics value chain, like drivers and delivery staff, on their side and build solutions to make their job easier and their life more simple. "It should be designed to be from the productivity angle and not from a tracking angle. That was what we learnt from our interaction with customers and their delivery staff. And that did work very well," he said.
FarEye started with a pure play last mile delivery application which was designed for drivers to update shipment delivery in real time. It then moved to cash management because Nahata and his team understood that cash on delivery (CoD) was a lot more big problem then. The amount of cash outside office was very high. That led them to create a software suite, on the cloud, that offers solutions to multiple needs in the eCommerce delivery process.
Today FarEye application is live in 15 countries that include the US, Chile, India, Australia and countries in South East Asia.
Success of their application and how it brought efficiencies in the logistics value chain made them to look at scaling their products to include building efficiencies at the hub level. "There was no route planning systems at hubs. Most operations were manual. So we brought in a lot of intelligence into it. We asked how can we bring in automation in sorting?"
It is a fact that in eCommerce, the loads are unpredictable. Till a few years ago, a static routing method was the norm. But then it moved into a real time dynamic routing, based on a day's load. Can the routes be transformed? Can the system help the manager prepare smarter route? So these questions immediately became central to the development of FarEye products.
Over a period of time that FarEye created applications and they fine tuned them through extraordinary research into the terabytes of information and data collected. "Our ultimate aim is to save cost, save time to delivery and optimise the performance of hubs," Nahata said.
FarEye also did not focus just on eCommerce logistics and created solutions only for eCommerce companies but looked seriously at diversity in products and services. "When I order online, and things happen so well; why can't this be replicated into the entire transportation system?" asked Nahata.
FarEye ventured into replicating the B2C experience of logistics and delivery in the B2B market place too. The B2B world today lacks data-driven optimisation and predictability of freight across the supply chain. FarEye's Supply Chain Visibility platform allows enterprises to have complete visibility of goods while in transit from the plant right through to the final destination with seamless integration with all available data sources.
FarEye Transportation is an IoT enabled digital logistics platform which creates reliable, efficient supply chains by providing real-time visibility of all in-transit inventory. The suite brings all the stakeholders of the Supply Chain onto one common platform, integrating with ERPs, TMSs, IoT device to ensure common visibility and workflow.
On time delivery at a reduced cost is the only problem that FarEye is addressing at the moment both for B2C and at B2B customers. "Once we have addressed that problem, logistics industry will be at a different level altogether," Nahata said.
Talking about the future direction of FarEye, which has received three rounds of funding from Indian Angel Network, SAIF Partners, DHL, Nahata said that the aim is to build a sustainable business.
"For us the burn is purely more from a scale perspective, scaling into new regions and building new products. Logistics and transportation along with SaaS is what I see as a red hot space. There is an enough amount of interest from an ecosystem perspective and if you are actually able to solve a right problem and create a value for your customer, I do not see funding a problem," he said.