FIEO & PayPal sign MoU to empower small & medium businesses technologically
April 5, 2018: Global technology platform and digital payments leader, PayPal and the Federation of Indian Export Organisations (FIEO), India's apex i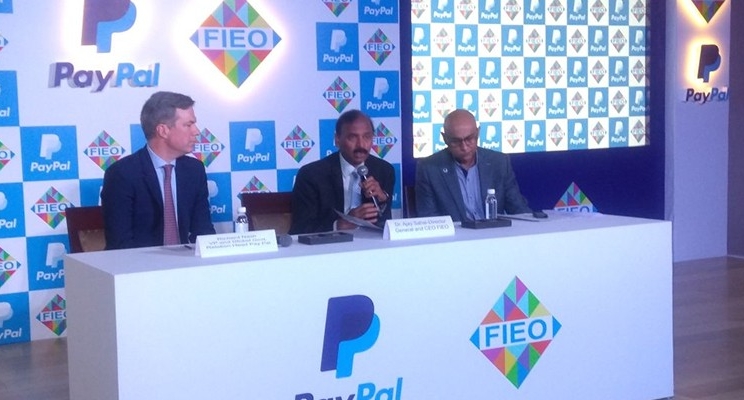 April 5, 2018: Global technology platform and digital payments leader, PayPal and the Federation of Indian Export Organisations (FIEO), India's apex international trade promotion organisation, have announced a partnership to promote exports while leveraging the technology and experience of each other. PayPal will work with FIEO to educate SMEs on how to leverage global opportunities, help them receive money in a safe and timely manner with PayPal products like invoicing and bring to them global best practices from across 200 markets.
Ajay Sahai, director general & CEO, FIEO said, "The MoU will help FIEO to reach the cottage industries, artisans, house-wives, youths, MSMEs and clusters, even in far-flung areas to develop their orientation towards exports. The Paypal products like invoicing solutions, safe and trusted payment options for buyers, easy integration with existing business systems will help encourage the entrepreneurs and the startups alike to take to exports without any difficulty, without much technical knowhow. All these are in line with the Prime Minister's vision of Make in India, Digital India and empowering the youth for start-up encouragement with export orientation."
Meanwhile, Anupam Pahuja, managing director and country manager, India, PayPal said, "With the shift towards an entrepreneurial mindset amongst Indians, the focus will now shift towards enablers that can fuel their success. This MoU will essentially focus on training Indian SMEs in various aspects of exports and familiarize them with global growth opportunities. Certain inherent challenges have deterred the Indian SME sector from performing to its true potential. Our programs and seminars will debunk myths and simplify the entire ecosystem for the SMEs. FIEO's members contribute to more than 70 percent of India's exports and we look forward to leveraging our partnership to strike the global chord."
Most small exporters from India tend to focus on the local market to steer away from the risks associated with operating in a global marketplace. Complicated shipping and exports procedures also serve as deterrents for this sector which has very high potential. The awareness programs will address some commonly faced challenges by SMBs and entail trainings to empower them with PayPal solutions tailored for this segment.