FIATA and FFFAI leaders announce 'FIATA World Congress 2018' in Delhi
January 18, 2018: Federation of Freight Forwarders' Associations in India (FFFAI), which is the apex body of 28 customs clearance and freight forwarde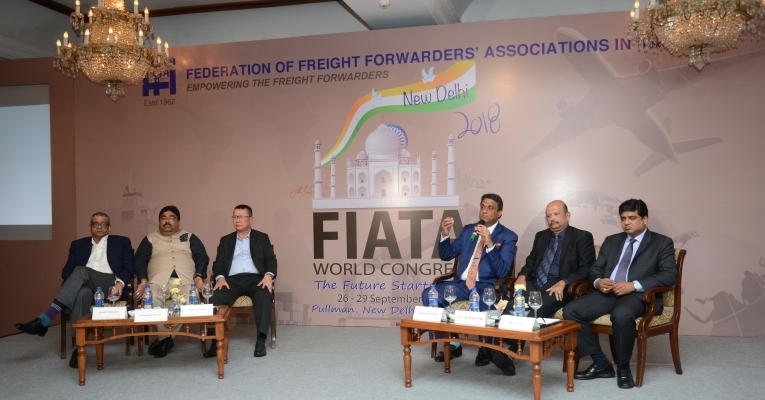 January 18, 2018: Federation of Freight Forwarders' Associations in India (FFFAI), which is the apex body of 28 customs clearance and freight forwarders associations from across the country will be hosting the first international logistics congress- 'FIATA World Congress 2018' (FWC-2018) from September 26-29, 2018 in New Delhi. To provide an update about the FWC-2018 at a well-attended press conference FFFAI office bearers and FIATA leaders from abroad announced that the World Congress will be attended by more than 1500 Indian and overseas delegates from different parts of the world.

The speakers focussed on the tremendous importance of logistics industry in India in view of present government's impetus on manufacturing, trade facilitation, exim trade and infrastructure development. "We were trying to organise this most important and prestigious international logistics event in India for last couple of years. We are happy and bullish about huge success of this event in New Delhi. Our government, which is very pro-active to facilitate logistics industry in the country, has promised full support to make FWC 2018 a grand success. We are happy to inform that Nitin Gadkari, Minister for Shipping, Road Transport & Highways, Government of India, has already confirmed his participation as Chief Guest. We are also expecting active participation other ministries as well viz Civil Aviation, Commerce, MSME, etc to this game changer event," informed Ashish Pednekar, chairman, FFFAI.
Apart from Pednekar, the press conference was addressed by Stanley Lim, past president, FIATA and chairman, FIATA World Congress Committee; Hans Gunther, director general, FIATA; Elena Primitzhofer, co-ordinator, FIATA World Congress Committee; AV Vijaykumar, chairman-elect, FFFAI; Debashis Dutta, past chairman, FFFAI and chairman, FIATA World Congress 2018 Committee and Amit Kamat, secretary, FFFAI and Congress co-ordinator, FIATA World Congress 2018.
Emphasising on skill development and conducive policies, Stanley Lim, past president of FIATA and chairman of FIATA World Congress said, "Asian trade volumes are increasing which is good. But for the trade to grow further, trade facilitation is crucial. That requires right kind of policies from the government." He further added," The industry lacks in trained manpower. Skill development is key. And the associations should take the lead in getting the right talent and train them."
Meanwhile, Stanley expressed his full confidence about the success of FWC-2018 in wake of the conducive environment for manufacturing, EXIM and logistics industry in India. He also commended FFFAI's leading role in developing freight forwarding and logistics industry in India in association with the Government of India. "India is well-prepared for hosting FWC-2018 in New Delhi and it would be the most exciting international logistics event," he expressed.
Photo Caption: (L-R) David Phillips, Debashis Dutta, Stanley Lim, Ashish Pednekar, AV Vijaykumar and Amit Kamat