EXTRA MILE to promote creating shared value in Hong Kong airport community
January 16, 2018: EXTRA MILE, a community investment project of Hong Kong International Airport (HKIA), has recently been launched.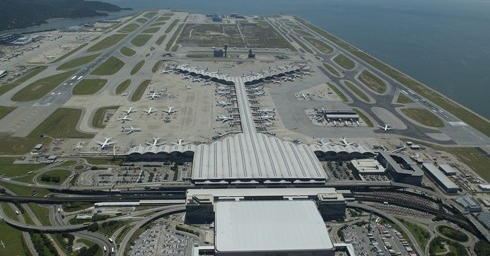 January 16, 2018: EXTRA MILE, a community investment project of Hong Kong International Airport (HKIA), has recently been launched. EXTRA MILE is spearheaded by the Airport Authority Hong Kong (AA); and through collaboration with HKIA's business partners, NGOs and neighbouring communities. The project aims to develop and nurture talents, improve social mobility and drive the development of HKIA and Hong Kong.
Matthew Cheung Kin-chung, chief secretary for administration of the Hong Kong Special Administrative Region Government; Fred Lam, CEO of the AA; Wilson Fung, executive director, Corporate Development of the AA; and representatives of the three community partners – Andy Ho, executive director of HKFYG; Benson Ng, director of HKSKH Lady MacLehose Centre (HKSKHLMC); and Maggie Fung, COO of Playtao Education Foundation Limited (PlayTao) attended the launch ceremony.
Dr. Raymond So, under secretary for transport and housing, representatives from 15 business partners of HKIA, and Francis Ngai, CEO of Social Ventures Hong Kong ("SVhk"), were also present when the EXTRA MILE project was officially kicked-off.
Cheung said that many successful corporations, like the AA, are responsive to social needs while developing their business. Recently, enterprises and organisations in the public and private sectors alike are actively embracing the concept of "creating shared values". This innovative business strategy is different from charity and corporate social responsibility. It encourages enterprises to make good use of the available resources, technology and experiences to spark innovation which can not only generate returns but also bring improvements to the economy, environment and people's lives, creating values for both the enterprise and the community.
Meanwhile, Lam said, "The aviation industry is closely related to Hong Kong's development. As a member of the industry, the AA has been fulfilling its social obligations and responsibilities, and at the same time, striving to promote social development. The AA shares the same beliefs as the Hong Kong SAR Government in respect to creating shared value, and formulated a community investment vision in 2015 to meet the challenges and opportunities brought by the growth of airport business. We conducted feasibility studies afterwards and initiated the EXTRA MILE project. We are glad that there are 15 business partners participating in the first year of the project, marking a good start."
EXTRA MILE is an innovative, multi-year community investment project. With SVhk as its project advisor, it includes three pilot programmes: Working Holiday@Lantau, The Pioneer and EduCare.
Working Holiday@Lantau is a one-year work placement programme for working youth, implemented in collaboration with HKFYG. It also includes exploratory programmes such as volunteering activities and community exploration; and provides free accommodation and learning subsidies to help participants explore their directions in life.
The Pioneer is a one-year work placement programme at HKIA for non-Chinese speakers (NCS) with leadership potential, executed in collaboration with HKSKHLMC. Through the programme, the AA hopes to cultivate a culturally inclusive working environment and attract more NCS to join the airport workforce, while nurturing them to become team leaders who may act as a bridge between local supervisors and NCS employees.
EduCare is an after-school care programme for students whose parents work at HKIA, implemented in collaboration with Playtao. The programme also offers parenting workshops aimed at alleviating the burden of parents, especially working mothers in Tung Chung. It aims to assist airport staff in establishing healthier family relationships, while developing the full potential of the latent female labour force.