FROM MAGAZINE: Exploring full potential of coastal and inland shipping
With India's road and rail infrastructure in most high-traffic areas running at full capacity, transportation through coastal and inland waterways could be a viable solution to ease the load. The challenging part is to persuade the industry to accept the massive modal shift.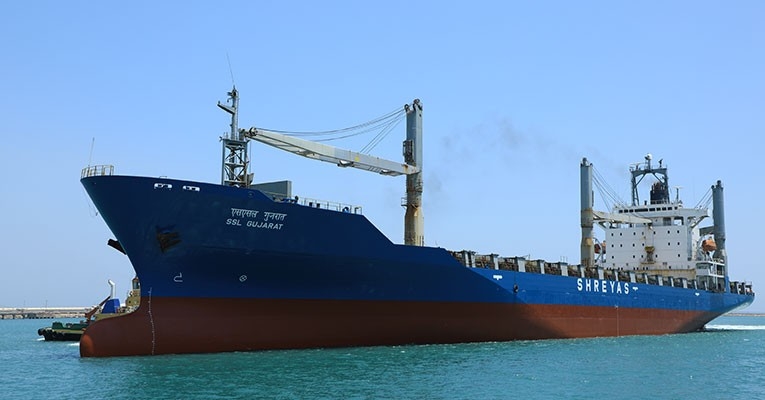 With India's road and rail infrastructure in most high-traffic areas running at full capacity, transportation through coastal and inland waterways could be a viable solution to ease the load. The challenging part is to persuade the industry to accept the massive modal shift.
Shreya Bhattacharya
With an extensive coastline and a chain of major and minor ports, India's policy makers have at all times been aware of the importance of the maritime industry and the alterations it can bring into the economy. However, in the past couple of years, a lot of activities, announcements, planning and discussions surrounding the Indian maritime have propelled its momentum and has brought it into the limelight. Sagarmala, Direct Port Delivery (DPD), cabotage rule are to name a few that have received top billings.
Distance covered till now
With a total of 605 projects identified till today, the mammoth Sagarmala initiative was one of the top agendas of the NDA government to leverage the maritime industry. Almost two years from then, today it seems to be driving in a slow lane with completion of 88 projects worth Rs 14.658 crore and 164 additional projects costing Rs 238,031 crore awarded.
Giving an update on the current status, Kailash Kumar Aggarwal, Joint Secretary (Sagarmala), Ministry of Shipping says, "Master Plans have been finalised for the 12 major ports. Based on the same, 142 port capacity expansion projects (total cost: Rs 91,434 crore) have been identified for implementation over the next 20 years. More than 50 of these projects are already under implementation while rest will be taken up in a phased manner," says Aggarwal.
"TEFRs (Techno-Economic Feasibility Report) have been finalised for six new port locations, namely – Vadhavan, Enayam, Sagar Island, Paradip Outer Harbour, Sirkazhi and Belekeri. DPR (Detailed project report) has been prepared for new port at Sagar Island and EFC (Expenditure Finance Committee) approval has been obtained. Small pieces of port land have also been earmarked for port led development under Sagarmala programme by five major ports- two coastal economic units at Kamrajar port and VOCPT port, two smart industrial port cities at Paradip and Kandla, one SEZ at JNPT," Aggarwal further shares.
Apart from this, 14 Coastal Economic Zones (CEZs) are proposed to be set up as part of port-led industrialisation objective of Sagarmala programme. These CEZs will be set up close to coastline that will help reduce cost of imports and exports for manufacturing units.
Also efforts are underway to accelerate use of waterways as a mode of transport of goods. This will help bring down logistics costs. 111 National Waterways (NW) have been identified of which five are being developed on priority.
"Government of India has declared 111 inland waterways as 'National Waterways' in 2016. These waterways, stretching over 20,000 kilometres all over India, are being taken up for development in a phased manner depending upon their technical feasibility for navigation," shares Rajat Sachar, senior economic adviser, Ministry of Shipping.
Sachar informs that the NW-1 from Allahabad to Haldia on the Ganga-Bhagirathi-Hooghly river system, NW-2 from Dhubri to Sadiya on Brahmaputra River and NW-3 from Kottapuram to Kollam on the West Coast Canal along with Udyogmandal and Champakara Canals are operational and cargo and passenger vessels are moving on them.
Construction and dredging is in process on the Jal Marg Vikas Project, the flagship Inland Waterway Transport (IWT) project on the Haldia – Varanasi stretch on Ganga. This is being carried out with the technical and financial assistance of the World Bank at a cost of Rs 5369.18 crore with the objective to enable movement of 1500 – 2000 DWT (Deadweight tonnage) vessels. The project would be completed in 2022. Phase-I of development of NW-4 on the Vijayawada – Muktyala stretch of Krishna River has commenced at a cost of Rs 96 crore wherein work for installation of floating terminals at four locations is at an advanced stage.
Importantly, a large amount of preparation goes into making this extensive network of inland waterways fit for operations, including measures like establishment of modern infrastructure, dredging to provide adequate draft, suitable vessel designing, River Information System (RIS) establishment etc.
Gaining confidence
With so many projects running parallel to lessen turnaround times at the ports and pressure on the highways, a vital question remains how to persuade the industry to accept this massive modal shift. The approach adopted here is to ensure ease of doing business by means of digitalisation, policy changes, fee reduction, technology upgradation, infrastructure expansion and its optimal utilisation and undertaking pilot movements to build in confidence among the industry stakeholders.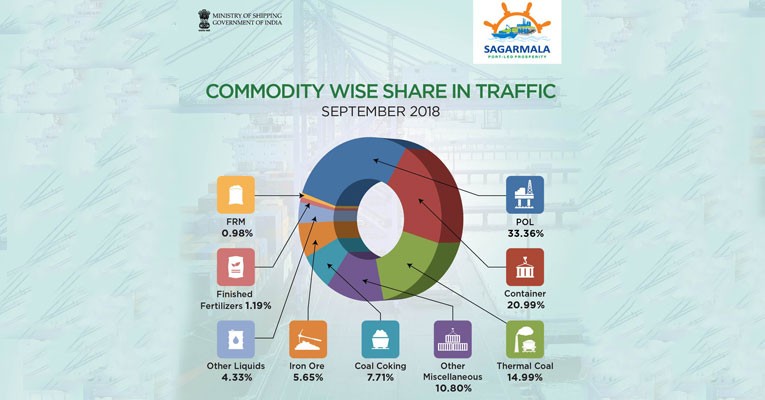 Source: Ministry of Shipping
During Apr-Sept18, petroleum, oil & lubricants dominated traffic mix at major ports in India with a share of 33.36%, followed by containers & coal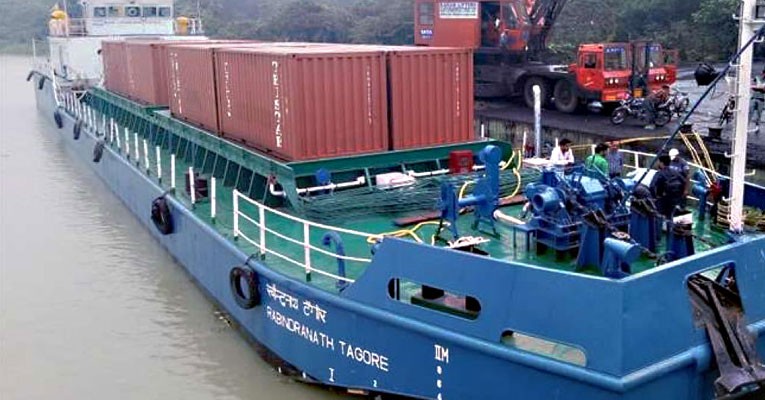 Cargo vessel MV RN Tagore with 16 containers belonging to Pepsico on river Ganges from Kolkata to Varanasi
On the technology front, Aggarwal shares that the Ministry has switched to e-forms instead of manual forms and has eliminated Form 11 and 13. This is applicable at all three terminals at JNPT and other major ports. All 31 shipping lines at JNPT are compliant with e-delivery capability and have implemented issuance of e-delivery orders. Other major ports have also been directed to implement the issuance of e-delivery orders. Also, all the major ports are in the process of implementing radio-frequency identification (RFID) gate automation system. The tendering process to procure RFID is in progress and all major ports are expected to complete this process by end of this year. All major ports are now using advance information of import cargo online by way of accessing Import General Manifest (IGM) message through integration with Customs software ICEGATE. This process has cut down dwell time significantly. Furthermore, at the ports, the Port Connectivity System is being upgraded to PCS -1X.
Apart from these Aggarwal further informs that all major ports have been directed to extend the Direct Port Delivery (DPD) facility to all Accredited Client Programme (ACP) clients and to provide additional land area for parking of DPD containers. The earlier conditions for providing DPD have been waived. The ministry is also looking at reduction of fee and charges and is likely to fix separate lower charges for cargo and vessels related services. It is also making arrangements to give special discount for the services rendered to exporter and importers after regular hours. The ministry has also initiated the process for procurement of container scanners for all major ports, a work which was earlier dealt by Central Board of Excise and Customs (CBEC). All major ports have been instructed to facilitate and provide land area for setting up of laboratories for animal or plant quarantine, for textile and the Food Safety and Standards Authority of India (FSSAI) within the port.
Meanwhile, speaking about the promotional measures to encourage inland waterways transportation, Sachar says, "IWAI has undertaken 13 pilot runs of various commodities on Ganga last year and two pilot movements to demonstrate connectivity of NW-1 and NW-2. In August 2018, movement of flyash between Kahalgaon on NW-1 and Pandu on NW-2 through Indo – Bangladesh protocol route, one of the longest IWT haul over a distance of 2085 kilometre on inland waterways, established technical and commercial viability of movement of goods on waterways through Bangladesh."
He added, "Ro-Ro services have been established recently between Neamati & Kamalabarighat and Dhubri & Hatsinghmari on river Brahmaputra (NW-2) in Assam and between Ibrahimpatnam and Lingayapalem on NW-4 on river Krishna in Andhra Pradesh."
Apart from this, dissemination of information on various measures is being undertaken through seminars and workshops, informed Sachar. To bring cargo owners and vessel operators under one platform, a portal named FOCAL has been designed and hosted on IWAI website. The website has also put various designs of efficient and shallow draft vessels for NW-1, for construction of inland vessels by private sector.
With so much promised, seems like these concepts have finally started finding takers. Recently, the Inland Waterways Authority of India (IWAI) flagged off India's first container movement on inland waterways. Belonging to the beverage giant PepsiCo (India), 16 containers were moved from Kolkata to Varanasi on river Ganga (NW-1). The vessel MV RN Tagore, which carried the containers, equivalent to 16 truckloads, was received by Prime Minister Narendra Modi at the newly developed multi-modal terminal in Varanasi. He also inaugurated the multi-modal hub under the Jal Marg Vikas Project. The hub is part of National Waterways-1 (NW-1) which connects Varanasi to Haldia.
The JMV project, which is being jointly funded by the Indian government and World Bank, has three multi-modal hubs (at Varanasi, Sahibganj and Haldia), two inter-modal hubs, five Roll On – Roll Off (Ro-Ro) terminal pairs and new navigation lock at Farakka across the entire stretch of river Ganga. The route will officially make NW-1 operational for ferrying cargo vessels. Meanwhile, the vessel is expected to make its return journey with fertilizers belonging to IFFCO that will be procured from its Phulpur plant near Allahabad. Earlier, in 2016, Gadkari had flagged off a consignment of Maruti cars from Varanasi to Haldia. Since then pilot movements on National Waterways are being done on various stretches.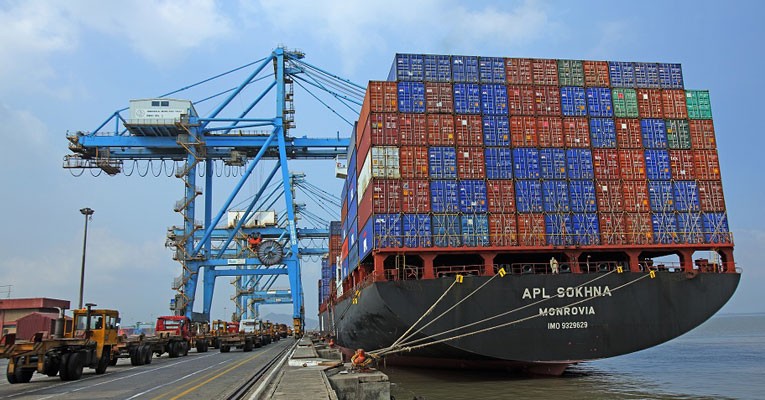 Container Terminal at JNPT, Mumbai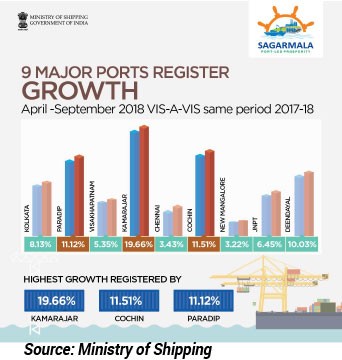 Beyond the borders
The inland waterways are not just restricted to transporting cargo within the country. It is also being envisaged as an important concept for cross border transportation. India and Bangladesh recently discussed various issues pertaining to the protocol arrangements and improvement of inland water transportation between the two countries in the 19th Standing Committee meeting under 'Protocol on Inland Water Transit and Trade' (PIWTT) held at New Delhi.
Talking about the "tremendous potential" of using inland waterways for cargo transportation to neighboring countries like Bangladesh and Nepal, Sachar said, "A Protocol for PIWTT already exists for IWT connectivity with Bangladesh. There are eight protocol routes connecting India with Bangladesh and also the North Eastern Region of India. There are five port of calls each in India and Bangladesh on these protocol routes. The vessels of one country can ply on protocol routes of other country and vice-versa. While currently approximately 3 MMTPA of traffic, predominantly flyash, stone chips, and other building material is currently moving to Bangladesh, the potential for cargo movement between India and Bangladesh via IBP (Indo – Bangladesh protocol) route is significant."
Sachar also informs that an assured depth dredging project has been taken up on selected stretches of Indo – Bangladesh protocol route for connectivity between the North East region and Bangladesh. The project will ensure round the year connectivity and will cost Rs 305.84 crore, which will be shared in the ratio of 80:20 between India and Bangladesh, respectively.
Also, cooperation with Nepal to establish IWT has commenced in 2018 after agreement between the Prime Ministers of the two countries. The cargo movement between India and Nepal is possible through NW-1. The Nepal bound cargo can be transported from Haldia / Kolkata to Sahibganj / Kalughat by NW -1 and thereafter by road using NH- 31/33 from Sahibganj and NH- 22 & NH-114A from Kalughat through Biratganj and Birnagar Check post. With the expected inclusion of waterways as a mode of transport in Treaty of Transit and Trade between India and Nepal, the Nepal bound cargo is expected to shift to inland waterways, informs Sachar.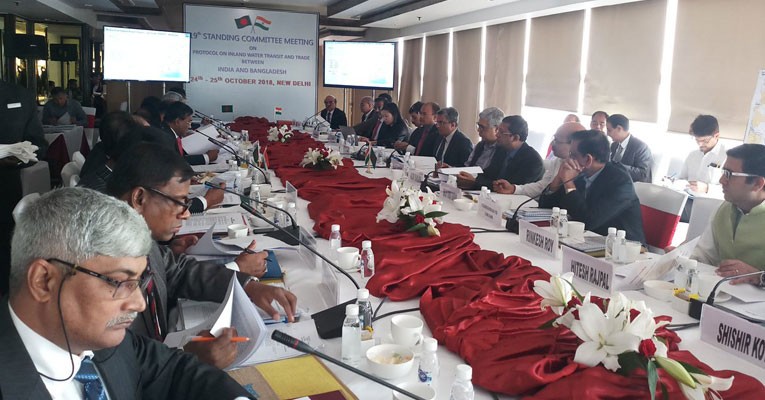 Shipping Secretary Level Talks between India and Bangladesh to sign agreements for enhanced trade, cruise and passenger movements through waterways.
Road Ahead
While the long term results of the ongoing projects look ambitious, many private players still lack confidence about the short term tangible incentives.
For instance, concerns have been raised about the technological advancement which hasn't been as smooth as claimed. While the innovative ICEGATE has eased the tedious customs clearance process, many industry players have not been able to use it seamlessly and insist upon removing glitches from the portal.
Captain VK Singh, CEO of Shreyas Shipping highlights few more challenges. "Land side logistic cost is high which takes away advantage of coastal shipping in the multimodal logistics. We do not have any world class transshipment hub container terminal at right location to compete with even Colombo. No level playing field for Indian tonnage on coast as compared to foreign ships mainly due to taxation policies in India. There is shortage of maritime ancillary facilities in India. Port costs in India are very high which also contributes to high logistics cost."
Singh says the above challenges can be dealt by correct study and right solution by the Indian government.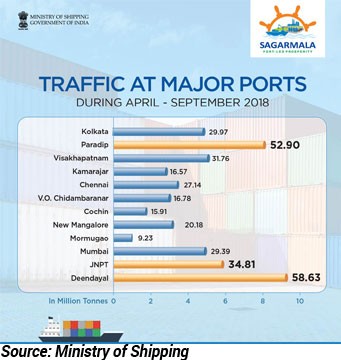 Meanwhile, Axel Mattern the CEO of Port of Hamburg, expresses inquisitiveness about how India's shipping sector adapts to the new changes brought by the GST. Commenting about some of the challenges faced by the maritime industry Mattern says, "It remains to be seen how the shipping and logistics sector adapts to the new changes brought by the GST, although there are concerns that this sector might be adversely affected. In terms of maritime capabilities, India is consistently being outperformed by many of its Asian neighbours."
He further adds, "According to the 2016 World Bank global performance index, India ranked at position 35 out of 160 counties. Some of the port-related problems that India faces are equipment incapable of handling large volumes, deficient dredging capabilities, outdated navigational aids and IT systems, lack of high quality logistics companies and not enough training and technical expertise."
India is on position 10 among Hamburg's trading partners in container traffic. In container trade between India and the Port of Hamburg 2,25,000 TEUs were handled in 2017 by Hamburg. In addition to the mentioned direct container traffic there are around 80,000 TEUs which reach Indian ports by feeder from Colombo.
Meanwhile, concerns have also been raised about the funding, required for the mammoth Sagarmala project. A public-private partnership is quintessential if the project needs to reach a logical ending. In a recent move, the Inland Waterways Authority of India (IWAI) forayed into Public Private Partnership (PPP) when it handed over the operation and management of its terminals in Kolkata to Summit Alliance Port East Gateway (India) (SAPEL) on a supply, operate and maintain (SOM) model. The operator will have the right to collect user fees from the users as per the tariff rates notified by IWAI and the contract will be valid for a period of 30 years.
Another point of contention is the relaxation of the cabotage law. While it is a welcome decision for the foreign players, the Indian vessel owners have a different story to tell. In May, the Shipping Ministry issued a notification lifting restrictions on foreign registered vessels on transportation of loaded or empty containers between Indian ports. Earlier, it was the prerogative of Indian registered shipping lines that paid taxes and were governed by Indian laws.
The idea is to make Indian trade more competitive. The move would allow coastal movement of export, import/ empty containers by foreign vessels leading to healthy competition among local and foreign shipping lines, which could translate into reduction in freight rates and a balanced environment.
Lauding the move, Steve M Felder, the managing director of Maersk Line for India, Sri Lanka, Bangladesh, Nepal, Bhutan, and the Maldives says, "First and foremost, the relaxation of cabotage regulations has opened new avenues for transshipment trade volumes, empowering importers and exporters, enabling shipping lines to open new routes, and enabling Indian ports to compete equitably for transshipment traffic. According to the Container Shipping Lines Association (a lobby group of foreign carriers), transshipment volumes in India were 16,000 TEU in July, up 43 percent on the previous month. This is expected to reach 100,000 TEU in the coming year. The cabotage relaxation also aids in freeing up rail and road related congestion. As an example, Maersk Line has commenced imports and exports to Far East from Hazira. Previously, this cargo was moving on road to Nhava Sheva, but can now be exported from or imported to Hazira, further enabling trade and simultaneously reducing the inland transportation cost. Moreover, it has also helped in improving the transit times. From Hazira to North America, our transit time has reduced by 7 days.
While the relaxation has been touted as a 'game changer' by many, Indian fleet owners are up in arms against the decision and call for saving Indian flag ships from being wiped out. Raising doubts on the effectiveness of the government decision, they claim the new law may restrict the growth of Indian tonnage which is must for any developed nation.
Commenting on the decision, Captain Singh says, "We do not see relaxation of cabotage law helping India's maritime sector in any way instead just helping select few foreign shipping lines.
Transshipment of Indian Exim cargo earlier carried out at neighboring foreign ports have not at all shifted to Indian ports as volume of Indian cargo transshipped at Colombo has only increased since cabotage law relaxed. No additional transshipment has been carried out at any Indian port other than Mundra that too for the shipment which was directly moving in and out of JNPT and Hazira earlier. Movement of empties was carried out primarily on sectors where coastal vessels were not operating but there is no advantage to shippers. Further it has impacted revenue of major ports and GOI and advantage to foreign shipping lines. No movement of domestic cargo on foreign flag as per relaxation so far."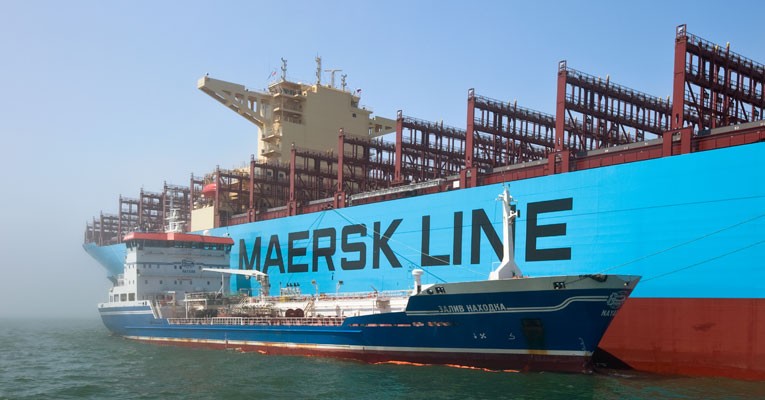 He further adds, "Part of volume which was carried on our coastal tonnage has moved to foreign tonnage which is ultimately loss to us and gain to foreign lines but nothing for Indian maritime sector."
It is important to note that most countries have a cabotage law in place to provide a shield to their national ships and extend benefits to them. The United States, for example, does not allow coastal trade on ships unless they are built, owned and manned by the natives. With the move, the foreign players now have the benefit of having tax legislation, cabotage legislation and its relaxation in their favour leading to a cost benefit definitely in favour of them. At the same time, it also can't be denied that it will have a positive impact on the competitiveness of the Indian traders and manufacturers by reducing the supply chain lag time and transshipment cost at a foreign port.
The matter needs to be dealt with sensitivity and a balanced approach needs to be ensured that can lead to a level playing field between both the parties.
For global participants, a look from the outside does provide a positive picture as of now. "Our business partners in India report to us that they see improved service offerings and that for example more feeder services offer better connections now. We expect that at the end more competition will have influence on existing shipping services and new services will be established," concludes Mattern.