Emirates SkyCargo boosts enhanced pharma transportation with launch of pharma corridors
January 22, 2018: Emirates SkyCargo, the freight division of Emirates, has stepped up its commitment to securely transport temperature sensitive pharm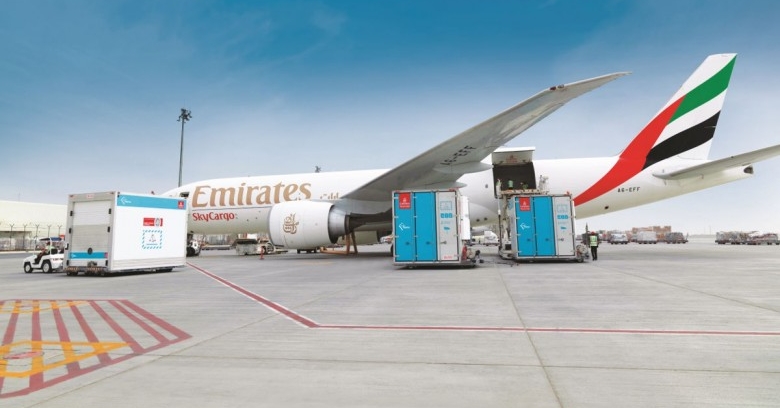 January 22, 2018: Emirates SkyCargo, the freight division of Emirates, has stepped up its commitment to securely transport temperature sensitive pharmaceutical shipments with the introduction of pharma corridors offering additional protection across selected stations in its network for pharmaceutical cargo.
Emirates SkyCargo is working with ground handling partners and other stakeholders at multiple cities across its global network in order to ensure that handling operations for pharmaceuticals at these stations are uniform and comply with Emirates SkyCargo's stringent norms for pharma transport as well as with either EU Good Distribution Practices (GDP) or IATA Centre of Excellence for Independent Validators (CEIV) pharma guidelines. Emirates SkyCargo will therefore be able to provide a supplementary protection of product integrity during transport of temperature sensitive pharmaceutical cargo through these cities.
In 2016, Emirates SkyCargo's operations at its hub in Dubai including its dual cargo terminals at Dubai International Airport, Dubai World Central and the interconnecting trucking operations were certified as compliant to EU GDP guidelines by Bureau Veritas, Germany. Operating the largest GDP certified multi-airport hub in the world, Emirates SkyCargo offers round the year secure transportation of pharmaceutical cargo at its hub in Dubai. The introduction of pharma corridors with a focus on non-hub handling activities allows it to go one a step further for the protection for pharma cargo.
Nabil Sultan, Emirates divisional senior vice president, cargo said, "As a customer focused organisation, we have been listening to feedback from stakeholders in the global pharmaceutical industry. We realised that it was essential to work with our partners on the ground at the various stations in order to ensure that pharmaceutical cargo travels under the best conditions not only through our state of the art facilities in Dubai and when onboard our modern aircraft, but right from the point the cargo gets dropped off at the origin airport until it is collected at the destination airport. We are also actively exploring the roll out of dedicated pharma flights across our network. Emirates SkyCargo constantly strives to offer the best solutions for our customers."
The first 12 stations in Emirates SkyCargo's pharma corridors are spread across three continents and include Amsterdam, Brussels, Bengaluru, Cairo, Dublin, Dusseldorf, Hong Kong, Luxembourg, Milan, Rome, Shanghai and Singapore.
The rollout of pharma corridors was led by pharma specialists in the Emirates SkyCargo team working in coordination with cargo service delivery teams and ground handlers locally at stations. In addition to enhanced training provided to staff handling pharmaceutical cargo at the stations, the team also undertook a number of engagement and qualification visits in order to prepare for the rollout. Further cities are expected to be added over the course of the year.
Emirates SkyCargo's pharma corridors enhance its Emirates Pharma air transportation solution. The air cargo carrier has also invested in developing White Cover thermal blankets in addition to innovative containers such as the Emirates SkyCargo Cool Dolly or the White Container to guarantee that lifesaving medicines travelling through its network are not compromised. Emirates SkyCargo has a fleet of over 50 cool dollies dedicated to pharma cargo.