E-commerce & global manufacturing shift to help Indian warehousing bounce back: Colliers
August 4, 2020: Covid-19 induced e-commerce demand and US-China trade war triggered rebalancing of the supply chain will attract more investments into the Indian warehousing sector in next 2-3 years and is expected to bounce back quickly, even though funds will be muted for at least one year, as per the new report 'Revitalizing the Indian industria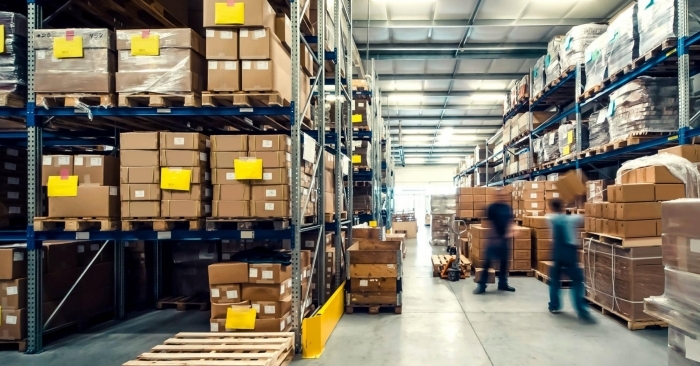 August 4, 2020: Covid-19 induced e-commerce demand and US-China trade war triggered rebalancing of the supply chain will attract more investments into the Indian warehousing sector in next 2-3 years and is expected to bounce back quickly, even though funds will be muted for at least one year, as per the new report 'Revitalizing the Indian industrial and warehousing sector' released by Colliers International.
"Investment activity may be muted for the next one year due to slower decision-making by investors because of the ongoing pandemic. However, we expect the inflow from both foreign and domestic funds to grow over the next 2-3 years as existing participants expand their portfolio and new players enter the market. Owing to robust demand from e-commerce and other consumer-led occupiers, we expect the segment to bounce back quicker than other segments of real estate," said the report.
The industrial and warehousing sector in India has attracted significant investor interest since 2017 owing to the reforms introduced by the government. These reforms include implementation of the Goods and Services Tax (GST) regime, accordance of infrastructure status to the sector, the creation of a logistics park policy and the development of multimodal infrastructure, among others.
China to India
Covid-19 has fast-tracked the global supply chain rebalancing which was triggered by the US-China trade war. Globally, manufacturing companies are actively evaluating a China+1 supply chain strategy, wherein they establish an incremental supply base outside China.
Apple is looking to shift nearly one-fifth of its contract manufacturing to India in anticipation of producing Rs 3.0 trillion ($ 40 billion) worth of smartphones in the next five years. Also, Foxconn plans to invest up to Rs 75 billion ($1.0 billion) to expand a factory in southern India where the Taiwanese contract manufacturer assembles Apple iPhones. Further, a German footwear brand Von Wellx plans to shift its entire production from China to India, bringing an initial investment of Rs 1.1 billion ($ 15 million).
"We expect India, with its large labour force and domestic consumer market, to be in a good position to increase its global supply chain market share in the next 3-5 years. Our interaction with key developers in the industry suggests that automotive and electronics and are expressing interest in setting up facilities in Bengaluru and Coimbatore and that some of these companies may shift some manufacturing from China to India over the next two years," said the report.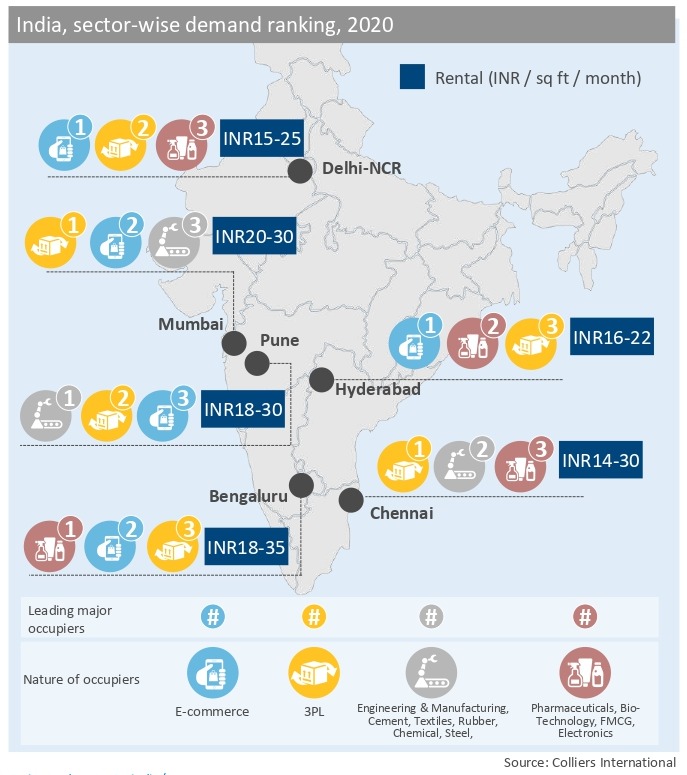 Covid-19 triggered e-commerce demand
During the Covid-19 pandemic, the e-commerce ecosystem has witnessed a significant shift, with e-commerce players witnessing a steep rise in order volumes. E-commerce players dealing with groceries such as BigBasket and Grofers have reported a five-fold rise in sales during the initial phase of lockdown and it is reported that India's online grocery market sales may reach Rs 225 billion ($ 3 billion) in 2020, registering a growth of 76 percent from 2019.
E-commerce companies are focussing on same-day delivery with the pandemic influenced lockdowns placing greater dependency on e-commerce for food and grocery items. E-commerce companies are now trying to stock a larger proportion of inventory closer to their customers' locations for efficiency and to improve the quality of products upon delivery.
As of July 2020, Amazon plans to set up 10 new fulfilment centres across the country to increase its warehousing capacity by 20 percent. After this expansion, Amazon will have about 60 fulfilment centres with more than 32 million cubic feet (906,100 cubic metres) of storage space spread across 15 states.
"We expect occupiers to scout for in city warehousing space in the range of 5,000-10,000 sq feet (464-929 sq metres) in major demand hubs such as Mumbai, Bengaluru and Chennai and the NCR. Considering the challenges of last-mile delivery due to the lack of such facilities in core city areas, occupiers are now turning to available older/lesser utilized ground level office spaces, service centres, pending minor structural changes," said the report.