"Hire a logistic aggregator to streamline your e-commerce business"
The e-commerce websites and marketplaces tie-up with the logistic aggregators to run their shipping operations smoothly.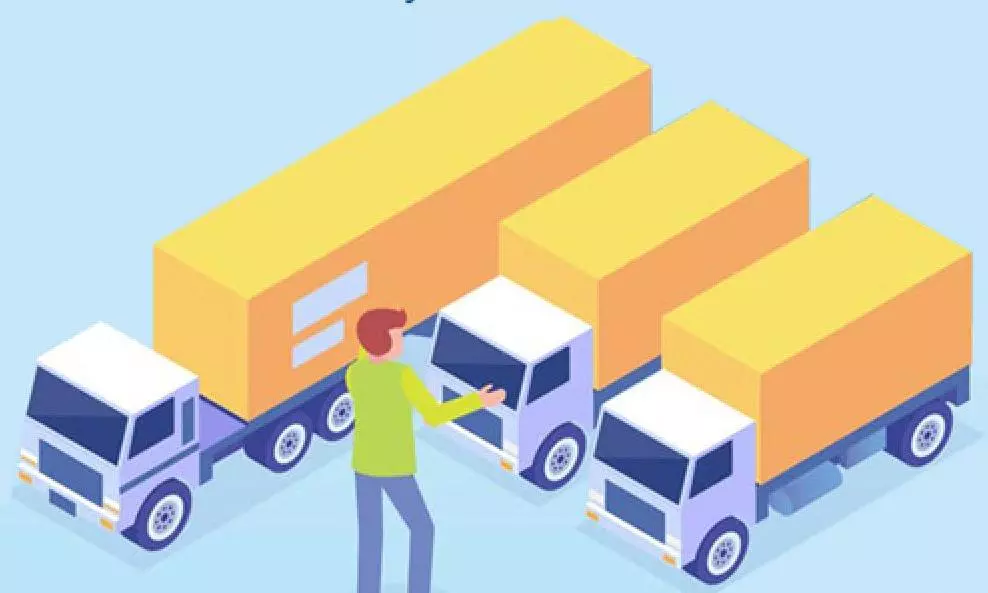 According to a report shared by Statisca, the market size of the logistics sector is expected to reach $380 billion by 2025. India has a high logistic cost and spends 14 percent of its GDP on transportation and logistics, which is greater than most other developing nations' spending in this industry.

Bulk sales and excellent customer satisfaction are major goals of e-commerce businesses. Any e-commerce business can achieve its goals if the warehouse works well and shipping goes smoothly. As digitization increases and customer expectations evolve, logistics companies are facing unprecedented change. New business models and technologies are enabling greater efficiency in addressing the growing challenges and disruptions in the industry. New entrants are also shaking up the industry, and the e-commerce platforms are under acute pressure. Delivering exceptional customer service by ensuring fast and flexible deliveries at a low delivery cost to the buyer is quite challenging. But with the rise of new business models, businesses are continually strategizing to meet these challenges.
What is a logistic aggregator platform?
The e-commerce websites and their affiliated marketplaces tie-up with the logistic aggregators to run their shipping operations smoothly. These aggregators are the companies that are integrated with multiple courier agents. The logistic aggregators facilitate a uniform and streamlined platform to monitor the shipping orders and manage communication with multiple courier partners. One of the biggest challenges that e-commerce businesses are confronting is managing the high volume of orders (say, more than 2000 orders per month) and integrating them quickly with multiple courier partners. This is when the logistic aggregator comes into the picture. The aggregator helps the businesses quickly integrate with specified courier partners through pre-existing contracts. A reliable, logistical aggregator can help any e-commerce entity accomplish its business productivity goals. Let's dig deep and understand how this platform is helping e-commerce businesses manage their key deliverables:
Expanding the reach of your business through multiple courier partners
E-commerce companies with a huge customer base usually outsource their logistics operations to manage them more efficiently. No doubt that an in-house logistics team can also serve the same purpose, but managing all these business operations requires a great deal of investment. This is where the courier aggregators can pitch in to rescue you from the hassle of managing logistics operations. The major benefit of hiring a logistics aggregator for your business is that it helps you expand your reach. For instance, if your existing courier partner does not deliver a product in any remote areas, then the aggregator platform can help you reach your customer through another delivery partner providing sweeping coverage. The aggregator platform provides a huge list of integrated courier partners available in their desired locations. The in-built interface on this platform has many filters like pin code, pickup/return, delivery, and price, which can help you choose the courier partners for the desired pickup and return locations. A big allure of this platform is that you can choose low service rates for your order deliveries that fit your budget.
Multiple API integrations
With a logistic aggregator platform, you can have the provision of directly integrating orders from your website or marketplace with the shipping partners. The multiple APIs help you connect with the APIs of shipping aggregators. These APIs fetch data from your website and save the orders on the aggregator platform, which helps the shipping reach directly to the desired pin code. The whole API integration on this platform can help prevent any loss of the items ordered from your site and keeps you updated about the fulfilment procedure.
Ease of access with a multifunctional platform
The courier aggregators help you handle deliveries and returned orders by redirecting or reprocessing them through their centralized platforms. The pioneering solutions provided by the logistics aggregators include AI-driven NDR management, communication management via WhatsApp, SMS, and IVR, and real-time tracking for the orders placed by the buyers. The logistics aggregators have fully implemented NDR management in place that helps in synchronizing and ensuring smooth return operations. They provide a streamlined platform to monitor shipping orders and manage communication with multiple courier partners.
Easy payment options
The end-users in the e-commerce ecosystem are provided with different payment options such as cash-on-delivery, prepaid, payment by UPI, debit/credit cards, etc. The shipping aggregators also offer a variety of payment methods for the sellers including prepaid and postpaid options. These different modes of payment help end-users and sellers choose the payment method of their choice which in turen delivers a positive experience.
All-embracing aggregation of advantages
Courier aggregators have facilitated and simplified access to multiple shipping companies for Indian e-commerce companies. Following the rise of e-commerce businesses, shipping aggregators were brought in to create competitive pricing and offer their customers a much more accessible COD facility. Courier aggregators' core competencies include a convenient option for acquiring shipping partners; quick access to a large number of Pan-India Pin codes; various payment plans such as prepaid and postpaid; value-added services (such as cash on delivery; express or hyper-local delivery; same-day or next-day delivery; real-time tracking of customers' orders); and so on. Such an extensive range of services and customer-centric support helps create a cordial relationship between the client and the customer, with the aggregator being the link between the two.