E-commerce magic: Warehousing tech, changes and more
Delivery in less than 10 minutes, warehouses over a mn sq.ft. Indian e-commerce industry is on the verge of taking off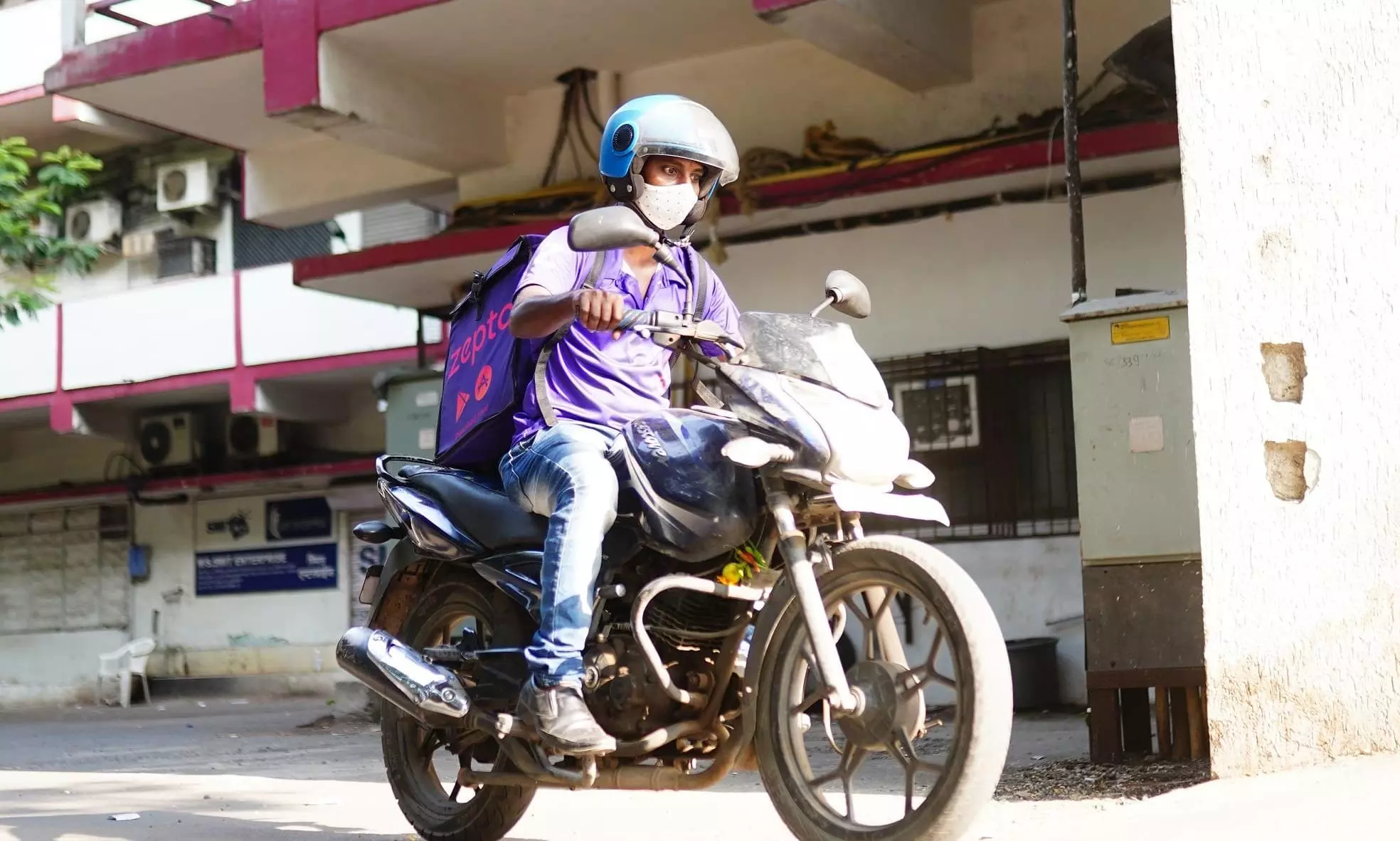 From around $75 billion in 2022, the Indian e-commerce market is seen around $200 billion by 2025 - a phenomenal growth opportunity for the sector and allied sectors.
The next generation of e-commerce is characterised by several key trends including:
*Increased focus on customer experience: Next-gen e-commerce platforms are focused on providing a seamless, personalised experience for customers across all touchpoints, from browsing to checkout.
*Increased use of artificial intelligence: AI is being used to personalise recommendations, improve search results, and streamline the checkout process.
*Increased use of voice assistants: Voice assistants are becoming more prevalent, and e-commerce companies are incorporating them into their platforms to provide customers with a hands-free shopping experience.
*Increased use of augmented reality: Augmented reality is being used to provide customers with a more immersive shopping experience, allowing them to see how products will look in their homes before making a purchase.
*Increased use of blockchain: Blockchain technology is being used to increase transparency and security in the supply chain and improve the tracking of products; and
*Increased use of social media: Social media is becoming a key channel for e-commerce with companies using platforms like Instagram and Facebook to reach customers and drive sales.
The next generation of e-commerce is focused on using technology to provide customers with a more convenient, personalised, and engaging shopping experience.
Technological challenges e-commerce companies face include:
*Personalisation: Providing a personalised shopping experience for each customer is a complex challenge, requiring the use of advanced data analysis and machine learning algorithms.
*Payment security: Ensuring the security of sensitive payment information is a major concern for e-commerce companies as data breaches can lead to financial losses and damage to reputation.
*Scalability: E-commerce companies need to be able to handle large amounts of traffic and transactions, and the technology infrastructure must be able to scale quickly to meet increased demand.
*Inventory management: Maintaining accurate and up-to-date information on inventory levels can be challenging, especially for companies with multiple fulfilment centres and complex supply chains.
*Shipping and logistics: E-commerce companies must have efficient shipping and logistics processes in place to get products to customers in a timely and cost-effective manner; and
*Fraud detection: E-commerce companies must be able to detect and prevent fraudulent activities such as chargebacks and identity theft.
Overall, e-commerce companies must navigate a complex technology landscape to provide a seamless shopping experience for their customers.
And the best example covering all this is Zepto - the poster company for quick commerce (q-commerce) in India. "Powered by balanced delivery distances and strong tech capabilities, we have managed to make 10-minute grocery deliveries a reality in the country," says Roshan Shaikh, Chief Expansion Officer, Zepto. "On the back of unprecedented growth, Zepto raised $50 million at a valuation of $225 million in its Series B, led by Glade Brook Capital in October 2022 (10 weeks after launch). Two months later (18 weeks after launch), Zepto raised $100 million at a $570 million valuation in its Series C, led by Y Combinator Continuity.
"In March, just eight months after launch, Zepto became the fastest company in Indian history to hit $100 million in annualised sales, overall making it one of the fastest-growing Indian companies of all time. Today, Zepto is 19 months old, and the company is doing hundreds of millions of dollars in annualised sales and lakhs of orders every day across all major cities in India. Today, we service a majority of pin codes across 10 urban cities in India, delivering over 5,000 products including fresh fruits and vegetables, daily cooking essentials, dairy and home essentials."
"As a disruptor, the strategy that set us apart and helped us introduce to India its very own quick commerce experience was defining quick delivery by distance and not by speed to live up to our core promise of 10-minute grocery delivery. This meant going beyond the legacy e-commerce model and building a new one that strategically places delivery hubs/dark stores in closer proximity to our audiences. Each of these dark stores covers a radius of 1.8 kilometres – lower than any other hyper-local player in the country. This helps us ensure quick delivery within shorter distances without rushed speeds, which is critical for us to adhere to the rules and keep our riders and delivery partners safe.
"The team at Zepto addressed this solution via two approaches - tech and workplace efficiency. We set up hundreds of optimised micro warehouses/delivery hubs that are operational 24x7 and help us deliver over 5,000 products in less than 10 minutes well within less than a year of Zepto's establishment. It is important to operate these delivery hubs seamlessly in order to provide uninterrupted services to customers, and tech plays an important role in ensuring zero downtime and efficiencies in utility bills.
"The dark store locations were decided based on complex analytics that help us optimise the distance with the targeted customer apartments. The location of stores is such that the farthest location is not beyond 2.5-3 kms (average being 1.8 kms) thereby ensuring the rider reaches the destination within the stipulated time with an average speed of less than 30 km/hr. This resulted in riders being able to make more deliveries throughout the day compared to other food or ride-sharing apps.
"In addition, unlike other players in the market, Zepto was the first to have a dedicated resting zone for the riders. This ensured that they had a safe space to rest, engage and share meals at any time during their service hours and also in times of extreme weather conditions. Result- fulfil more deliveries, higher rider retention and trust, seamless last mile."
The foremost challenge is delivering a consistent customer experience across channels, says Nishith Rastogi, Founder and CEO, Locus. "The omnichannel approach is the need of the hour; survival without it results in stagnation of business growth. However, to address the rising customer expectations, deliver a consistent experience and stay ahead of the competition, e-commerce brands must improve delivery control, speed, flexibility, costs, etc. The way to address this is by adopting a technology solution that automates and optimises last-mile fulfilment processes.
"Another big challenge is driver empowerment, especially for those working in the last-mile delivery space. As households demand more parcel deliveries, drivers face increasing challenges in meeting expectations. This demand is only expected to grow in 2023. In countries like India, drivers face challenges such as poor road infrastructure, unclear addresses, traffic jams, and a lack of detailed maps. A Boston Consulting Group survey reported that road congestion in just four Indian cities - Delhi, Mumbai, Kolkata and Bengaluru - added $22 billion in congestion costs. This situation worsens when drivers cannot provide timely deliveries, leading to frustrated customers constantly seeking updates on the status of orders. When drivers are dissatisfied and underproductive, they fail to provide a delightful delivery experience for customers. This can lead to a loss of customer trust, ultimately hurting business growth."
"At Locus, we solve both of these challenges. Through our dispatch management platform, which is powered by cutting-edge technologies such as AI, ML and advanced algorithms, enterprises can plan, route, dispatch orders, and track hybrid fleets on a single intuitive window. Recently, we upgraded our platform by launching the Delivery Linked Checkout feature that allows retailers to ease their delivery load by incentivising the end customer to choose specific delivery slots. This helped businesses to achieve better customer delight and profitability.
"To improve drivers' lives, we focus on increasing their tenures with predictable daily routes and schedules with real-time performance reports and accurate payouts. This improves driver retention and on-ground productivity for retail businesses."
How does it work? "If we zoom in a little closer into our dark stores where the magic truly happens, all our dark stores have a racking infrastructure that helps us to pack the entire order in 60-90 seconds," says Shaikh of Zepto. "The packers at the stores are equipped with tech infra which helps them to automate the pack flow thus reducing the packing time. We have set up a world-class supply chain system backed by a high level of analytics and forecasting mechanisms. To ensure timely replenishment, we have set up central warehouses across geographies where we consolidate our demand for the city and distribute it to the dark stores. We not only deliver groceries but also most of the daily essentials like dairy, fruits & vegetables, frozen, packaged food, beverages, home and personal care, mobile accessories, toys & games and many more including a wide pool of D2C brands.
"This means that every facility needs to by design ensure quality maintenance of the products like fresh produce, dairy etc., and have dedicated areas for frozen sections – something which competition is now emulating at their own facilities. Our strong revenue retention and average order value (AOV) growth in the last six months can be attributed to the best-in-class algo-driven replenishment that has led to consistent availability with 5,000+ unique assortments and over 80 point net promoter score (NPS). The perfect setting of our stores has helped us deliver our brand promise with a median arrival time of around nine minutes. The products are packed in our dark stores in under 75 seconds by a trained and motivated workforce reflecting further in strong gig employee retention.
"Going forward, we will double down our efforts to not only effectively meet the customer demand for groceries, but also expand our horizons and make deliveries across wider categories in 10 minutes a reality."
The rise of e-commerce in India has driven significant growth in the e-commerce logistics industry in recent years, says Darryl Judd, Head of Logistics & Services, Maersk South Asia. "The sector has seen rapid growth and significant investment as more and more consumers shift to online shopping. The Covid19 pandemic further accelerated this trend as lockdowns and safety concerns have led more consumers to shop online. This has resulted in increased demand for e-commerce logistics services such as warehousing, fulfilment, and last-mile delivery.
"One of the biggest trends in the e-commerce logistics industry in India is the increasing adoption of technology. Logistics companies are investing in advanced technologies such as automation, robotics, and artificial intelligence to improve efficiency and speed up delivery times. Additionally, the use of data analytics and machine learning is becoming more common in logistics operations, helping companies to optimise routes, reduce delivery times, and improve customer experience.
"Another trend in the e-commerce logistics industry in India is the rise of omnichannel retailing. As more retailers adopt a multichannel approach to sales, logistics companies are increasingly offering omnichannel logistics solutions, allowing retailers to manage inventory across multiple channels and provide seamless fulfilment and delivery to customers.
"Looking ahead to 2023, the prospects for e-commerce logistics in India are really positive. The e-commerce industry is expected to continue growing rapidly, driven by increased internet penetration, rising disposable incomes, and the adoption of digital payments. As a result, demand for e-commerce logistics services is expected to increase, and logistics companies will need to continue investing in technology and infrastructure to keep up with demand.
"This is where Maersk's network can really gain traction and provide customers with the right solutions for their needs. We are witnessing companies that traditionally insourced their logistics operations have chosen to move to an outsourced model in order to expand the scale of coverage faster than they are able to do themselves.
"That said, there is a need for sustainable and environmentally friendly logistics practices. As e-commerce continues to grow, logistics companies will need to find ways to reduce their carbon footprint such as using electric vehicles for last-mile delivery or adopting green packaging practices."
One of the most important aspects of any business is having a good customer experience, and when we talk about online shopping, there is always an anxiety about how long the parcel will take to arrive at our doorstep, says Zaiba Sarang, Co-founder, iThink Logistics. "According to us, the entire digital shopping world is based on the three Rs: Right Place, Right Time and Right Price. And because Right Time is so important for customer satisfaction. Giving end customers the offline experience of shopping in an online world, which is also our motto for our new product line SND (Same and Next Day Delivery)."
Himanshu Singhal, Head, Integrated Logistics, CABT Logistics says: "For clients including Purple and Meesho, we built a tech-savvy eco-system where all three channels - the supplier, the e-commerce website and the customer - would get real-time updates about order movement. The benefits of this are twofold - inventory management and cost optimisation.
"What sets us apart is our drive for automation. We are planning the complete automation of order processing. Automating the centres help in dealing with SLAs.
"Automation and technological developments are currently the biggest challenges. The market is growing at a very accelerated pace and there's a need to streamline the logistics arm with not just basic automation but with processes that help in bringing down the delivery timelines significantly. This also includes apt software for route optimisation etc."
Warehousing challenges
"We have two key indicators for making decisions before deciding on new warehouses: the voice of the customer and the strategic location based on where the industry and EXIM customers are based," says Judd of Maersk. "There is also a third aspect of decision-making which is the total cost of operations. One of our key strategic priorities is to offer our customers integrated logistics solutions that not only create value for our customers' supply chains but also help them in achieving cost competitiveness.
"In a rapidly growing and transforming market like India, customers are demanding a greater level of agility and a broadening range of integrated logistics services to better service their customers, access or develop new markets, and/or cater for increased growth."
Increasing importance of tech
The importance of technology in outsourcing warehouse operations to a third-party logistics provider can vary among customers, adds Judd of Maersk. "However, in general, technology is becoming an increasingly important factor in the decision-making process for outsourcing warehouse operations. We are certainly seeing a definite upswing in how our customers view technology and their desire to partner with organisations that are able to bring technologies that enables them to better drive their supply chains. Visibility plays a critical role, and so do operational systems such as Warehouse Management Systems (WMS) to efficiently deliver highly optimised services.
"Customers who are looking to outsource their warehouse operations to a 3PL provider often have high expectations for the technology and systems that the provider will use. They look for a 3PL provider that can offer advanced WMS that can provide real-time inventory tracking, order management, and reporting capabilities - and have the means to integrate into their internal systems. There is also a strong interest in providers that offer other advanced technologies, such as automation systems, automated picking and packing, or predictive analytics.
"In addition to the technology itself, customers place a high value on a 3PL provider's ability to integrate their systems with the customer's own technology platforms such as their e-commerce website, order management system or customer relationship management (CRM) system. This can ensure a seamless flow of data and information between the customer and the 3PL provider, which can improve accuracy, speed, and overall customer satisfaction."
Advanced WMS and automation are integral parts of all our surface transhipment centres (STCs) across the country be it Nagpur in Maharashtra, Guwahati in Assam or Farukh Nagar in Haryana, says Huafreed Nasarwanji, Chief Commercial Officer, Gati. "In our upcoming STCs which will be modern, larger, upgraded and tech enabled at Mumbai, Bengaluru, Hyderabad, Kolkata and Indore, we'll continue to focus on developing an efficient WMS system and leveraging automation to deliver optimised cargo delivery services and enhanced throughput. As part of our ESG initiatives, we have plans to convert our entire pickup and delivery fleet of more than 2000 vehicles to electric by 2025."
Warehousing is at the core of seamless logistics, adds Singhal of CABT Logistics. "Setting up micro-warehouses in delivery strategic places shorten the distance the rider will have to cover and first-mile deliveries between cities to save resources. This strategy reduces last-mile problems by a significant margin. Understanding key locations for warehouses based on the hyperlocal delivery area, demographics etc can help with inventory management and also offer same-day deliveries to the consumers thus catapulting business growth. Besides this, connectivity is also key. The warehouses must be easily accessible for time and cost optimisation.
"Technology is a key vertical to help logistics evolve, especially regarding warehouse management and operations. Automation is important for back-end processes like warehousing, micro warehousing, sorting centres, and route optimization. Technology is the route to rapid growth."
Vishal Jain, Co-Founder, Roadcast Technology adds: "Strategic warehousing has become a crucial silo of logistics. It is crucial to identify spaces that are affordable to keep the overall costs low. Besides this, the warehouse must be well-connected to the logistics network. This includes both inter-city and intra-city mobility. Connectivity is key.
"Weightage is also given to the proximity of the warehouse to the customer network. Identifying locations that are closest to your customer/delivery network will enhance rapid distribution thus optimising costs.
"This is where technology steps in. Factors like location-based intelligence, demographic data, availability etc. are what help in the strategic opening of warehouses. Automation for order sorting, rider allocation and much more is possible with relevant technology."
Challenges overcome in 2022/Outlook for 2023
2022 was a special year where we faced multiple challenges arising out of an evolving, post-pandemic market condition, says Judd. "The consumer behaviour was not consistent with what we had witnessed in the past and this meant that the volumes to be handled could not be forecasted accurately. This also led to an unforeseen channel mix for operations. Creating and deploying customer-centric solutions and improving overall customer experience were the primary goals for us in 2022.
"The next ambition for us in this situation was also to grow our warehousing footprint rapidly across the country. This was backed by the acquisition of LF Logistics, but there was and still is a need to invest further. A larger footprint meant a larger workforce. Training new employees to ensure that they can support our operations and our customers along our core values and strategic priorities was imperative without compromising on safety. We also invested in empowering more women to join our workforce and successfully inaugurated our first warehouse which is completely run by women in Dadri.
"Last, but surely not least was the focus on decarbonisation. At Maersk, environment, social, governance (ESG) is a key enabler in our strategy ,and therefore working closely with developers to ensure that our facilities have lower emissions was non-negotiable.
"With the foundation laid in 2022, we will have to focus on increasing our velocity in bringing key warehouses to the market in strategic locations. To ensure that we progress on our integrator strategy, we will have to particularly focus on technology platforms and their implementation to provide visibility, higher predictability and control for our customers.
"Supply chains continue to get complex with changing consumer behaviour and removing those complexities will remain a top priority for us. This will help us reduce points of failure, increase efficiency and enable a richer, deeper level of visibility.
"We recognise that there is a major shift in contract logistics where customers are demanding to move toward first-class, fully optimised facilities built using 'best-in-class' fulfilment methodology and solutions. By doing so, customers are seeking relationships with partners who can bring the horsepower and capability through the design & pricing of their solutions, operational excellence and customer implementation capabilities. Therefore, through constant engagement with our customers, we would like to ensure that we offer solutions against a backdrop of high-tech and touch-ability in logistics for tomorrow."
Gati plans to set up 12 modern, automated and environmentally sustainable STCs at key locations across Mumbai, Bengaluru, Hyderabad, Kolkata and Indore in the next phase of expansion, says Nasarwanji.
Our focus now is on boosting prepaid orders for sellers through our Connect+ feature, says Sarang of iThink. "This feature helps convert cash on delivery (COD) orders into prepaid orders by offering some benefit to the end customer like some discounts if he makes the payment in prepaid. By receiving funds upfront, sellers can finance their operations and invest in growth, among other benefits.
"One of our unique offerings is our patented six-step non delivery report (NDR) system, which includes six steps designed to reduce return to origin (RTO). Lower RTO rates lead to an increase in delivery rates ultimately improving customer satisfaction.
"In addition to our NDR system, we are focusing on helping e-commerce sellers receive more orders directly from websites instead of relying on marketplaces with the help of our recently launched product SND. Sellers can now deliver their shipments to their customers the same day or the next day in certain parts of India."
Jain of Roadcast says that FMCG brands and giant retailers, who were primarily brick-and-mortar operations, have now entered the online space. "Therefore, increasing the demand for seamless logistics is important. Home delivery has become crucial now.
"As the online space has grown, so has Roadcast. Our platform combines the power of IoT for vehicle tracking and a seamlessly connected driver application for delivery uberisation. We provide optimisation, visibility and connectivity for seamless logistics. We help delivery-based businesses by providing them with a robust, scalable, cost-effective solution to automate operations. Our delivery and order management software offers enterprises a reliable platform with information such as pick-up & delivery scheduling, image recognition, auto-route optimisation, audio/video surveillance, distance to the recipient, estimated time of arrival and more.
"Besides this, we have continued to enhance our tech. This includes our new container locks with GPS along with the driver face recognition software we are working on."
2022 was a crucial year for D2C businesses as the shift towards online shopping increased due to the pandemic," says Vishal Totla, Co-Founder and COO, Shipyaari. "The growth of the industry posed several challenges to the logistics sector such as massive increase in volume of shipments, unavailability of required technology, scarce manpower, etc.
"At Shipyaari, we faced similar challenges such as scalability, cybersecurity concerns, poor delivery performance and rising tech resource costs. To overcome these challenges, we are implementing solutions such as migrating to cloud computing for scalability, using encryption and two factor authentication for security, automating processes with AI to improve delivery performance and customer experience, partnering with regional carriers, and leveraging AI and ML algorithms to optimise operations."

Shipyaari is developing an app with AI-driven features like advanced search, shipment tracking, and ETAs calculated based on turnaround time (TAT) and global weather conditions. "These features will make it easier for customers to get information and avoid delays. D2C businesses need to implement AI and automation in order to remain competitive in the rapidly growing industry. AI and ML algorithms can help companies analyse data, optimise operations, and improve customer experience," says Totla.
"We believe in innovating by following an outside-in approach," says Rastogi of Locus. "We spend time listening to the needs of our clients and the industry overall to develop relevant solutions. Recently, we launched an industry-first assessment tool for enterprises to help them understand precisely where they are in their last-mile maturity curve and what are some of the gaps and opportunities they have in front of them.
"In 2023, we have an impressive pipeline of innovative product updates, one of which is a feature that will help enterprises dispatch orders via an intelligent selection of carriers while delivering visibility to track the end-to-end orders' journey on a single screen. We will soon be unveiling this."