Amazon moves to counter Delhi pollution with more EVs
Over 300 delivery partners will deliver packages via zero-emission three-wheelers & vans - a global first for Amazon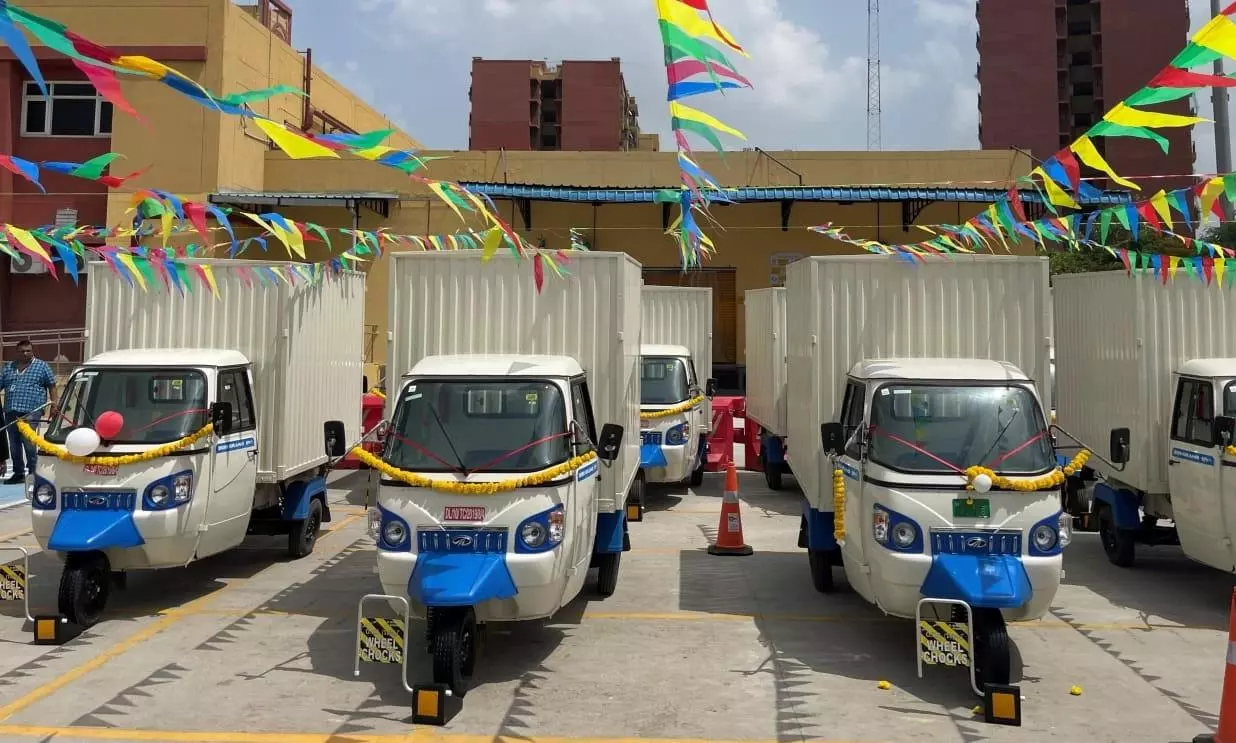 Amazon has launched its global last mile fleet programme in India with 100 percent electric vehicles (EVs), a global first for the company.
The programme enables delivery service partners (DSPs) to lease a fleet of tailored three-wheeler EVs through a fleet management company, says an official release. "DSPs will get access to zero emission electric vehicles that are safe and custom-designed for Amazon deliveries."
With the National Capital Region hitting alarming levels of air pollution, Amazon is doing its bit to create a less toxic, cleaner environment, says Chetan Krishnaswamy, Vice President, Public Policy, Amazon in his LinkedIn post.
The fleet programme will also assist DSPs in the maintenance, charging, and parking of these EVs, the release added. "The vehicles are equipped with advanced safety features, ensuring the well-being of Amazon's delivery partners and the communities they serve. Data generated by the vehicles allows Amazon to optimise deliveries for safety and punctuality. The India fleet launches ahead of Diwali, and more electric three- and four-wheelers will be added to the fleet over time."
Abhinav Singh, VP, Operations, Amazon India adds: "We are committed to be net-zero carbon by 2040, and decarbonising our delivery network is an important part of getting us to that goal. By launching the last mile fleet programme with an all-electric fleet in India, we help our delivery service partners decarbonise with us. We're delighted that India is the first country where we are able to do this."
Mahindra Zor Grand three-wheelers for last mile deliveries
In the initial phase, Amazon has introduced Mahindra Zor Grand three-wheeler EVs equipped with specialised enhancements for Amazon's last mile deliveries. Mahindra Zor Grand — which can travel at speeds up to 50 kmph and cover over 100 kms on a single charge — produces no emission, making it an ideal choice for areas with poor air quality, the release added. It is also equipped with telematics and safety technology, providing real-time data on vehicle performance, driving behaviour, and critical safety metrics. The Amazon model also features safety customisations such as digital rear-view cameras.
"We are excited to be a part of Amazon's journey towards a cleaner, more sustainable future in last mile logistics," says Suman Mishra, MD and CEO, Mahindra Last Mile Mobility. "With zero tailpipe emissions and reliability at the core, our Mahindra Zor Grand will not only enhance cargo delivery efficiency but also contribute to improved air quality and lower driver fatigue."

Sudhendu Jyoti Sinha, Adviser, NITI Aayog says: "Programmes like this go a long way in decarbonising the last mile delivery operations, and will pave the way to encourage more innovation and adoption of such solutions. We compliment Amazon and will be proud of them as they work out an aspirational and clear roadmap for this transition and bring more vehicle segments into it."
10,000 EVs by 2025
Amazon has deployed more than 6,000 EVs to deliver packages in over 400 cities across India. The company is on track to achieve its goal of having 10,000 EVs in the India fleet by 2025, the release added.