Domestic vaccine logistics – the next frontier in India's fight against Covid-19
Healthcare logistics in India is complicated due to the multi-layered structure of the public health administration. Supply chain specialist Vikas Pawar is writing why the current logistics infrastructure in India is insufficient for the safe movement of Covid-19 vaccine in the country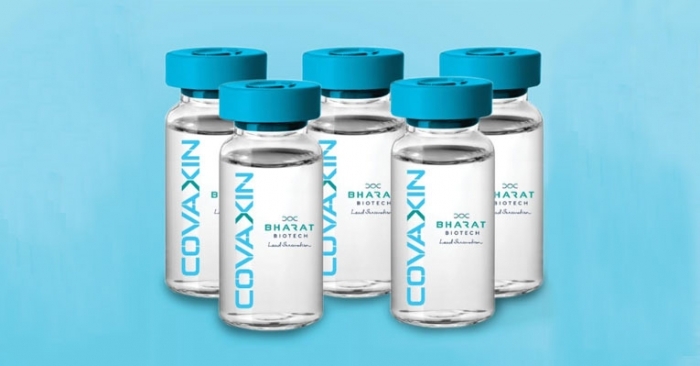 Healthcare logistics in India is complicated due to the multi-layered structure of the public health administration. Supply chain specialist Vikas Pawar is writing why the current logistics infrastructure in India is insufficient for the safe movement of Covid-19 vaccine in the country. He urges to blend private last-mile delivery strategies with existing vaccination platforms set up by the government to solve this.


By the end of September 2020, the world has crossed a sobering milestone of one million people who died of Covid-19, as per data from Johns Hopkins University. With the death toll mounting, the urgency for access to a safe and effective vaccine is also rising. Russia's Sputnik V vaccine has been authorised for human use, albeit without mandatory tests on efficacy and safety. Barring this instance, progress on the discovery of Covid vaccine has been brisk with the government supporting 30 vaccine candidates, with three of them in advanced stages of trials.
While we await the release of the vaccine with baited breath, prior experiences of swine flu outbreaks show how those potent life-saving vaccines hardly made their way past the top developed nations. No wonder then, that the next frontier in our fight against Covid-19 is the logistics of the vaccine, from point of manufacture to point of administration. Since the start of the Covid pandemic and the subsequent disorder, it is clear that effective solutions are possible only through collaborative efforts of public and private stakeholders.
Healthcare logistics in India is complicated due to the multi-layered structure of the public health administration. To provide context, the major delivery channel for vaccines to the general population is under the 'Universal Immunization Programme' (UIP) managed by India's ministry of health and family welfare. The government healthcare network comprises of almost 800 district hospitals, 5700 community health centres, 25,000 primary health centres and 157,000 sub-centres. While such numbers imply pervasive reach, India ranks poorly at 145 out of 195 countries in the Healthcare Access and Quality Index (HAQ Index). Further, as per the latest available estimates, government health expenditure (centre and states) is an insignificant 1.2 percent of the national GDP. The Covid-19 pandemic has figuratively 'unmasked' this persistent under-investment in domestic healthcare. With the caseloads rising in Tier-II and Tier-III cities, the domestic distribution system is facing a severe shortage of resources, ranging from availability of hospital beds to oxygen cylinders, to approved medications.
Also read: Ready your plan to store, supply Covid vaccine by Oct 15: Centre to states
Even when a vaccine is approved as safe and available for use, critical challenges of storage and transportation of the vaccine remain. Vaccines need to be stored at sub-zero temperatures, with some as low as –80 degree Celsius. As per the latest government data, the current setup for storage is 27,000 cold chain points comprising of walk-in freezers, deep freezers, and ice-lined refrigerators. Besides the physical infrastructure, electronic Vaccine Intelligence Network (eVIN) is a technology platform developed under the National Health Mission (NHM) that provides real-time information on vaccine stocks, flows and storage temperatures across more than 80 percent of the storage locations. For vaccine transportation, the movements from production units to key government medical store depots are generally handled by vaccine manufacturers. The secondary movement from depots to state-level vaccine storage points is regionalised and delegated through the archaic tendering process. The last-mile movement of delivering vaccines to immunisation sessions is carried out through vaccine carriers on two-wheelers and autorickshaws.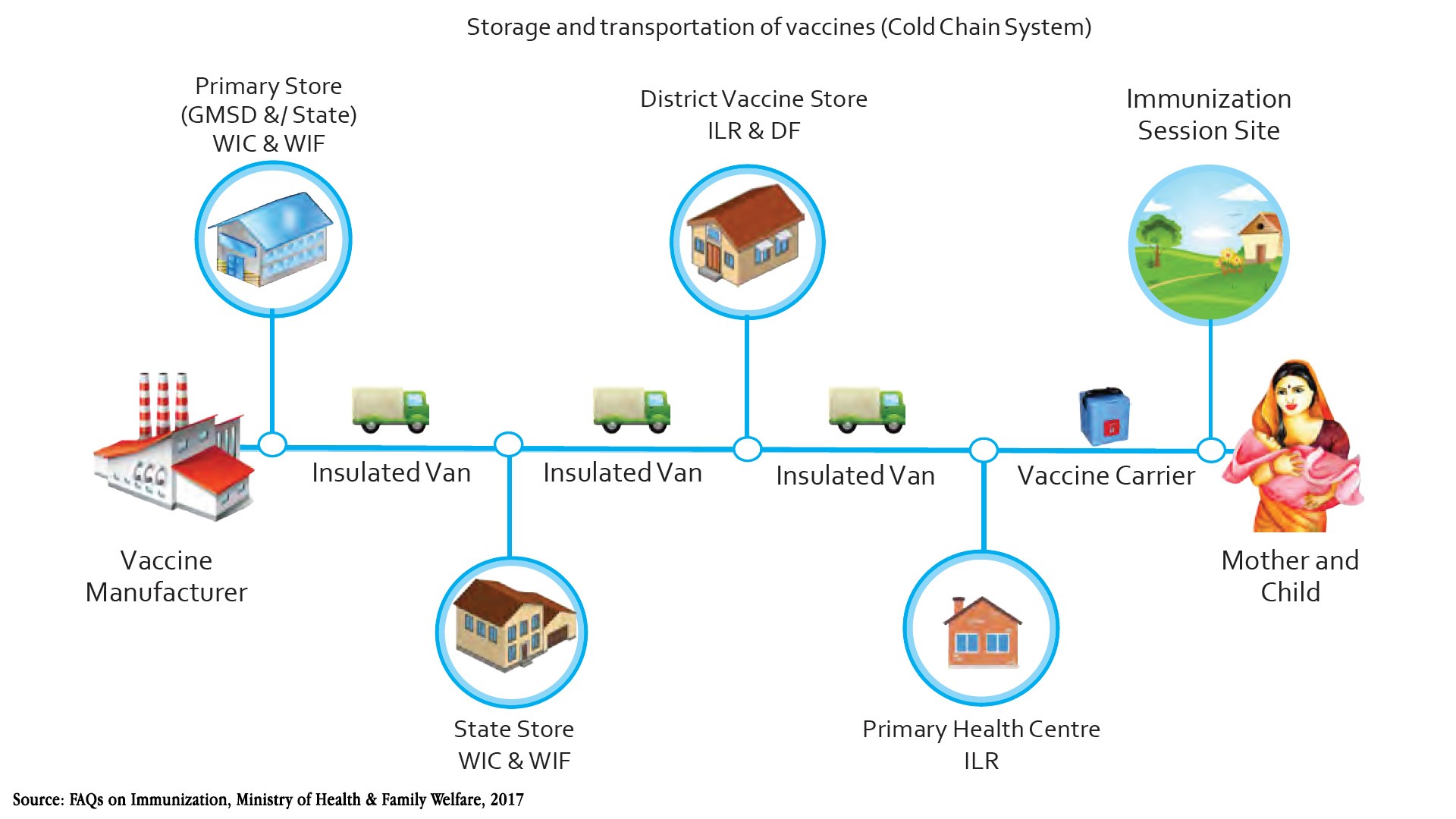 Domestic Vaccine Delivery Schematic
While the current supply chain system has had its share of success in long-term initiatives like polio eradication, short-term scalability and reliability remain a challenge because of the siloed approach within the vaccine logistics. In terms of numbers, the immunisation programme currently supports less than 40 million monthly vaccines distributed on an average. In case of Covid vaccine, estimates suggest that to accomplish a herd immunity point of 60 percent, India would likely have to immunise 780 million people over a short period. The government target is to immunise 260 million frontline and high-risk individuals by July 2021. Needless to say, the current logistics infrastructure is insufficient to support the number of Covid vaccines needed. Moreover, acceptable wastage norms in the current system are too relaxed and thereby hinder complete and effective vaccine coverage. As per the health ministry statistics, almost 8 percent of the vaccines stocks distributed under the UIP is "unusable", mainly due to problems related to the cold chain, breakage or expiry. Vaccine manufacturers have already been scrambling to ramp up production, and such potential wastages will put additional burden on domestic vaccine manufacturing capacity.
Securing capacity for vaccine storage by the private sector to complement the existing public network will also remain a challenge as it is highly fragmented, unreliable and non-existent in many districts. Given the critical nature of Covid vaccine delivery, stakeholders have to go a step further than 'business as usual' when it comes to supply chain efficiency. The right balance between short-term capacity creation of cold chain and alternate less asset-intensive methods at all levels of the vaccine supply chain needs to be looked at. For example, effective utilisation of current rail and domestic reefer container assets instead of depending on road and air transportation as a mode can be explored for key bulk logistics routes. Pandemic is not the time for "cost-plus" mindset associated with the tendering process. Firstly, it inhibits prominent logistics providers with reliable pan-India control on assets and technology to bid. Secondly, safety and security can be compromised as an investment in best-in-class expertise and visibility tools are low. The middle-mile and last-mile logistics could use insulated boxes with chill packs/ dry ice to preserve sub-zero temperatures for 72-120 hours transits. Certainly, for the entire system to function seamlessly, there needs to be a unified technology platform beyond the current eVIN system that supports only the inventory management part of the vaccine supply chain.
Globally, regulators, vaccine manufacturers, logistics providers and industry bodies have been raising concerns about the Covid-19 vaccine transport and potential capacity constraints. However, the guidelines and approaches taken by public and private stakeholders would result in only linear progress. As has been made evident by the current pandemic, to be effective and successful, all developments need to be exponential and sensitive to time. What is needed is the blending of innovative private last-mile delivery strategies with existing vaccination platforms set up by the government, to solve this critical problem in our fight against Covid-19.
| | |
| --- | --- |
| | Vikas Pawar is a supply chain specialist with experience in global trade and logistics strategy. He has managed complex strategic solutions for organizations like Gati, Adani Logistics and SJ Consulting (USA). |
The views and opinions expressed in this article are those of the author and do not necessarily reflect the views of Indian Transport & Logistics News.