Distribution being disrupted by e-commerce: Unilever's Nishith Aggarwal at FMCG 2025
August 29, 2019: Locus, a global supply chain decision-making platform hosted FMCG 2025: Unravel the future of FMCG' in Mumbai on August 23.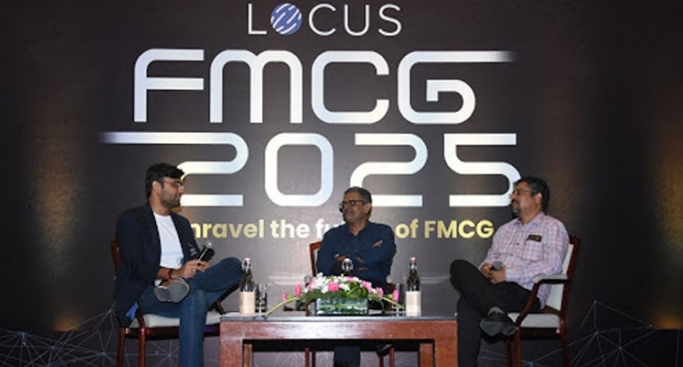 August 29, 2019: Locus, a global supply chain decision-making platform hosted FMCG 2025: Unravel the future of FMCG' in Mumbai on August 23. Industry names like Unilever, Dabur, Tata StarQuik, Godrej Consumer Products, PepsiCo India, Nestle, Mondelez, VLCC Personal Care, among others deliberated on strategies, innovations, and revolutionary technologies in the FMCG supply chain industry.
Krishna Khandelwal, chief business officer, Locus chaired the panel on 'How E-commerce is Disrupting the Consumer Market Space', which had Nishith Aggarwal, director customer development - route to market South Asia, Unilever; and K Radhakrishna, co-founder at Tata StarQuik.
Aggarwal said, "Omnichannel has promising opportunities in e-commerce given the seemingly viable economics of the model. From the FMCG distribution perspective, while the efficiency of operations has always been intrinsic to model, the key differentiator among players is how effective you are. The time has come where distribution is disrupted by e-commerce.
On being asked about the rising competition, he added, "Competition has always been there in the industry and is good for innovation. The key point is to remain focused on consumer needs and trends and not get carried away by the only competitive response."
Radhakrishna added, "FMCG companies never want to change, I have seen it for 37 years. Nevertheless, they have fantastic distribution strength but still, most companies have only innovated in their distribution channels and no great products have come out of it. Go to the west, you see the amount of work that FMCG companies do. The biggest category in growth today is milk and yogurt, but nobody wants to invest in it. Nobody wants to put up a supply chain. What ecommerce has done is created a channel and empowered people. I think it is a great amount of fear among FMCG companies about their structure being dismantled by ecommerce. To avoid this, FMCG has to become supple, flexible, and become keener to share some of the margins."
Khandelwal concluded the session by commenting, "E-commerce has instilled a sense of fear of missing out in the FMCG fraternity, and all the increased activity is helping the ecosystem grow."
The topic of the second panel was 'Rural India - The Future of the FMCG Industry in India' with the metro markets saturating giving rise to opportunities to tap into high potential and fast-growing semi-urban and rural segments. Shivinder Singh, head, trade marketing for home & personal care, and sales IT at Dabur India; and professor Harvinder Singh, chairperson - marketing, IMT Ghaziabad spoke on the topic.
As per a report by The Nielsen Company, the rural market for FMCG accounts for 40 percent of the total FMCG market and it has been growing at an 80 percent compound annual growth rate (CAGR). It is estimated to cross $100 billion by 2025.
Professor Singh said, "Accessibility, awareness, and affordability are the significant elements required to address a rural market, be it for a startup or conglomerate. "
Dabur India is one of the major investors in rural India. "Soon, kirana (grocery) stores in rural India will place orders on the app to replenish their inventory; however, this will take at least a decade to function smoothly. We are not immune to the trend of the industry. While our business is still growing significantly, we have also seen a slowdown in terms of numbers. To see the benefit from technology, the consumer will require using the app from an awareness generation tool to an order placing mechanism," Singh from Dabur added.
Locus is planning to organise a similar round table conferences for different industry segments ahead.