DHL Express flags off 'Yellow Yatra' to help Indian SMEs succeed globally through e-commerce
April 5, 2019: DHL Express, the world's leading international express service provider, announced the launch of the 'Yellow Yatra' program – a multi-city series of events focused on equipping entrepreneurs from micro, small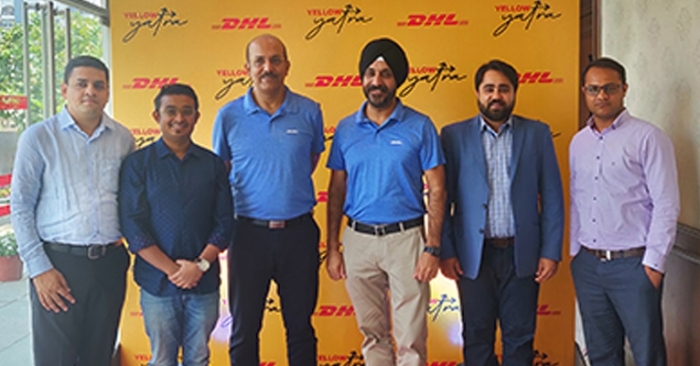 April 5, 2019: DHL Express, the world's leading international express service provider, announced the launch of the 'Yellow Yatra' program – a multi-city series of events focused on equipping entrepreneurs from micro, small & medium enterprises (MSMEs) in different Indian cities with the know-hows to succeed in international e-commerce.
At the event, entrepreneurs had the opportunity to hear from industry experts, share best practices with e-commerce players, and most importantly, build important business networks.
Commenting on the launch of the series, R S Subramanian, country manager, DHL Express India, said, "MSMEs are crucial to the Indian economy because they contribute over 8 percent to India's GDP and they constitute more than 70 percent of our business here in India. The launch of 'Yellow Yatra' is part of our ongoing commitment to promote the growth of Indian SMEs through participation in the cross border e-commerce trade. Our extensive local, regional and global network is a key enabler for SMEs who want to venture out of their cities."
India's e-commerce industry is expected to reach approximately USD 100 billion by 2020. The Yellow Yatra program aims to be the single platform that connects entrepreneurs to the wider ecosystem, made up of tax consultants, digital marketers and experts with deep knowledge of online market places, web development platforms and payment gateways.
"Yellow Yatra is pegged to be a game-changer for Indian SMEs aspiring to get the most out of international e-commerce. Surat is the perfect location to kick-start the program as it's poised to be one of the world's fastest growing cities by 2035," said Sandeep Juneja, vice president, Sales and Marketing, DHL Express. "SMEs today are riddled with challenges such as seeking out the best ways to engage prospective customers, manage e-commerce sites and navigate customs and regulations. We hope to establish Yellow Yatra as the platform-of-choice for them to connect and collaborate with other industry players."
To ensure that Yellow Yatra remains relevant to business needs, DHL Express will take into consideration feedback received from participants at the event in Surat to improvise and progressively roll this out to other cities in India.