DHL asks shippers to prefer end-to-end solutions to tackle ocean freight crisis
DHL Global Forwarding, in its Ocean Freight Market Outlook 2022-2024 report, has outlined six measures to design a predictable supply chain: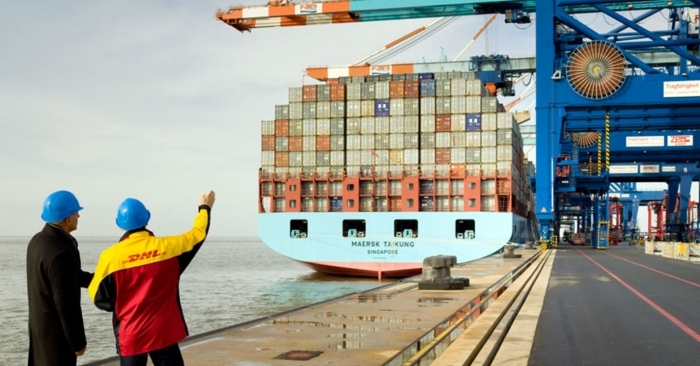 DHL Global Forwarding, in its Ocean Freight Market Outlook 2022-2024 report, has outlined six measures to design a predictable supply chain:
* Enter legally-binding, long-term contracts to secure capacity.
* Budget for certain quantities to be shipped at spot rates.
* Estimate needs with sufficient lead time.
* Forecast accurately & deliver consistently according to forecasts.
* Favour end-to-end solutions with one provider of choice and foster consistent partnerships; and last but not the least
* Capacity wins over price.
"The challenges faced by shippers all over the world are set to persist in the near future," says Dominique von Orelli, EVP Global Head of Ocean Freight, DHL Global Forwarding.
Rewind 2021
"2021 was marked by severe capacity constraints and equipment shortages. The lack of available space on a reduced number of containerships and available containers could not satisfy demand. Ocean freight rates have therefore risen to historically high levels. In addition, multiple disruptions have caused port congestion across the globe, e.g. in the USA. With schedule reliability at an all-time low, supply chain disruptions have multiplied."
Current story
The U.S continues to be the bottleneck of global trade. Here are five key facts:
Backlog of container ships at Los Angeles/Long Beach
Very substantial: Nearly 100 ships at any given time. Waiting time to obtain a berthing window is 8-10 days. Fines for idle containers have been announced.
Lack of rail cars, shortage of truckers & chassis deficit
Ports are running out of space and containers are piling up at docks because delivery is heavily delayed.
Heavy congestion & drayage at Savannah
Vessel waiting times outside the harbour average 8 to 10 days. From Oct 18 2021, any unit sitting on the dock for more than 30 days will be shifted to an off-site location at an additional expense.
Long dwell fees in Washington, Tacoma
To charge $315 & $310, respectively, for all local import units that have exceeded 15 calendar days on the terminal since November 1, 2021.
Addressing infra challenges
The U.S government tries to influence and take measures to overcome disruptions.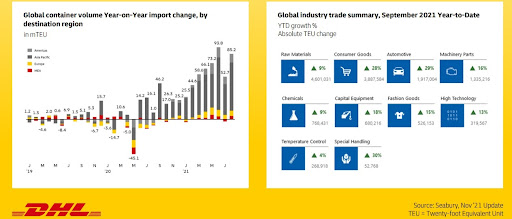 Challenges & conclusions
Container vessel order books are at the highest level in 10 years. Majority of container vessels are going to be built in China and are therefore dependent on stable production there. Supply growth will overtake demand growth in 2023 as recent orders start to be delivered.
As much as 47 percent capacity of the Asia to Indian Sub-continent has been shifted to the
Transpacific trade creating a giant vacuum against the demand. Port congestion and vessel delays are soaking up supply with more than 10 percent of the global fleet at anchor due to delays.
North America currently faces a 40 percent imbalance of containers. For every 100 containers, only 40 are exported; the remaining 60 accumulate at depots, pushing carriers to send the containers back to Asia empty.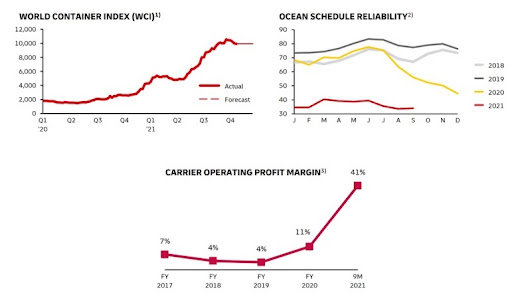 (* 1) Drewry, in USD/40ft container, including BAF & THC both ends, 42 individual routes, excluding intra-Asia routes; 2) Sea-Intelligence; 3) Carriers and DHL)
Having enjoyed outstanding financial results during the pandemic, shipping companies have placed record levels of new orders for container vessels during 2021.
A flood of new vessel capacity will ease rate pressures, but not before 2023. However, ocean carriers also seem to have learnt how to manage capacity better in their alliances. They may continue to take capacity out of the system at short notice, reducing the price-dampening impact of new capacity coming on-stream.
Recovery only in 2024
While market recovery is now likely only in 2024, it will mark the entry of new capacity, carriers carefully balancing supplies and freight rate stabilisation at a higher rate with acceptable schedule reliability.