DB Schenker unveils dedicated logistic service for battery transport
July 7, 2020: DB Schenker has launched a new and dedicated service that combines individual national and international regulations concerning battery types and transportation modes due to rising demands.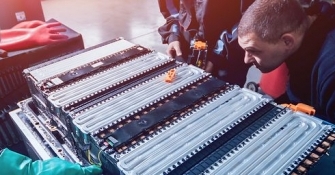 July 7, 2020: DB Schenker has launched a new and dedicated service that combines individual national and international regulations concerning battery types and transportation modes due to rising demands.
Complexity due to their classification as dangerous goods
"Expert scenarios forecast that by 2030 there will be more than 130 million electric vehicles on the roads globally. While power and availability of batteries are key to of this transport shift, manufacturers face new challenges managing the logistics around their supply. Transport, return and recycling are highly complex due to their classification as dangerous goods and strict legal requirements for transporting and warehousing batteries," said the release.
Jochen Thewes, CEO, DB Schenker, said, "Batteries are the main drivers of the ongoing electrification of the world. With our global network, we can cover the whole logistics spectrum to create reliable solutions for safe and customized battery transport and storage. We believe that e-mobility will be a key driver towards a more sustainable future. With our new service dedicated to battery logistics, we are proud to be a facilitator of this game-changing development."
Maximum power for green mobility: #DBSchenker adds new service for #batterylogistics to its portfolio. In response to the increasing demand for safe and reliable logistics services for #lithiumbatteries, we have developed a solution that meets the manufacturers' high standards. pic.twitter.com/1klg5PkPOL

— DB Schenker (@DBSchenker) July 2, 2020
Integrated service
DB Schenker offers all modes of transport, as well as custom-made solutions for the complete life cycle of batteries. This includes the inbound temperature-controlled transport of materials to production sites plus the outbound transport of finished goods in approved and labelled dangerous-goods packaging.
Under the environmental standards, DB Schenker also enables the storage of batteries separate from other combustible goods. Lithium batteries, in particular, are always kept in dry and well-ventilated areas.
Furthermore, dust-free warehousing, after-sales services and all relevant transport documentation can be realized. Additional reverse logistics include the recycling or disposal of batteries according to national legislation and in close cooperation with selected partners, inclusive of damaged or defective batteries.
Rainer Kiefer, EVP global sales, DB Schenker, said, "Over many years we have gathered deep expertise in the automotive, electronics and semiconductor industries. We are now combining our know-how and skills in a cross-industrial solution. Given our profound experience, we are also happy to offer to consult and training to companies with requirements for their battery supply chains".
Land, ocean, rail & air
By combining full truckloads, individual solutions and special agreements, DB Schenker's land transport business unit is already able to cover 98 percent of the demand for ground services for hazardous cargo, including batteries. Ocean freight transport of batteries can be combined with land transport infrastructures to meet the highest standards for comprehensive door-to-door supply chain solutions.
As air freight is the fastest option to move goods to their destinations, DB Schenker is continuously working on the acceptance of battery transports on important routes. Over 100 of DB Schenker's own operational air freight sites around the world offer FSR-A standards (Facility Security Requirements) which is the highest level of security certification in the industry.
Thanks to access to the vast network of DB Cargo, intermodal railway transport connections link battery production sites in Europe and China with final customers in various European countries.
DB Schenker's multimodal solution enables lower transport costs compared to air freight and shorter lead times compared to ocean freight. Beyond rail transport, the service range includes pre- and on-carriage by truck, transshipments via terminals and rail ports and various additional activities such as quality monitoring, documentation and customs clearance.