DB Schenker connects BLR airport to Munich, Chicago with weekly cargo flights
After Mumbai and Chennai, DB Schenker extends flight operations to Germany and the US routed via Bengaluru Airport with one freighter flight a week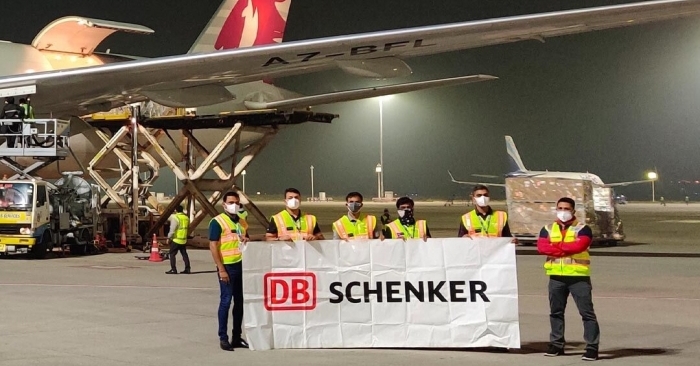 January 11, 2022: Catering to the growing logistics demand from the Indian industry in uncertain times, leading logistics service provider DB Schenker recently provided a direct flight connecting Bengaluru to Munich and Chicago Rockford (wheels up-wheels down in less than 24 hours).
The first flight departed earlier this week on Monday with 100 tonnes of cargo to Germany and the US and caters to the pharma, automotive and other industries. The weekly flight operations initiative is a part of the 'Global Flight Operations Program' that enables DB Schenker to provide fast and reliable air cargo services to its customers, to and from India, Europe and US.
The charter facilities provide stable uplift and capacity in an unpredictable market situation that is suited for one-stop logistics in the hi-tech, automotive, industrial and the pharmaceutical/ healthcare industries. DB Schenker also specialises in handling of temperature-controlled shipments within 'thermal blankets' and ULD movement.
The new B777 "flight operations'' initiative is aimed at simplifying the logistics services of the fast-growing industries in India, offering seamless capacity to support customers' requirements and support imports and exports between India & United States & Europe.
As per a release from the company, the cargo on these flights will be secured from departure to arrival with no extra handling requirement during the transit. The temperature sensitive cargo in the ULD's will be covered with protective material to maintain temperature in transit from Bengaluru. The Door to Door transit time via DB Schenker in India flight operations is also expected to remain approximately 5 days for Europe and US bound shipments.
Speaking on the initiative, Vivek Chopra, Acting CEO of the Cluster India and Indian Sub-Continent, DB Schenker said, "India is one of the key markets for DB Schenker globally. With the new Bengaluru facility, we are strengthening our Global Flight operations to meet the growing logistics demand of the customers in the country. Through this facility, we will continue to offer timely and reliable deliveries to our customers and help them keep their supply chains stable."
BIAL's partnership with DB Schenker is also seen as a significant step towards supporting and driving cargo growth in the southern region. Speaking to ITLN on more such flight operations, a BIAL spokesperson said, "We have multiple airlines-- Aerologic, Lufthansa Cargo, FedEx and Qatar Cargo-- operating direct connections to the European Union. These are long term agreements based on demand between the freight forwarders and the airline operators, so there is no definitive number."
The spokesperson added that these flights catered to pharma, automotive and other industries and that ​​in the month of December, BIAL's cargo tonnage was 35,122 Metric Tonnes.