Dachser shows highest revenue growth in Asia Pacific
April 17, 2018: In the 2017 financial year, the global logistics provider Dachser for the first time achieved a revenue of over EUR 6 billion. Its con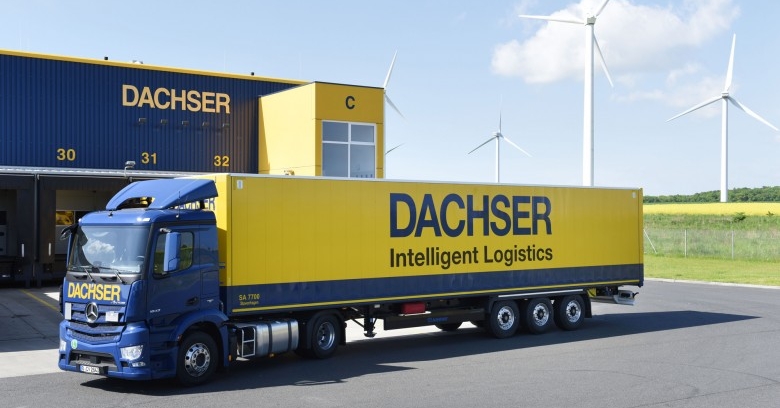 April 17, 2018: In the 2017 financial year, the global logistics provider Dachser for the first time achieved a revenue of over EUR 6 billion. Its consolidated gross revenue increased by 7.2 percent to EUR 6.12 billion. Dachser Asia Pacific achieved the largest revenue growth of 25 percent with air freight tonnage growing by 21.4 percent.
"Rising rates for air and sea freight in particular helped us achieve a significant increase in revenue." said Bernhard Simon, CEO Dachser SE. "We systematically pursued our successful export strategy for European overland transport and gained an additional tail wind from invigorated global trade."
A strong 25 percent growth in turnover in Asia enabled Dachser Asia Pacific to exceed the EUR 400 million mark and garner EUR 426 million. Intra-Asia development has been one important growth driver.
Dachser's Asia Pacific network comprises 49 locations. In 2017, the Asia Pacific team grew by 8.4 percent to a total of 1,672 employees. "We are committed to creating job opportunities and career paths for the next generation in Asia. Initiatives like our Asia Pacific Management Trainee Program are an outcome out of this strategy," said Edoardo Podestá, managing director air & sea logistics Asia Pacific.
"Our focus on large, multinational customers led to excellent growth rates which overtook market growth not only in terms of turnover but also in terms of volumes," Podestá added referring to the fact that shipments grew by 8.6 percent, air freight tonnage by 21.4 percent and TEU by 12.5 percent.
Dachser Asia Pacific paved the way especially in air freight for handling scarce capacities during peak seasons by providing additional capacities. The strengthening of its air freight operations both on regional and local levels will support future expansion.
Overview key figures Asia Pacific
| | | | |
| --- | --- | --- | --- |
| | 2017 | 2016 | Change |
| Revenue in EUR (million) | 426 | 341 | +25% |
| Shipments | 388,000 | 357,400 | +8.6% |
| Air tonnage | 118,200 | 97,400 | +21,4% |
| TEU | 222,500 | 197,800 | +12.5% |
| Employees | 1,672 | 1,543 | +8,4% |
Worldwide business development
Dachser set company records by handling a total of 81.7 million shipments (+2.1 percent) weighing 39.8 million metric tonnes (+4.3 percent). On a global level, Dachser created 1,648 new jobs in 2017.
The Air & Sea Logistics (ASL) business field greatly invigorated business combined with a rise in freight rates—especially in air freight—to push gross revenue up by 15.7 percent to EUR 1.79 billion. The number of shipments the business field handled overall was up 6.7 percent, while TEUs and tonnage increased by 8.5 and 23.3 percent respectively.
The Road Logistics business field—which is comprised of the transport and storage of industrial goods (European Logistics) and food (Food Logistics)—achieved gross revenue of EUR 4.44 billion (+3.1 percent). Shipments and tonnage increased by 2.1 and 3.6 percent respectively.
In the European Logistics (EL) business line, a constant focus on European export business within the EL network once again provided for robust growth. "Germany remains the backbone of our operation, but France is well on its way to becoming a second pace setter for cross-border overland transport business. We've been systematically setting up this strategic logistics axis over the past few years," Simon explained.
In the Food Logistics business line, growth was above average. This was primarily due to the German business, with a contribution from several new customers acquired for cross-border transports.
Dachser's investment in network locations, fleets, technology, and IT systems increased by 5 percent to EUR 136 million in 2017.

Overview of gross revenue:

Revenue in

EUR (million)

2017

Gross incl. duties and import tax

2016

Gross incl. duties and import tax

Change

Road Logistics

4,441

4,307

+ 3.1 %

European Logistics

3,570

3,495

+ 2.1 %

Food Logistics

871

812

+ 7.3 %

Air & Sea Logistics

1,785

1,542

+ 15.7 %

Consolidation
(deducting revenue from company interests of 50% and lower)

- 108

- 143

Group

6,118

5,706

+ 7.2 %
Overview of net revenue:

Revenue in

EUR (million)

2017

Net excl. duties and import tax

2016

Net excl. duties and import tax

Change

Road Logistics

4,187

3,898

+ 7.4 %

European Logistics

3,316

3,086

+ 7.5 %

Food Logistics

871

812

+ 7.3 %

Air & Sea Logistics

1,190

1,013

+ 17.5 %

Consolidation
(deducting revenue from company interests of 50% and lower)

- 98

- 105

Group

5,280

4,806

+ 9.9 %