FROM MAGAZINE: Customer centricity key to all e-commerce business decisions
At the inaugural Ecommerce Logistics Summit 2019, stakeholders came together for compelling deliberations on issues facing the industry. Building business intelligence, keeping the customer at the centre, understanding regulation for smoother business were among the key points discussed by enthusiastic panel members.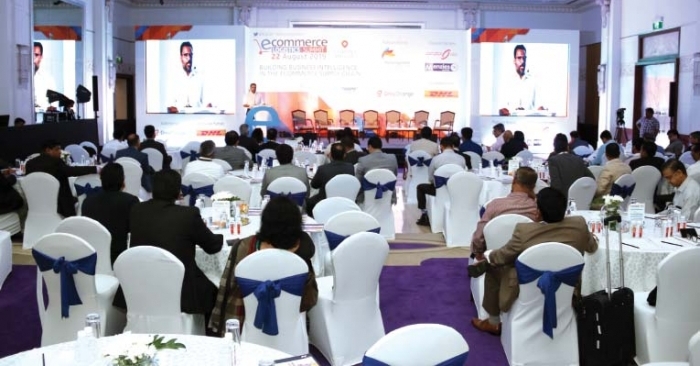 At the inaugural Ecommerce Logistics Summit 2019, stakeholders came together for compelling deliberations on issues facing the industry. Building business intelligence, keeping the customer at the centre, understanding regulation for smoother business were among the key points discussed by enthusiastic panel members.
Around 150 industry stakeholders representing 100 organisations attended Indian Transport & Logistics News' inaugural Ecommerce Logistics Summit 2019 held at ITC Gardenia in Bangalore on August 22 to discuss and deliberate upon issues to the ever-changing ecommerce industry.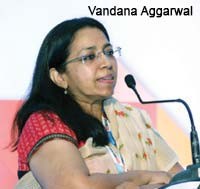 Vandana Aggarwal, economic advisor, ministry of civil aviation, government of India inaugurated the Summit, giving a historical perspective on regulation governing trade. She acknowledged that it was felt there was a "need for a regulatory mechanisms for e-commerce in the Indian space equally well to establish all the networks and interconnectivity needed between regulators" and that there was much to be done before India was in a position to participate in international negotiation on international rules on e-commerce.
"Fortunately, things went into a spin and so far there has been no specific negotiation on a subject called e-commerce. Recognising that it's a technology-driven activity, it got embedded into the rules governing goods, services, customs valuations, rules of origin, pre-shipment inspection, you name it and all standards, industrial and phytosanitary, and others which are all part of the import-export regulatory system," she added.
When Sabiha Mulla, director, Apt Logistics based in Andaman Islands raised a question during a panel discussion about poor internet infrastructure in 2-tier cities and towns of India, Aggarwal urged airline and logistics industry stakeholders to adopt districts to develop community trade.
Answering Mulla's question, Amisha Sethi, VP, global marketing, Locus emphasised, "The word AI (Artificial Intelligence) is quite glamorous right now. It's a three-dimensional approach here: one, what kind of facilities is in place with the end customer. Does he have a mobile phone? Second, is the mediator – whether it's a distributor, retailer or warehouse – what kind of facility does that location enabler have? Third aspect is the business itself. That's where agility comes in. Are you a business that is modern and contemporary enough to look forward and embrace technologies which might take away a little bit of your power from the key supply chain officers and top management. A real technology enabler would be someone who can bring every stakeholder in the eco-system together and drive transparency."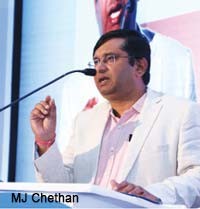 Representing Customs Bangalore was MJ Chethan, joint commissioner, who highlighted the ecommerce-specific initiatives and challenges of the government body in his address. He noted that digitalisation has facilitated concrete accountability at Customs, stressed on the need for clear regulations for smooth and seamless movement of cargo. He also outlined how Customs Bangalore is embracing digitalisation to facilitate faceless transactions and data analytics to improve operations. He invited shippers to visit the Customs Bangalore website to understand and stay up-to-date with policies for compliances uploaded on it.
The event was sponsored by Bangalore International Airport Limited (BIAL), Air India SATS, Air Menzies Bangalore, DHL India and GreyOrange. Speakers from BIAL, GoAir, Skyways Group, Moglix, Eunimart, Ecom Express, Gizmobaba.com, SpiceJet, Delhivery, Landmark Group, MedLife, OpenApp among others shared insights on varied subjects.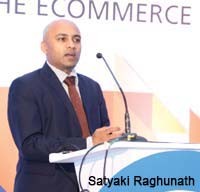 Satyaki Raghunath, chief strategy & development official, BIAL identified trends that would affect the wider aviation eco-system. "We are looking at Artificial Intelligence and automation from an operational perspective. And even as part of our longer initiatives, BIAL is looking at digital intiatives not just from a passenger perspective but also from an operational perspective, including elements of cargo and logistics supply chains. We are equally looking at Internet of Things (IoT) and connected devices - how do you get better information to our partners, the airport community? The third thing we are looking at is Big Data. We've already got a data analytics platform established at the Bengaluru airport. All of our operations, capabilities are now residing on the analytics platform. Over the course of the next 4-5 years, all the verticals at our airport will be on the analytics platform. We are already getting geared up to make better, more informed decision-making."
He added that BIAL was moving from a descriptive to being prescriptive and predictive through analytics. He also stressed on customer service as the most essential. "If you're not looking at your customer, you're really making a mistake," he said.
Panel Discussion 1
Building business intelligence in the ecommerce supply chain was moderated by ITLN editor Reji John. The panelists discussed how critical business intelligence is to ecommerce shippers and logistics service providers. Speaking on data integration with respect to e-commerce, Sujit Subramanian, vice president, cargo, GoAir rued, "Data does not trickle down to us, there is a gap." He spoke about data helping to minimise off-loadings which happen due to lack of planning and a tight turnaround time of 28 minutes. "If I can get data from all stakeholders that this is the exact load that's coming, we could do a better job," he added.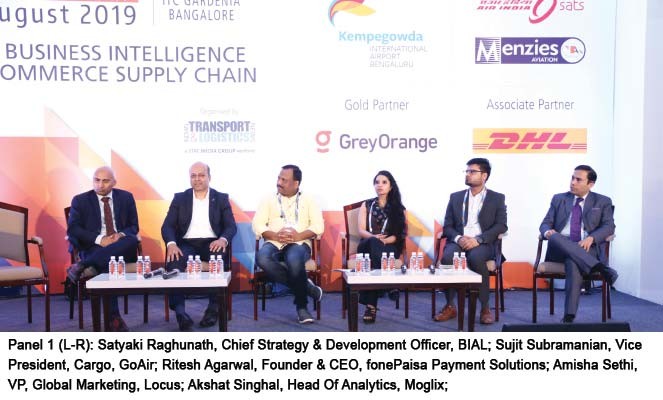 Yashpal Sharma, managing director, Skyways Group informed that freight forwarders are sharing data in advance for exim cargo, especially on the airport side. "On the domestic front, yes, the challenge exists. Even the ready-for-carriage is a big challenge on the domestic front for a lot of airlines. Forwarders on the domestic front have a lot more to do before they can assist their carrier to plan their loads better and have lesser last minute issues. But on the exim front, the freight forwarding and airline community is working pretty well together."
Panel Discussion 2
Keeping the customer at the center of your omni-channel world discussed among others, the evolution of ecommerce from traditional to omni-channel. The panelists spoke about what makes a business truly omni channel – keeping the focus on the customer.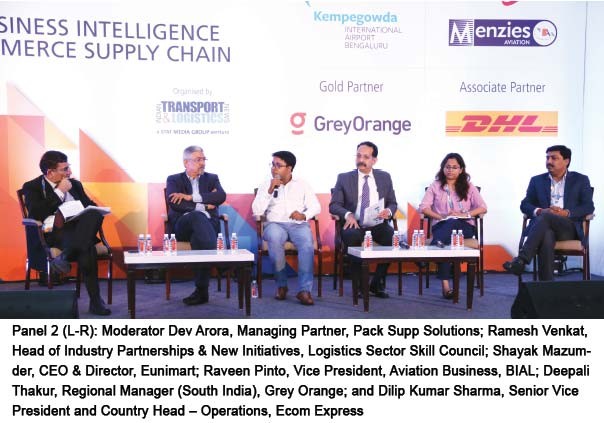 Shayak Mazumder, CEO & director, Eunimart spelled out, "My observation is that overall the Indian industry is evolving and maturing to the point that Indian consumers are willing to pay compared to before where they were not willing to pay. A true omni channel is when you have a customer at the centre of the entire experience. To say that is easy, but to design for that is incredibly difficult. Not Amazon, nor Alibaba, nobody has got that sorted out. When you talk about customer being at the centre of that experience, it means each and every place that the customer has interacted with you, you need to know. That is true omni channel. What we have today is a variation of multi-channel, some a little bit more advanced, others less." He mentioned China's Cainiao Smart Logistics Network as most advanced omni channel network in terms of logistics in the world right now. The panel, moderated by Dev Arora, managing partner, Pack Supp Solutions, agreed that customer-centric values need to be repeated and reinforced over and over.
Panel Discussion 3
Understanding regulation: Navigating changing trade and customs laws for an efficient delivery process was also moderated by ITLN editor Reji. Commenting on regulations, Alok Chawla, co-founder, Gizmobaba.com mentioned about Chinese e-commerce players like Club Factory and Shein declaring import goods as gifts, making it harder for pure players like Gizmobaba.com to conduct business."There have been more inspections, more paperwork, more shipments getting stopped because everybody doing cross-border e-commerce is now being clubbed into the same bucket. So we are seeing these challenges not so much because of the Customs department, but because some of the players who have been misusing the laws. Some laws need to come into place so that everybody is on the same platform and nobody can undercut because they have evaded duties and taxes," said Chawla.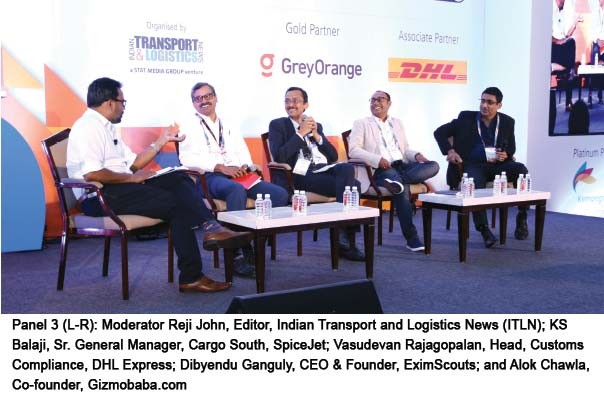 Echoing Chawla's sentiments, Dibyendu Ganguly, CEO & founder, EximScouts highlighted the misdeeds in imports, wherein "gifts or samples" are being sent from a customer in China to another customer in India. "Club Factory and Shein are just facilitators. You cannot have a lakh orders as gifts and samples. It is the reason why Customs might be thinking there has to be some regulation. If it was proper cargo, it would have gone through several layers of scrutiny. It is also affecting Make In India [movement], as the local retailers and manufacturers are not getting the advantage of the schemes rolled out by the government," said Ganguly.
Vasudevan Rajagopalan, head, customs compliance, DHL Express, said that the Customs department was moving from a suspicion to a trust-based mechanism, and that there was a need for business development officers in government organisations to facilitate smoother business. The panelistsalso agreed that regulation needs to be made keeping the customer, especially the seller, in mind.
Panel Discussion 4
From global to local: the growth of regional warehousing and local fulfilment centres for seamless delivery talked about customer delivery expectations in the 21st century and the need for locating distribution centres closer to demand points to service customers, among others.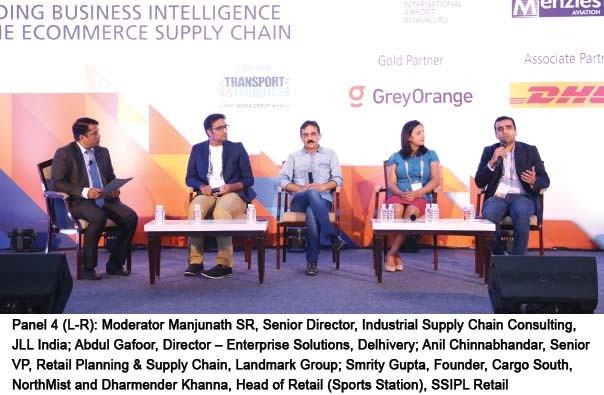 Talking about distribution centres being closer to customer, Abdul Gafoor, director, enterprise solutions, Delhivery, said, "Just to give a context, Delhivery has close to 7 million square feet of infrastructure across the country, out of which over 2 million square feet is in the city centre it within 5 miles from the customer or the demand cluster. That itself is a good insight that customers are willing to accept it. I think there is a large portion of impulse purchase wherein you place an order at midnight and expect delivery the next day. If you don't do that, the customer would probably have changed his mind. You have a price sensitive or an undecided customer making a purchase to which even if you have committed a delivery next day at 9pm, you need to deliver it before he steps out of his house, because you don't want have your returns increase. Beyond that you have the mature e-commerce customer, who doesn't compare with an Amazon or Flipkart anymore, they are pretty loyal to one app. In order to deliver to these customers who can give you repeat orders, which are not price sensitive, you have to be closer [to them]."
The key takeaways included that the sharing model would be the future of businesses and would change the way traditional warehouses would be used. Smrity Gupta, founder, NorthMist said there was a need for start-up friendly warehousing plans. The mushrooming of spaces in smaller towns and cities to meet warehousing needs was also discussed in the panel moderated by Manjunath SR, senior director, industrial supply chain consulting, JLL India.
Panel Discussion 5
Improving visibility: Identifying disruptions in the delivery journey discussed about the need for an agile delivery model to plug problems of efficiency and pilferage. The panelists agreed that better infrastructure and innovation could help solve some of the issues in the critical last-mile. Suresh Parameshwaran, co-founder, FreshToHome gave examples of pilferage and issues he faces as a perishables supplier. "The biggest challenge in this business is the last mile. It is a business in itself. A cold chain to a doorstep is a completely different ballgame. Every minute saved is money for us. The biggest complexity is getting talent to deliver," said Parameshwaran. He went on to discuss the problems faced with delivery executives and challenges in last-mile deliveries despite the use of technology and innovation for keeping track of employees.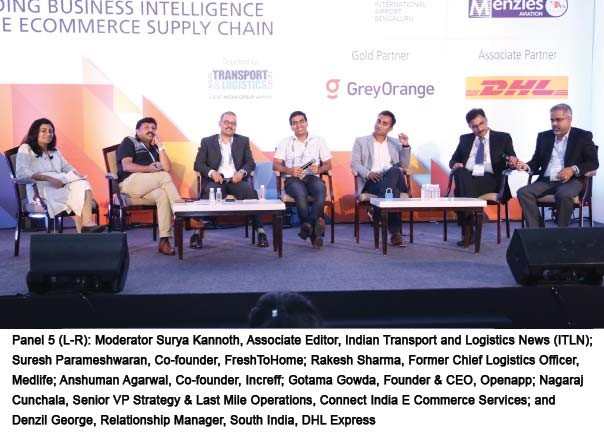 Commenting on identifying the right demand to serve a product and enabling fast response, Anshuman Agarwal, co-founder, Increff said, "The biggest problem today is that most fashion brands and retailers would treat their stores in clusters – category A store or B store, based on the size, location etc. But the DNA of the store is very different. So what we started doing is analysing it very deeply, and we built more than 300 algorithms behind our product to pinpoint, determine the demand for each location, for each product and then linked it with a fulfillment platform so that the warehouse has a capability to do shorter faster frequency fulfillment to the stores, thereby ensuring that you are ready with the right product in the right location."
The session, moderated by Surya Kannoth, associate editor, ITLN, shed light on the shortcomings of technology as humans have always found a way to circumvent restrictions posed by it.