CriticaLog disrupting temp-controlled logistics in India
As a technology-powered premium logistics company, CriticaLog is transforming the logistics of time-sensitive, temperature-controlled, and high-value commodities. The organisation has a lot to share about its achievements in the last one year, particularly for the healthcare industry.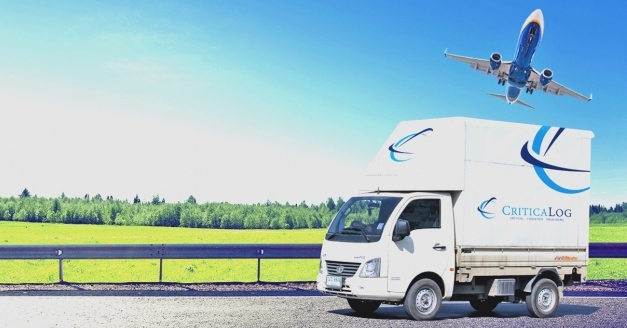 As a technology-powered premium logistics company, CriticaLog is transforming the logistics of time-sensitive, temperature-controlled, and high-value commodities. The organisation has a lot to share about its achievements in the last one year, particularly for the healthcare industry.
CriticaLog provides customised critical logistics solutions to Fortune 500 companies across industries like healthcare, consumer electronics, engineering, high-value e-commerce, luxury, automotive and energy. Headquartered in Bangalore, it is funded by a Switzerland based investment firm, with roots from the founding family of Gondrand Logistics, established in 1866 in Europe.
CriticaLog delivers customized time-definite and day-definite shipping services in India and international markets with in-house industry experts providing failsafe transportation for precious, hazardous, radioactive cargo and provides cold chain transportation and storage solutions for customers.
According to Sujoy Guha – CEO & MD, CriticaLog, the organisation is the market leader in 'Repair & Return' logistics and fulfilment services, along with an array of value-added facilities including automation, packaging solutions, among others. CriticaLog is partnering with global organisations in the healthcare sector by reducing the downtime of critical medical equipment by providing just-in-time delivery of critical spare parts through its network of storage locations in India, 24X7, 365 days a year.
"We are the only critical logistics organisation partnering with global banks and financial institutions in reducing the downtime of their servers through 6 hour8 hour-10-hour critical deliveries across the country," adds Guha.
CriticaLog invests heavily in technology with a dedicated technology team based out of Bangalore through Android and iOS-based applications, route optimization, best-in-class visibility to the remotest corners of the country along with state-of-the-art transport management and warehouse management solutions.
Guha said, "CriticaLog is a leader in providing temperature-controlled logistics solutions for the healthcare industry. With an in-house team of best-in-class healthcare experts, CriticaLog's network is designed and certified to handle the needs of the temperature-controlled vaccination requirements."
Tamal Das, head – business development & marketing, said, "CriticaLog has been moving clinical trials of vaccines and finished products of various vaccines for several years through multi-modal transportation. Storage and distribution of Covid-19 vaccines would be another success story in its portfolio."
"CriticaLog has its own hubs and offices in over 60 locations in India covering closer to 17,000 pin codes. Most of these locations are equipped with temperature-controlled storage and access to multi-modal domestic and international transportation. It partners exclusively with the largest airline in India and partners with over 120 airlines globally," he added.
CriticaLog is an ISO 9001, ISO 27001, GDP, and TAPA certified company.
CriticaLog is one of the pioneers in handling temperature-controlled logistics across temperature ranges (i.e 2 to 8, −20, −80 and −196 degree Celsius) and has partnered with healthcare organisations in providing packaging solutions, storage, and multimodal distribution solutions. It partners with global medical equipment manufacturers in providing forward and reverse logistics for time-critical raw materials and finished goods to hospital chains in India and international markets. It is one of the very few logistics service providers that move radioactive cargo for global healthcare organisations to ensure uptime of critical medical equipment in various tertiary and quaternary care hospitals.
Success stories with Fortune 500 healthcare organisations
CriticaLog has been moving life-saving temperature-controlled medicines for a leading pharmaceutical organisation to war-torn Middle East countries by consistently maintaining a temperature of 2-8 degree Celsius through the peak of summer. The destination being a difficult country, customs clearance, and international distribution is an area that major international logistics service providers mostly refuse to undertake. CriticaLog through its extensive network of overseas partners not only ensures smooth customs clearance but delivers medicines ahead of schedule, resulting in improving the lives of thousands of children.

A world leader in ophthalmic optics requires same-day delivery of its corrective lenses, by being safe, secure and through a reliable pan-India distribution. As a long-term logistics partner, CriticaLog, through its connections to over 125 airports in India, allows its factories to complete production through late cut-offs and early morning pick-ups. This not only results in quick retrieval of shipments from destination airports but also ensures same-day delivery between cities.
A global medical equipment organisation delivers critical spares for CT Scan machines to a leading chain of super speciality care hospitals. The organisation faced a major challenge with the on-time availability of spares for their service engineers. Through extensive use of smart technology, CriticaLog ensures the required customization of android and ios based applications to reduce downtime and increase patient delight.
CriticaLog through its cohesive engagement with affiliates of the ministry of science & technology moved radioactive spare parts, consumables, and finished goods for a Fortune 500 healthcare company to the oncology department of the leading chain of hospitals. CriticaLog ensured appropriate packaging of radioactive cargo and movement as per IATA regulations.
CriticaLog partnered extensively with Covid-19 vaccine, related medical equipment, and kit manufacturers in India and globally. Key initiatives over last year:
It has been moving Sputnik V vaccines for licensed healthcare organisations in India from Moscow to various metro cities in India and to the end customer.
It moved clinical trial samples of Covid-19 vaccines to All India Institute of Medical Sciences (AIIMS) from Covid-19 vaccine manufacturers in India.
It has been instrumental in moving over 25 million Covid-19 test kits to various state governments in India over the last year, in partnership with the ministry of health and rapid test kit manufacturers.
It partnered with the ministry of external affairs in moving thousands of Covid-19 test kits in bulk, as humanitarian aid to neighbouring countries.
It has been instrumental in moving complete ventilator units and spare parts to various hospital chains in metros and remote parts of India. Finished goods and raw materials of ventilators moved in from Europe and Far Eastern countries.
With the largest vaccination drive underway in India, Covid-19 vaccine distribution will require a robust logistics chain and a temp-controlled environment that supports the life of the vaccine effectively to reach the remotest corners of the country.
Das said, "CriticaLog is ready to store and distribute Covid-19 vaccines in India, with its strong operational network and technology solutions with continued visibility, 24X7 control tower monitoring, 365 days of the year."
Guha added, "CriticaLog was always ready to take on the pandemic or any black swan events, as it closely engages with the customer in understanding its pain points and provides technology-enabled customized solutions with surgical precision."
This story was originally published in Indian Transport & Logistics News' May - June 2021 issue.