Container market update: Rates ease but future uncertain
The next black swan event for the container market would be a 'complete recovery because that is what nobody is expecting at this point,' according to Parisha Tyagi, associate editor, container shipping – APAC, S and P Global Platts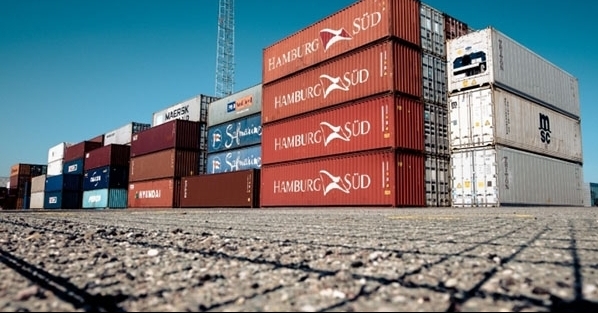 October 13, 2021: The next black swan event for the container market would be a "complete recovery because that is what nobody is expecting at this point," according to Parisha Tyagi, associate editor, container shipping – APAC, S&P Global Platts.
A contradictory view, however, is that the container market may be headed to the oversupply situation in and around 2023, which could also be a surprising development, Tyagi added while speaking at the S&P Global Platts & Singapore Logistics Association - Container Shipping Webinar held recently
A black swan event, according to Singapore Logistics Association CEO Bee Lock Oh, would be shippers controlling large ships instead of "depending on ocean carriers."
"De-containerisation is something to watch out for," said Eddie Ng, vice president, Cargo Solutions & Platform Development, PSA International.
The online event was hosted by Boaying Ng, Global Managing Editor, Asia Petrochemicals
S&P Global Platts.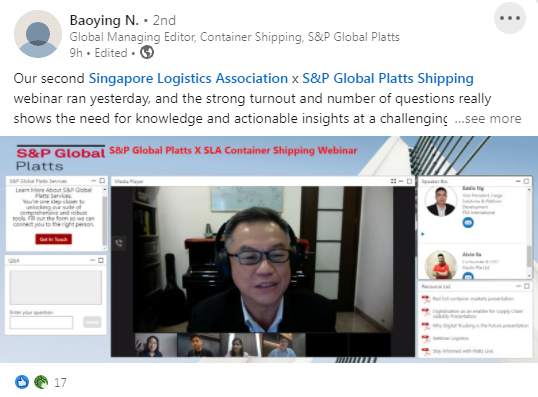 Higher commodity prices and shipping costs are also adding 1.5 percentage points to G20 consumer inflation, according to the Organisation for Economic Co-operation and Development (OECD).
The shipping index (based on the Shanghai Containerised Freight Index) was at 482 as against 100 in February 2020 while food and crude oil have witnessed moderate rallies.
Nothing is certain, Tyagi said, adding, "expect the unexpected and go with the flow."
Market participants are hopeful that carriers would offer stability on term contracts.
The premium surcharge, Tyagi added, is likely to stay for some time. "Since the surcharge is directly linked to equipment availability, it implies that congestion and port issues would persist at least for the first quarter of 2022."
Premium rates from North Asia to West Coast North America dropped to around $13,000/FEU around the start of Golden Week on October 1 but are already back up to previous levels around $15,000/FEU, S&P Global Platts said in this report.
US ports are expected to face more congestion in the final push for the holiday shopping season. "The queue of ships waiting to berth at the Los Angeles-Long Beach port complex rebounded to 65 ships on October 12 from a trough of 46 ships," the report said.
Alvin Ea, co-founder & CEO, Haulio, a container haulage platform, said during the Platts-Singapore Logistics Association webinar that the challenge is to do more with less. "We are a digital native company who wants to work with all the hauliers, trucking companies and asset owners to empower them with technology so that they can do more with less. More importantly, they should be able to live in this new future where they can embrace new challenges and not be afraid of them and deliver better value to their customers."