Container carriers order 550 ships in 2021, up nearly 400%; Maersk warns of tough times
New building orders for container vessels increased 386 percent to 555 for the year to date (YTD) December 2021 compared to 114 in 2020 and 107 in 2019.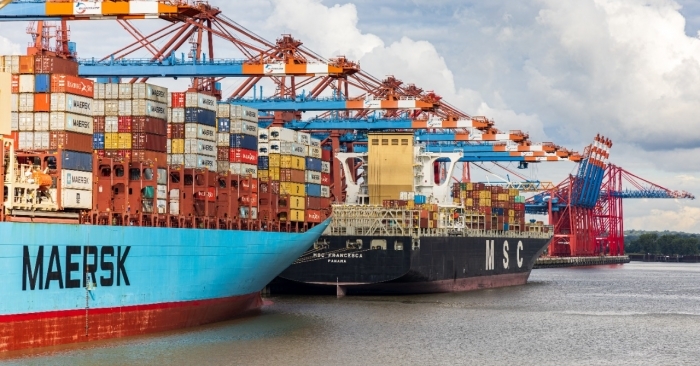 January 12, 2022: New building orders for container vessels increased 386 percent to 555 for the year to date (YTD) December 2021 compared to 114 in 2020 and 107 in 2019.
Based on value, new building orders hit $42.5 billion as against $8.7 billion in 2020 and $6.8 billion in 2019, data from VesselsValue show.
A key indicator - demolitions - dropped sharply to 11 units from a high of 88 in 2019 and 83 in 2020. Demolition sales plummeted to $41 million from $393 million in 2019.
In terms of what the carriers will be spending their profits on, the December report from VesselsValue provides a glimpse of this, according to Lars Jensen, leading expert in the container shipping industry, according to this LinkedIn post
"According to the new report, the carriers ordered 555 container vessels in 2021 with a combined value of 42.5 Billion USD. For comparison, pre-Covid 2019 saw 107 vessels ordered at a value of 6.8 Billion USD.
"At the same time, the capacity shortage and extremely high TC rates basically put a complete stop to scrapping activity with a total of 11 vessels scrapped at a value of just 40 Million USD."
Tough times to continue, Maersk warns customers
Maersk, in an advisory to customers, said 2022 has not started off as "we had hoped. The pandemic is still going strong and unfortunately, we are seeing new outbreaks impacting our ability to move your cargo..the situation is particularly challenging at several Hub Ports and Gateway terminals."
Maersk went on to list several ports in Europe and the U.S where delays were between 0-45 days. "While the numbers are far from optimal, we are pleased to see areas of developments. The Port of Antwerp had up to ten days wait last week, and this week the numbers could be down to two days."
In North America, Long Beach had the maximum waiting period of 38-45 days followed by Los Angeles at 0-28 days.
"Of the five container terminals in Ningbo, three terminals are located near the epidemic area but are operating so far with no positive cases reported. Vessel calls and departures are so far running as normal, as well as loading and discharge activities," the advisory said.
Maersk has warned customers to expect delays and "regret the impact this has on your global supply chains and we do foresee the strain to continue for some time still."
No improvement in sight: Sea-Intelligence
"Overall, 11.5 percent of the global capacity has been taken out of the market due to vessel delays in November 2021, a slight improvement from 12.3 percent in October 2021," says Alan Murphy, CEO, Sea-Intelligence. "However, judging by the data, it seems that there is no sign of imminent improvement. The normal state of affairs in the market is that 2 percent of global capacity is "trapped" in delays somewhere. It also clearly shows the sheer magnitude of the problem in 2021. Basically, 2021 was a year where demand grew 7 percent year-on-year (partly due to the downfall in early 2020) and at the same time capacity effectively was reduced by 11 percent."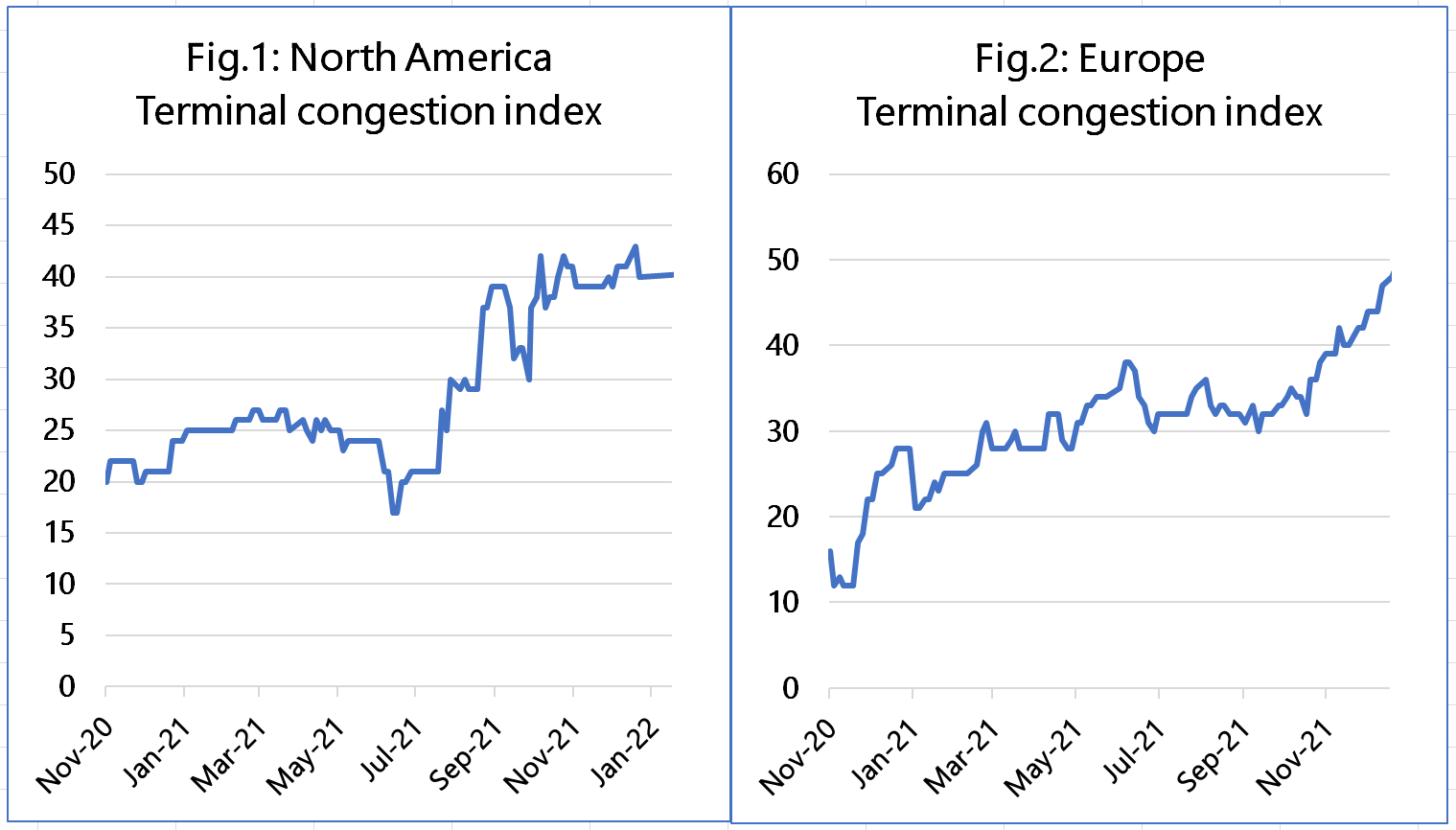 In terms of terminal congestion, Figures 1 and 2 show the results of the terminal congestion index (quantifying HMM's customer advisories) of Sea-Intelligence for North America and Europe. "For North America, the slight improvement after Golden Week was fully reversed by the end of 2021 and a new record was set on December 30, albeit with a slight improvement again on January 6, driven by improvements in Savannah and Charleston. For Europe, we see a situation that has been steadily getting worse since the start of October with no signs of any improvement or even levelling out," Murphy said.
All the available data show congestion and bottleneck problems are worsening in 2022, and there is no indication of improvements yet, Murphy added.
A total of 103 container ships are backed up across Los Angeles/Long Beach ports as of Tuesday January 11, 2022, according to data from Captain J. Kipling (Kip) Louttit, Executive Director, Marine Exchange of Southern California & Vessel Traffic Service Los Angeles and Long Beach San Pedro, CA.
The 103 total container ships backed up includes 14 container ships at anchor or loitering inside 40 miles from the ports of LA and LB (same as yesterday), plus 89 slow speed steaming or loitering outside the Safety and Air Quality Area (SAQA).
"In other words, there are only 14 container ships remaining that are loitering or anchored within sight of the ports LA and LB - which is 72 fewer than the 86 when the new queuing program started on November 16."
Good thing - all 19 container ships arriving in the next three days are scheduled to go directly to berth/dock and not anchor or loiter at all, Captain Kip added.