Congestion affecting vessel availability, rates
With 2.4 million TEUs (10 percent of the live container fleet) currently waiting globally, congestion is a major factor influencing vessel availability and rates as global economies continue to recover this year in the wake of the pandemic, according to VesselsValue, an online valuation and market intelligence provider for the aviation and maritime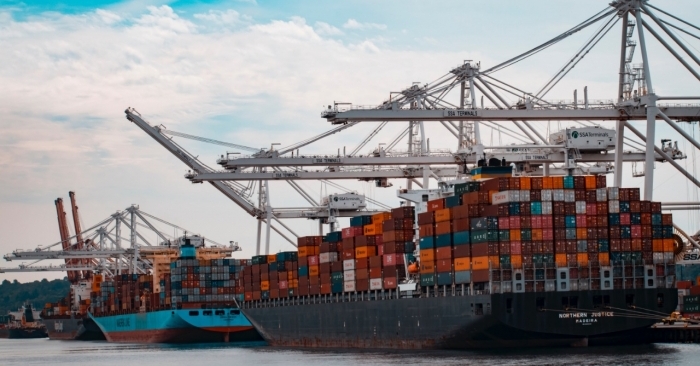 November 6, 2021: With 2.4 million TEUs (10 percent of the live container fleet) currently waiting globally, congestion is a major factor influencing vessel availability and rates as global economies continue to recover this year in the wake of the pandemic, according to VesselsValue, an online valuation and market intelligence provider for the aviation and maritime industries.
"Port congestion has not only played a part in influencing vessel rates but has also had knock-on impacts further down supply chains as transportation links struggle to keep up with bottlenecks and throughput," said Charlotte Cook, head trade analyst, VesselsValue.
Cook goes on to highlight various issues witnessed by the carriers during 2021 including bulker congestion in China, Suez Canal congestion, the on-going container congestion and the congestion at the U.S West Coast.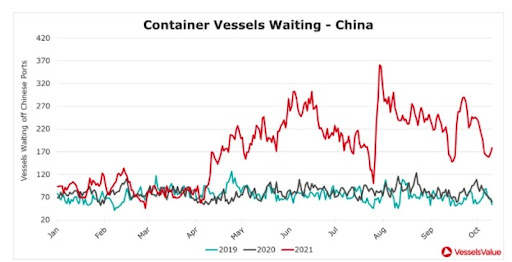 "There have been several stand out events so far this year that have resulted in shipping sectors becoming subject to congestion. Some were relatively short lived such as the disruption from the Suez Canal blockage, others have been more prolonged such as the China/Australia coal ban which has spanned over a year," Cook said.
There may be a lull in demand in the New Year with the Christmas period ending and the approaching Chinese New Year. "This could ease congestion slightly, although with the high number of vessels still waiting, it's likely the backlog of vessels will extend at least into the second quarter of 2022. With a reduction in available capacity on the water and staggering numbers of newbuild orders this year (570% higher than orders in 2019), we have seen container rates climb to record highs with current congestion supporting the incline."