CMA CGM Q3 profit zooms to $6 billion on higher freight rates
French carrier CMA CGM net profit zoomed to $5.6 billion for the quarter ended September 30, 2021, and revenue increased 89 percent to $15.3 billion on higher freight rates.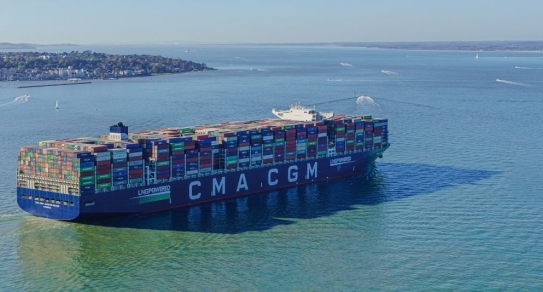 November 22, 2021: French carrier CMA CGM net profit zoomed to $5.6 billion for the quarter ended September 30, 2021, and revenue increased 89 percent to $15.3 billion on higher freight rates.
The group witnessed a 2.5 percent decline in volume carried to 5.5 million TEUs during the third quarter of 2021. "Growth in volumes is currently constrained by congestion affecting port terminals and inland infrastructures, leading to longer transit times for vessels."
Shipping revenue, however, doubled to $12.5 billion, driven by average revenue of $2,293/TEU.
CEVA Logistics Q3 revenue increased 55 percent to $2.9 billion, on freight management services, in particular the ocean segment "in what was a favorable market backdrop as well as to a lesser extent the continued turnaround in contract logistics activities which had been negatively impacted by lockdown measures relating to the Covid-19 pandemic in 2020."
Rodolphe Saadé, chairman and CEO, CMA CGM Group, said: "We delivered very good financial results this quarter, enabling us to continue our development and accelerate our transformation. In an unprecedented context of strong tensions in global supply chains, our priority remains to support our customers with a complete range of solutions addressing their increased needs for shipping and logistics."
For the nine months ended September 30, profit zoomed to $11.2 billion from $746 million in corresponding period last year. Revenue increased 72 percent to $38.4 billion from $22.3 billion.
The CMA CGM group increased shipping capacity by 5.9 percent between September 2020 and September 2021. "10 new owned vessels and three new 15,000 TEU chartered vessels have joined the Group's fleet since the beginning of the year," the statement said. The group has added 800,000 additional containers over 15 months to reach 4.8 million units.
CMA CGM AIR CARGO orders 4 A350Fs
CMA CGM AIR CARGO, launched by CMA CGM in February 2021, recently signed a memorandum of understanding (MoU) for the purchase of four A350F freighter aircrafts.
With a carrying capacity of more than 100 metric tonnes and a range of nearly 9,000 kilometers, A350Fs will enable CMA CGM AIR CARGO to strengthen its long-haul offer.
"The Group has decided to make CMA CGM AIR CARGO a French freight airline. In this regard, CMA CGM AIR CARGO has filed an application for an Air Operator Certificate (AOC) with the French Civil Aviation Authority (DGAC - Direction générale de l'aviation civile). In addition, the new aircrafts that will join the Group's fleet in spring 2022 will be registered in France and will be based at Paris-Charles de Gaulle airport."
The air freight division has acquired five second-hand aircrafts including four 60- tonne payload Airbus A330-200F freighter aircrafts. "With a range of 4,000 nautical miles, they will connect Europe with America and the Middle East. Two additional Boeing 777F aircrafts have been ordered later on and are recorded as assets in progress as of September 30, 2021 with an expected delivery date in 2022," the statement added.
Acquisitions, port consolidations continue
During the third quarter of 2021, CMA CGM acquired Continental Rail, a rail freight operator in Spain while CEVA Logistics acquired Cargex, a perishable goods expert in Columbia to step up Latin America offering.
Port investment projects launched by the group since the beginning of the year include:
Signing of the acquisition of 90 percent of the Los Angeles Fenix Marine Services terminal - one of the largest port terminals in the Los Angeles/Long Beach region and a major gateway for US imports.

35-year concession agreement for the new container terminal at Khalifa Port in Abu Dhabi; and

Signing of a long-term joint venture to equip and operate the new container and general cargo Tahya Misr terminal at the Port of Alexandria.
The group holds stakes in 49 port terminals across 27 countries via two subsidiaries CMA Terminals and joint venture terminal link.