CMA CGM marks 21.1% surge in number of containers carried in 2017
March 19, 2018: In 2017, CMA CGM carried nearly 19 million containers, a strong increase of 21.1 percent compared to 2016. This increase is driven by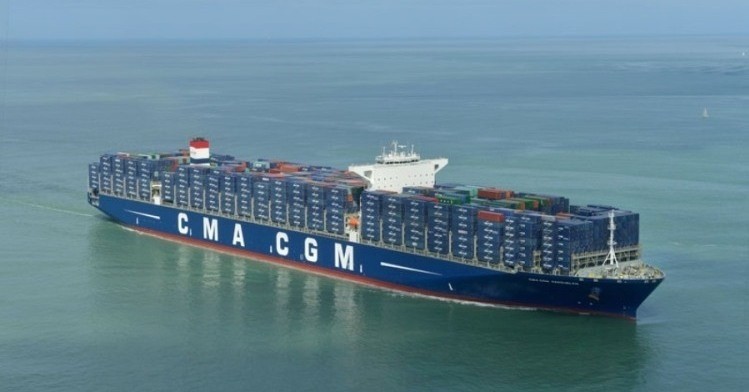 March 19, 2018: In 2017, CMA CGM carried nearly 19 million containers, a strong increase of +21.1 percent compared to 2016. This increase is driven by the contributions of all the shipping lines operated by the Group in addition to APL's full-year contribution.
The strong momentum is notably linked to the quality of the OCEAN ALLIANCE service offering that was launched on 1 April 2017. It covers 40 shipping services on the East-West trades. Also the Transpacific market, where the CMA CGM and APL brands are particularly strong, had a major contribution.
The average revenue per TEU rose by +9 percent compared to 2016, in wake of the increase in freight rates, confirmed throughout 2017. Fourth quarter revenues were up 19.9 percent compared to the same quarter last year and stood at $5.5 billion. Therefore, the annual revenue for 2017 rose by a very strong +32.1 percent and surpassed the $20 billion mark for the first time, reaching $21.1 billion.
Upon the publication of its 2017 annual results, Rodolphe Saadé, chairman and CEO of the CMA CGM Group, commented, "In 2017, we launched several strategic projects fostering our development for the years to come, notably in the digitisation of our industry. Driven by its strategic vision, the expertise of its 30,000 staff members and its financial strength, the Group is pursuing its development with confidence and determination, as it has for the past 40 years."
In the last quarter, the operational result stood at $282 million. The core EBIT margin reached 5.2 percent, up by 1 point compared to the fourth quarter of 2016.
In 2017, CMA CGM core EBIT reached $1.575 billion with a core EBIT margin of 7.5 percent, up +7.3 points compared to the previous year. CMA CGM thereby recorded the best operating result in the container shipping industry.
In addition to the rise in average revenue per TEU transported, the control of unit costs which rose slightly by 1.6 percent, despite the sharp rise in fuel prices (+42 percent compared to 2016) enable this particularly strong result.