CBRE opens searchable real estate listing platform for 10 Indian cities
CBRE South Asia in India launched Commercial Listing Platform (cbre.co.in/properties), a searchable digital real estate space with 2500+ commercial spaces including office, flexible workspace, retail and industrial & logistics across ten cities in India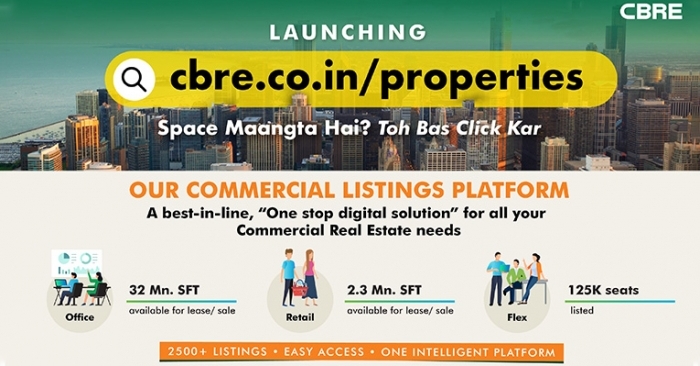 April 22, 2020: CBRE South Asia in India launched Commercial Listing Platform (cbre.co.in/properties), a searchable digital real estate space with 2500+ commercial spaces including office, flexible workspace, retail and industrial & logistics across ten cities in India.
The platform comprises of listing information, from floor plans, brothers, photos, location map to analysing cost and arranging site visits.
"The newly launched platform will showcase listings across; small spaces to large iconic buildings for office; high street, shopping centres and retail parks for retail to suit varying business demands across 10 cities in India, " says the release.
Presenting, the biggest digital platform for all your commercial property needs.

Experience the largest network of office, retail & co-working spaces for rent or sale at the click of a button!#SpaceMaangtaHai?

To bas click kar: https://t.co/mqDZmiplc0#CommercialRealEstate pic.twitter.com/lbKZ6Hkyec

— CBRE India (@CBRE_India) April 16, 2020
Anshuman Magazine, chairman and CEO, India, South East Asia, Middle East and Africa, CBRE said, "With the launch of Commercial Listing Platform, our endeavour is to give our clients in India better access to our network and local market insights. By listing available properties with CBRE, our partners can get in-roads into broader occupier audience across 10 cities.'
Magazine further added, "The advent of technology has redefined the way we do business. While many people think of technology as a disruptor, at CBRE we look at it as a facilitator which promotes the spirit of innovation and excellence in service delivery. This platform will help strengthen our advisory and transaction capabilities and meet the constantly evolving requirements of our clients.".
Ram Chandnani, managing director, Advisory & Transaction Services, CBRE South Asia Pvt. Ltd. said, "Today we have laid the foundation for the future of real estate transactions and engagement with our clients, developers and investors with the launch of our Commercial Listings Platform- cbre.co.in/properties. The launch of this platform is part of our ongoing endeavour to be at the forefront of property transactions over a digital platform."
As per a research conducted by CBRE on 'Arrival of the Tech Age – Is India CRE ready to embrace the change?', technology will modernize Asia Pacific's corporate real estate landscape over the next few years, with landlords likely to emerge as the greatest agents of this transformation.
Rajat Johar, senior executive director, head business operations & flexible workspace solutions, CBRE South Asia said, "With digitization, clients' needs across the country are rapidly changing, and we are constantly redesigning and enhancing our service offering in order to provide the best in class client experience thereby staying ahead of the curve. The newly launched platform aims to bring our clients and developers/ operators closer to each other by breaking down barriers of time and geographical location. That's the future of digitalization in India and we are more than prepared to add value to our clients with our offerings."
The Commercial Listing Platform has more than 2500+ listings at the time of launch across 10 cities and expected to grow exponentially with CBRE's best of advisory, brokerage, technology and transaction consultancy skills along with local market insights.