Cathay Pacific anticipates $1.28 bn loss for first half of 2020
July 18, 2020: The Directors of Cathay Pacific Airways, in its latest profit warning and combined Cathay Pacific and Cathay Dragon traffic figures for June 2020, estimate that for the six months ended June 30, 2020, the Group will record a net loss attributable to shareholders of HK$9.9 billion ($1.28 billion) compared to the profit of HK$1.3 billi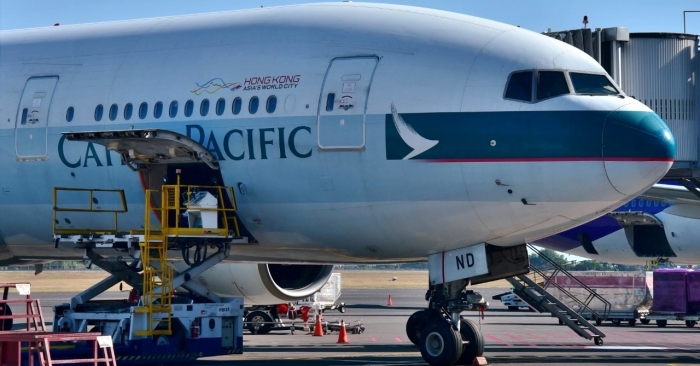 July 18, 2020: Cathay Pacific Group, in its latest profit warning and combined Cathay Pacific and Cathay Dragon traffic figures for June 2020, estimate that for the six months ended June 30, 2020, the group will record a net loss attributable to shareholders of HK$9.9 billion ($1.28 billion) compared to the profit of HK$1.3 billion for the same period in 2019.
Cathay Pacific and Cathay Dragon carried 93,228 tonnes of cargo and mail last month, a decrease of 43.1 percent compared to June 2019. The month's revenue freight tonne-kilometres (RFTKs) fell 35.8 percent year-on-year. The cargo and mail load factor increased by 11.7 percentage points to 74.5 percent, while capacity, measured in available freight tonne kilometres (AFTKs), was down by 45.9 percent. In the first six months of 2020, the tonnage fell by 31.9 percent against a 31 percent drop in capacity and a 24.6 percent decrease in RFTKs, as compared to the first-half period for 2019.
Earlier this week, Cathay Pacific's shareholders passed the resolutions pertaining to the company's HK$39 billion recapitalisation plan.
Cathay Pacific continued to operate a full freighter schedule as well as chartered flights from its all-cargo subsidiary, Air Hong Kong, in June. There were fewer cargo-only passenger flights compared with May.
Chief Customer and Commercial Officer of Cathay Pacific Group Ronald Lam said, "Despite a mild pickup in general airfreight movements, our cargo tonnage fell by 5% month-on-month as demand for medical supplies waned following a peak month in May. The reduction of long-haul carriage from the Chinese mainland and Hong Kong made way for movements from Southeast Asia and the Indian sub-continent as local lockdown measures eased.
"Meanwhile, the improvement in inbound Hong Kong loads and network support led to a higher load factor, which increased 11.7 percentage points year-on-year to 74.5 percent. Yields came down following the significant rise seen in May."