Delivering From the Sky- Fast, Efficient, Safe, Sustainable
Drone logistics in India is reaching new heights by enabling delivery in challenging environments. This has also attracted the government's interest, which has resulted in their support and special regulations for drone delivery. Do drone deliveries have the ability to help boost the logistics industry? Let's find out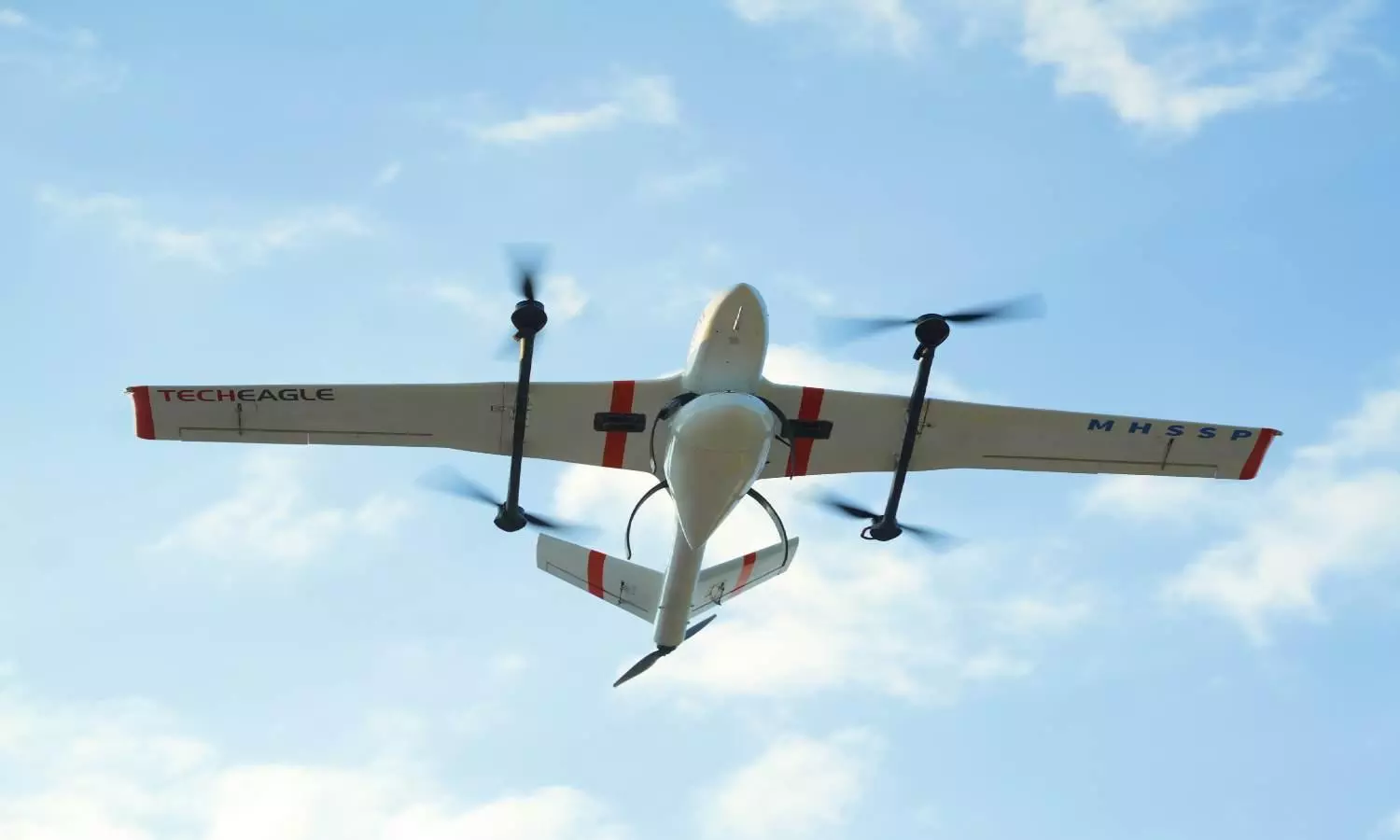 Since India has a wide and diverse geography, traditional transportation methods are expensive and time-consuming. Cargo drones are assisting in overcoming these obstacles by providing faster and more effective delivery of products and medications, particularly in remote and hard-to-reach places.

The Indian government has aggressively promoted the use of drones in a variety of industries, including logistics and transportation. Nevertheless, the future of the Indian cargo drone industry is bright, with tremendous development potential in the coming years.
Supply chain and logistics businesses have undergone a significant change to fulfil demand and remain competitive in the market as the world adjusts in this post-pandemic period. Logistics players are looking beyond the well-established vehicle-based logistics network and toward drone delivery to address the inefficiencies in last-mile logistics in order to be first with on-demand deliveries.
As the business matures and technology improves, we questioned India's drone and logistics players about last-mile delivery efficiency, how the sector can prevent drones from crashing and the potential of drones to increase logistics in India.
2022 for Drone Players
The Indian drone logistics sector has entered a new era. In 2022, the Indian drone companies initiated various logistical operations, mainly in the north and south of India, delivering pharmaceuticals, lab samples, food and groceries to remote areas.
"2022 was fantastic for TechEagle. We were able to commercialise our indigenous drones with the help of airspace management, more stringent POCs (proof-of-concept) and projects. However, the prohibition on drone imports helped the broader sector focus on creating indigenous technology in India. It helped TechEagle acquire more projects with our made-in-India drone, Vertiplane X3, which was introduced in April 2022. We began utilising it in healthcare, parcel and food delivery POCs and other long-term projects," said Vikram Singh, Founder and CEO, TechEagle.
The Bharat Drone Mahotsav 2022 held in New Delhi, gave a chance to many drone players to showcase their talent and potential for drone logistics.
"We got a chance to interact with Prime Minister Narendra Modi as well as other cabinet ministers, which led to further discussions, how the other ministries and how the different lead organisations in the government and the b2b, can utilise drones in logistics particularly, and that actually gave a narrative to our role, to the government and all stakeholders to boost drone uses in logistics primarily," added Singh.

"We progressed to a more mature system and began doing deliveries on a regular basis in 2022, which was quite thrilling. We are working with different companies in different geographies. We are increasing the frequency of regular deliveries. We expect a lot to change in the next 12 months, new things to emerge and new areas for us to explore. We also introduced UTM which expands into an entirely new realm. In a nutshell, things are expanding on a massive scale on how we do business on a daily basis," Ankit Kumar, Co-Founder and CEO, Skye Air Mobility.
Skye Air Mobility also claims to have delivered 1 million packages in 2022 with 70% of them being healthcare, 25% being quick commerce, and 5% being agriculture commodity. People in the industry that we spoke to found those numbers too difficult to believe.
"At the moment, we are awaiting the launch of the type certification scheme for Beyond Visual Line of Sight (BVLOS) operations. We believe the QCI (Quality Council of India), DGCA (Directorate General of Civil Aviation) and the Ministry of Civil Aviation are currently working on it and we hope that they may soon notify it soon. According to the law, it is not possible to perform non-R&D operations without such a scheme as of now," Smit Shah, President of the Drone Federation of India.
Skye Air introduced a drone traffic management system in February 2023 called Skye UTM. Before performing drone-based operations, the software will allow operators to plan routes, create flight plans, and evaluate risks.
TSAW Drones started a new route in 2022, with intercity and intracity model operations in Telangana and Kolkata.

"We are currently working to provide connectivity to areas that lack logistic connectivity. In a medical hub in Telangana called Nizamabad, we developed a warehouse and connected 21 villages and tier-3 cities where logistics are difficult. We currently transport medicines to hospitals from warehouses and plan to connect the main city like Hyderabad and create an alternative mode of transportation via drone. Also, we are already working in Kolkata between Howrah and Salt Lake with a quick on-demand service. We began operations with Tata 1mg where the travel distance of 1 hour 45 minutes was covered in 14 minutes," said Rimanshu Pandey, Co-Founder and CTO, TSAW Drones.
Last-Mile Delivery Efficiency
The use of drones in logistics will play a crucial role in revolutionising last-mile deliveries in the next five years. Logistics players may dramatically reduce the time it takes to deliver a product to consumers by using drone delivery systems. Drones are being implemented into the logistics management system primarily for last-mile delivery.
"Logistics drones have increased in popularity in the drone industry. The drones are used for the delivery of food, medicine and other types of equipment. Garuda Aerospace used emergency drones to deliver medicine and vaccinations to hospitals during the pandemic by partnering with Swiggy. Garuda's White Knight drones delivered medicines and vaccinations in Bengaluru hospitals for ISRO in 2021," said Agnishwar Jayaprakash, Founder and CEO, Garuda Aerospace.
Drones provide a number of advantages for last-mile delivery, including higher efficiency, accuracy, and reliability, lower delivery costs, increased safety, and the potential to reach remote locations that are difficult or impossible to reach with traditional delivery techniques. These advantages can increase the accessibility and value of services to a wider range of customers.
"Drones are available for a variety of use cases across sectors, and last-mile deliveries are where they will have the biggest impact because of their speed, reliability, and aerial routes. The usage of drones in last-mile logistics is changing the game since areas that were difficult to reach and took hours to reach are now accessible in minutes thanks to the use of drones," said Singh.

One of the main advantages of drones is their ability to avoid traffic congestion and other obstacles that can slow down ground-based vehicles.
"This means that drones can often deliver packages more quickly than traditional delivery methods, especially in urban areas where traffic congestion can be a major problem. Also, products may be delivered by drones to hard-to-reach or far-off locales, such as rural areas or islands, which are challenging for ground-based vehicles to reach. As a result, last-mile deliveries may be more effective and may cost less to deliver items to these locations," said Nisschal Jaain, CEO and Founder, Shypmax.
Drone-based last-mile delivery has substantial cost-saving, delivery agility, and carbon-emission-reduction possibilities. A drone can deliver food from a restaurant, but will it be feasible to deliver a customer's monthly grocery basket? asks Dhruv Agrawal, COO and CO-Founder, Shipsy.
"A recent report highlighted that the global drone parcel delivery market is estimated to reach $40 billion by 2027 with a CAGR of 41.8%. The numbers are inspiring, but deploying drones warrants multiple considerations. A drone can deliver food from a restaurant, but will it be feasible to deliver a customer's monthly grocery basket? Not all geographies are equally convenient and safe for drones. One needs to carefully analyse the area or pin code where they operate to ensure delivery risks do not mitigate the impact of cost savings. Customer acceptance and regulations are critical factors too. Businesses must also understand if drones can be seamlessly integrated into the larger logistics ecosystem," said Agrawal.
Can drones result in cost reduction?
If used wisely, drones may be a boon to humanity. When the business uses an automated delivery system using drones, the supply chain will be more efficient. This would result in cost savings associated with managing labour or delivery people. Furthermore, by transforming the whole delivery and stock-keeping process, firms may attain supply chain resiliency.
"Drones are mostly used to optimise last-mile deliveries or the whole supply chain. Thus, if you look at the delivery chain, the majority of the costs are incurred in warehousing, sorting, and last-mile delivery, which accounts for around 80 to 85% of overall logistics costs. Logistics and drones in general are merging these three elements and optimising the entire chain so that we can pick up delivery straight from the warehouse. A distribution centre with massive infrastructure and a lot of investment will therefore not be required. Thus we are optimising both the time and the cost of delivery, which is essential," said Pandey.
If drone delivery becomes mainstream, the logistics industry will witness significant cost-saving in fuel consumption and manual interventions.

"With the right strategy, regulations and adoption of AI and automation-powered technology, running a drone delivery service has the potential to be up to 40% more economical than the traditional ones. But that's considering an ideal situation. McKinsey & Company did a robust study to understand the cost of drone deliveries. In many countries, regulations are such that one can operate and monitor only one drone at a time, and a visual observer must monitor the airspace in which a drone operates. This significantly increases labour costs and makes up for 95% of total drone delivery costs. The study highlighted that due to this phenomenon, direct operating expenses for a single package drone delivery could be approximately $13.50. This price is high compared to EVs that are doing multiple deliveries on a single run. If businesses can shift towards operating multiple drones and not just observe airspace, drone deliveries will become highly cost-efficient," said Agrawal.
"Absolutely, the use of drones undoubtedly leads to significant cost savings. We've already tried these benefits through tests in numerous PoCs conducted by the TechEagle team around the country with Vertiplane X3. The major cost reduction is due to the design, development and manufacturing of best in class drone, Vertiplane X3 which is 5X more economical than any global drone with similar capability and has 4X higher lifecycle. This drone being Asia's fastest and most reliable, by implementing the drone in the logistics operations, we could reduce the capital expenditure by minimising the requirement for infrastructure and capital expenditure and moving forward the same would be helpful in saving the operational expenses as well," said Singh.
Cost savings is one of the imperative upsides of using drones in logistics. High-profile industrial-grade drones are electrically operated.
"For any link in the supply chain sector, fuel costs are something that eats up the maximum monetary resource, which in turn affects the logistics costs that a customer has to pay. With drones in logistics, the fuel cost will reduce dramatically. Overall, the cost savings from using drones in logistics can be significant, although the exact amount will depend on a range of factors. Some studies have estimated that the use of drones in logistics could reduce delivery costs by up to 80%, although this figure is likely to vary depending on the specific use case. However, it is important to note that there may also be significant upfront costs associated with developing and implementing drone delivery systems, including investment in infrastructure, technology, and regulatory compliance," said Jaain.
Prevent Casualties
Drones are being explored as a viable replacement for ground-based vehicle networks. While drones are obviously developing in the Indian logistics business, there have been failures and drone falls. We asked the drone and logistics players how the casualties could be avoided.
"Safety is the top priority and it's extremely necessary to understand the importance of taking measures to prevent casualties in the drone industry. The government should implement strict regulations and guidelines for drone operators, including mandatory training and certification requirements. The drones should also be equipped with safety features such as obstacle detection and avoidance systems, and real-time tracking to ensure safe operation. Recently Garuda Aerospace partnered with Narayana Health, one of India's leading healthcare providers for transporting bio-medical supplies using their newly launched- Sanjeevani drone. The partnership between the two aims to revolutionise the delivery of critical and emergency medical supplies including samples for diagnosis in times of high traffic and other challenging conditions," said Jayaprakash.
"Drones are being used to deliver medicines, Drones are being used to deliver blood, Drones are being used to deliver health services to remote areas where there is no transport facility," said Union Minister Jyotiraditya Scindia on December 23, 2022, and just 48 hours later, a drone fell on the Delhi metro track. This drone had been dispatched to carry medical supplies. The event occurred on the Delhi Metro's Magenta Line's Metro track between Jasola Vihar-Shaheen Bagh and Botanical Garden.

"When a drone crashes, we all think it is the fault of the machine; however, this is not the case. A lot of precautions are taken every time we step onto the field, but certain factors are beyond our control. Understanding the problem will solve things. What counts, in the end, is that when the package hits the ground, its impact should be minimal," said Kumar.
"Majority of drone logistics players in India are either importing the parts of the drones and assembling them in India or importing the entire drone and using it in India for delivery. The major red flag is using drones that are for agricultural/ spraying of pesticides as cargo delivery with a heavy payload. These players are not able to understand that drones used for spraying pesticides and chemicals on crops cannot be used in BVLOS (Beyond Visual Line of Sight) environment because these drones are made to fly at 10-20 metre height over farmland, slow speed and in VLOS range. The major reason for such crashes is using drones imported from China which are not of the best quality. Companies are trying to commercialise off-the-shelf Chinese drones without taking them through rigorous testing, no SOPs, neglecting safety and security and not setting a standard for the company," said Singh.
Can Drones Boost Indian Logistics?
India's development in commercial usage of drones has been rather modest so far, with food, grocery and pharmaceutical deliveries. But can drone delivery help boost the Indian logistics business?
"As per conversations, The Ministry of Civil Aviation expects to make India the third-largest drone market by 2025 and a drone manufacturing hub by 2030. Drone deliveries will revolutionise the logistics industry in India as they reduce delivery time and costs and provide faster and more efficient services to their customers. Drone deliveries will enable companies to reach remote and inaccessible areas, thereby expanding their customer base and increasing revenue opportunities. As Garuda Aerospace has partnered with Narayana Health, the drones will be able to transport bio-medical supplies quickly, ensuring that patients receive timely diagnoses and treatments. The drones will also help to provide emergency healthcare to the ones in remote and underserved areas as well," said Jayaprakash.
"Drones are making an impact on saving time and increasing efficiency. The second benefit is that it lowers costs since drones are less expensive than road logistics in certain environments and geographies, and clients today want to profit from lower logistics costs, but traditional logistics methods can be expensive because manpower is needed. As a result, we are developing specialised channels and reducing costs," said Kumar.
A rising number of logistics stakeholders are turning to drone technology to address inefficiencies in last-mile logistics because it can minimise operating costs, eliminate traffic bottlenecks, and reduce vehicle emissions while fulfilling customers' thirst for on-demand and immediate delivery.

"Application and use cases of drones will rise in India in the next half-decade. Some sectors that will see extensive use of drone operations are agriculture, industrial operations, e-commerce, and healthcare. India's drone service market, which was valued at US$ 130.4 million in 2020, is anticipated to grow at a CAGR of 44.4% to US$ 4,918.9 million by 2030. Drone service market categories, drone MRO services, and drone training and education services are anticipated to develop at a CAGR of 46.8% and 45.2%, respectively, through 2030. The government also hopes to turn India into a major drone hub by 2030 with the help of helpful programmes like the Product-Linked Incentive Scheme, the Drone Import Policy, Drone Shakti, and the Agricultural Drones Monetary Grant Programme. All in all, 12 central ministries are working to increase domestic demand for drone services. It is anticipated that in the future, there will be a demand for about 1 lakh drone pilots," said Jaain.
"Can the drones be efficiently included in existing store, hub and warehouse formats? Having said that, we will see more deliveries being done using drones in the coming five years. Gartner predicts that in 2026 more than one million retail deliveries will be executed by drones, up from around 20,000 today. Amazon, DHL, FedEx, Walmart and others are already leveraging drones for deliveries, especially in the US and UK. Given topographical, regulatory and infrastructure complexities, drone delivery adoption may not be uniform globally, especially in the initial stages," said Agrawal.
Currently, Japan, China, the US, Canada, the UK, Finland, and Australia are leaders in drone delivery adoption. India is gradually picking up pace, and we share 4.25% of the global drone industry.
2023 Goals
The year 2023 began with hopes, and high ambitions to take the Indian drone delivery to a next level. Skye Air launched Skye UTM, an unmanned traffic management system, capable of handling 4,000 flights per hour and 96,000 flights per day. Skye UTM is a cloud-based aerial traffic management system that integrates unmanned air traffic with manned aviation airspace.
"2023 will be a year of tremendous growth for us. We will be increasing the number of flights on a daily basis around compliance and non-compliance, and making non-compliant people deeply compliant with regard to airspace permissions regulations. And, yeah, even launch iOS and Android applications in the next few months to take it to the global market. It took us a year to deliver one million packages, but we hope to finish the next million by early April. We are concentrating on not conducting any additional POCs, etc. Taking things up on a more regular basis with different companies and seeing how systems and things are performing," said Kumar.
TechEagle's Vertiplane X3 drone made its maiden delivery in Uttarakhand in February 2023, transporting three kilos of TB medicines from AIIMS Rishikesh to New Tehri PHC (2 kilometres above ground level), covering a distance of 36 kilometers straight and gaining 2 kilometers in height in 29 minutes. TechEagle's end-to-end drone technology platform has the potential to improve healthcare access in distant and underserved areas throughout Uttarakhand.

"TechEagle's long-term objective is to empower and extend our drone delivery network throughout India as well as globally. We intend to deploy 50 to 100 drones by next year. In the next five years, we will be running various drone capabilities and inducting various drone capabilities into our networks, with close to 1000 drones flying in various regions around the network," said Singh.
TSAW Drones recently announced aggressive ambitions to hire 350+ new workers by the end of the calendar year 2023 in order to expand its talent pool. TSAW Drones' present full-time workforce strength is about 50, and with the next recruiting drive, the firm is on target to reach 400+ employees.
"We have already experienced considerable acceptance for our model. Now we want to penetrate further but carefully. Therefore, we aim at expanding deeper into 5-6 cities this year. To support our expansion and exploration we need a stronger team, for which we are scouting talent and easily target onboarding 350+ professionals. In addition to the 2 in-house drone models in the pipeline, we are working diligently to advance our own hardware & software solutions like DCIS, FHM and UTM. Moreover, with the launch of our logistics arm Droneco, we intend to be the go-to last-mile logistics facilitator for e-commerce platforms, armed forces, medical suppliers and others," said Pandey.
Drone logistics in India has the ability to carve out a place in the logistics business as an alternate form of delivery for small packages, shorter distances, and remote locations. Nonetheless, several factors, such as safety, must be considered.
The emphasis should be on safety and reliability. Cargo drone operations must prioritize safety, and industry players must focus on creating and implementing effective safety processes and systems.
Drones are quickly becoming widespread in the logistics business. Drones have several applications, and their use will only grow in the next few years. As a result, businesses must continue to invest in drone delivery programmes and technology improvements if they are to fully realise this promise.