FROM MAGAZINE: 'By 2020 our target will be 50 percent revenue from exports'
Since 1996 Gandhi Automations has been a leader in manufacturing as well as exporting, distributing and installing entrance automation systems and loading bay equipment that are problem free and easy to operate. The company specialises in designing, manufacturing and installing customised products conforming to the highest safety standards compleme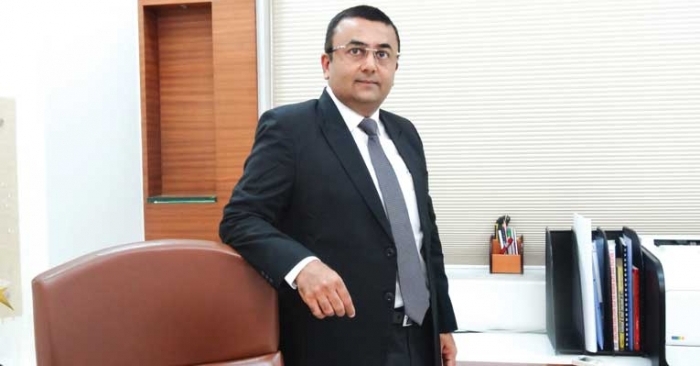 Since 1996 Gandhi Automations has been a leader in manufacturing as well as exporting, distributing and installing entrance automation systems and loading bay equipment that are problem free and easy to operate. The company specialises in designing, manufacturing and installing customised products conforming to the highest safety standards complemented with reliability and energy efficiency. Samir Gandhi, Managing Director and Chief Executive Officer, Gandhi Automations, speaks to Indian Transport and Logistics News, about manufacturing, exports, market share and potential growth in this sector over the coming years.
How strong has been the demand for your products in the entrance automation and loading bay equipment categories in the current fiscal?
2019 till now was once again a good year for Gandhi Automations. We strengthened our position as the market leader with strong growth for electromechanical products, new smart and sustainable access solutions and acquisition of 19 companies. We continued our operational efficiency initiatives and accelerated our innovation efforts during the year. Sales increased with organic growth of 5 percent driven by strong growth in India, South East Asia, Middle East, Australia and New Zealand.
Our purpose is to help people feel safe, secure and experience a more open world. Door openings, trusted identities and entrance automation are important in a world with increasing needs for safe, secure and convenient movement of people and things. Our divisions address these areas with a specialised and focused approach, as well as combining them into joint systems and solutions.
By combining them, we create access solutions addressing specific end user needs across a large breadth of applications and business verticals. Market growth through customer relevance, product leadership, cost-efficiency and evolution through people form the cornerstones of our strategy to maintain our leadership in access solutions. During 2019 we continued to reinforce our customer focus by allocating more resources to marketing and sales, and by improving our service to customers.
How significant is your export volume? What's the growth rate seen year over year? How many countries do you export your products to?
We are India's number one entrance automation and loading bay equipment company with 70 percent share in the domestic market. There's huge demand for our products in the untapped international market. Our high-quality products meet international safety standards and with right kind of product portfolio, we are ready to meet all the customer demands in the highly potential international market.
With increased globalisation and countries opening up for business expansion, we see a great opportunity in neighbouring countries also. For instance, in Myanmar, over the last few years, foreign investments have increased significantly. The Myanmar government has relaxed import restrictions and abolished export taxes. Such productive business policies boost our confidence for venturing and investing in such countries.
Our current focus is to increase our exports in the Middle East as well as European countries. In coming years, we will be aiming to target and expand business to neighbouring countries like Bangladesh, Indonesia, Bhutan, Sri Lanka and few African countries. I have visited few of these countries and we have much better products to offer them, than the ones they are currently using. By 2020, our target will be 50 percent revenue from exports.
Is your manufacturing completely done in India? How many production facilities do you have as of now?
Since 1996 Gandhi Automations has held a lead position in manufacturing as well as exporting, distributing and installing entrance automation systems and loading bay equipment that are problem free and easy to operate.
Gandhi Automations specialises in designing, manufacturing and installing customised products conforming to the highest safety standards complemented with reliability and energy efficiency.
All our products are designed and manufactured with European collaboration using innovative and creative engineering technology. The product development team uses the latest software combined with technologically advanced machinery to offer our customers an excellent engineered product. To ensure superior quality and operational efficiency the company has a state-of-the-art manufacturing and warehouse facility of 300,000 sq ft.
Can you give us a sense of the total number of installations so far across all your product categories?
Gandhi Automations is the only company in the above field with a national presence through a network of branch offices with proper back up support for installation and servicing. The company has more than 100,000 installations.
With significant focus on the India's logistics sector and warehousing, what kind of growth rate do you expect in the near term?
There are several growth trends that create strong underlying demand. Besides urbanisation, digitisation and sustainability, the need for safe, secure and convenient solutions, drives demand for the company's customer offerings. Sustainable access solutions add customer value as they enable customers to improve cost-efficiency, reduce energy consumption and lower the environmental impact of their operations significantly. The number of new sustainable building projects continues to increase, driving higher end solutions. Gandhi Automations is leading in offering efficient, sustainable solutions enabling us to win high profile and important projects.
In future we feel technology advancement combined with material handling equipment's will change how logistics and supply chain management companies' function. Looking at the current situation at hand, the future of material handling sector looks very promising as it is not just helping companies perform better but also save money whilst increasing their production capacity. Thus, we at Gandhi Automations are always innovating and learning new technological advancements to help improve processes for all kinds of industries.
Ensuring efficiency in your procurement process has a positive chain reaction within your entire organisation. The objectives of a world-class procurement organisation are far beyond the traditional belief that procurement's primary role is to obtain goods and services in response to internal needs. In fact, a successful procurement process aims to optimize the whole process to create significant business value.
Gandhi Automations is an effective service provider being able to tailor services so as to minimise the impact of market dynamics on a client's supply value chain. We also are able to proactively ensure compliance at all junctions of business operations. Emerging technology and the proliferation of digital technologies have opened up avenues for new business models and service delivery frameworks. We leverage such technologies in providing value-added services to the clients.
Our products are in conformance with highest standards, and can be installed either on new fixed /retractable warehouses, or integrated into already existing ones.
This interview was originally published in Indian Transport & Logistics News' November - December 2019 issue.