Business to improve in coming quarters
Jakob Friis Sørensen, managing director, APM Terminals Pipavav, shares insight on how digitalisation helped in zero fatality rate for 500 days and Asian market to evolve post-pandemic.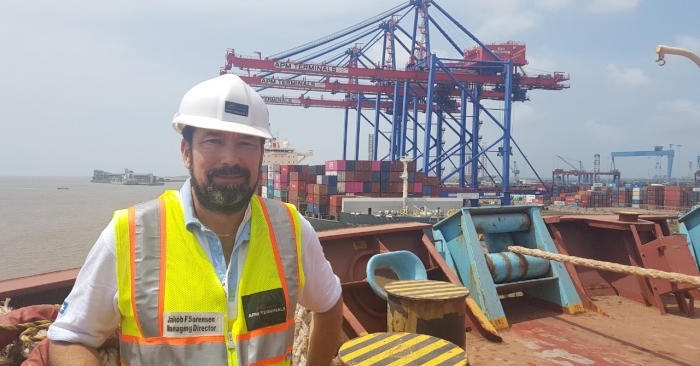 APM Terminals Pipavav, one of India's leading gateway port in Gujarat, in September received ₹700 crore from its board to upgrade existing facilities for handling bigger ships and helping it to increase the container capacity to 1.6 million twenty-foot equivalent units (TEUs). Breaking its self-record of handling 263 container trains in 2013, the terminal operator in April 2020 handled 293 container trains.
Jakob Friis Sørensen, managing director, shares insight on how digitalisation helped in zero fatality rate for 500 days and Asian market to evolve post-pandemic.
With the infusion of ₹700 crores, what are the developments planned at APM Terminals Pipavav?
The proposed investment is for upgrading the port's existing container handling facility. We aim to strengthen our network and enhance our services extended to all our stakeholders. Our plan also includes replacement of 3 existing cranes with 4 new cranes with a wider outreach and progressive increase in container yard capacity to 1.6 million TEUs. It also includes the purchase of two-yard cranes. The container yard capacity will be expanded once the cargo growth is visible post commissioning of DFC (Dedicated Freight Corridor). This investment is subject to the extension of the current concession agreement which is up to September 2028.
The RoRo yard facility at Pipavav has almost halved in the last few months. What is the next step to optimise the port's business?
The drop in volumes in RoRo business has been primarily due to lower export volumes of automobiles. Due to the drop in the volume of RoRo business, we are looking at the vacant yard for storage of containers. The RoRo business is comparatively smaller and the drop in volume in that particular segment does not impact the overall growth of the port in terms of cargo volume.
Amid lockdown APM Terminals Pipavav in April has given free 15 days storage to customers. What are the other measures implemented by the company to keep the business continuing during these difficult times? Elaborate on the record of 293 container trains handled at the port in April.
Being a port service, we are engaged in providing essential service and port operations are imperative to ensure that the supply chain remains uninterrupted and availability of essential supplies is maintained. The port has adopted standard crisis protocol at both the international and local levels as per the various relevant guidelines of government of India, government of Gujarat and other statutory bodies/administration.
During these tough times, we also set a record of handling 293 container trains in April 2020 amid the country-wide lockdown imposed by the government breaking our record of handling 263 container trains in July 2013. When the lockdown was imposed in March, port operations were deemed essential service and we cautiously took measures to ensure that the port operates smoothly and with utmost precaution. We implemented a business continuity plan to remove the stress of the pandemic situation and received the cooperation from all the stakeholders to achieve this record even during the Covid-19 scenario.
Having a zero fatality for 500 days for a multipurpose port like Pipavav is commendable. Is digitalisation one of the reasons for this achievement?
Completing 500 days of safe operations was one of our biggest milestones in safety. This has been achieved due to constant care, continuous training, monitoring and supervising the operations at all levels by the management. This has also been possible because of the committed employees who embraced safety in their day-to-day operation at work. The training that we undertook with our employees helped us get through the ongoing lockdown period and the port continued to function for 24x7 ensuring safe and smooth operations. Digitalisation is sure a key factor in assessing the requisites and catering to the procedural activities of the port and has added to achieve our score of zero fatality rate. We believe the adoption of technologies and digital transformation can further help in rendering mileage to port activities.
With more than 500 trucks per day passing through the gates at APM Terminals Pipavav, even the smallest efficiency improvement quickly adds up to several hours saved per day. The terminal's latest digital solution offers significant environmental benefits, cost savings and improved safety.
Your career with AP Moller Maersk Group is more than three decades old. You have seen the emergence of Asian port sector very closely. How this region has evolved over the years and can tackle the current crisis?
It's a very broad question as the Asian region is quite vast and different geographies have expanded in its time frame. South East Asian countries and China have been export-driven economies and they have expanded their port capacity in a graded manner. China has a container capacity of over 260 million TEUs; while the combined capacity of South East Asia is around 160 million TEUs. Singapore and Malaysia have more container port capacity per 1,000 workforce while others have a bit less. The global trade tensions have opened opportunities for several countries in the region and they have to increase their port capacity to meet the demand.
The Covid-19 has led to the closing of economies across the Asian region and there was a demand shock. This impacted the volumes at Indian ports as well. Overall, this crisis is an evolving one and we are seeing some positive signs and hope that business will improve in coming quarters.
This interview was originally published in Indian Transport & Logistics News' November - December 2020 issue.