FROM MAGAZINE: Building port infrastructure to boost Indian exports
With the recent relaxation on cabotage laws for foreign vessels, there could be an increased utilisation of Indian ports as transshipment hubs, contributing positively to cargo traffic within India.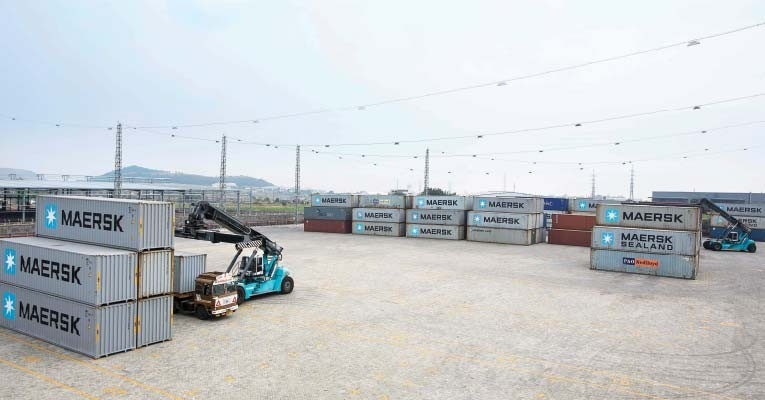 With the recent relaxation on cabotage laws for foreign vessels, there could be an increased utilisation of Indian ports as transshipment hubs, contributing positively to cargo traffic within India.
Shalini Nair
India is the sixteenth largest maritime country in the world. Its vast coastline of about 7,517 kilometres plays a vital role in sustaining growth in the country's trade and commerce. The cargo traffic handled by ports is expected to reach 1,695 million tonnes (MT) by 2021-22, according to a report of the National Transport Development Policy Committee.
Interestingly, with the recent relaxation on cabotage laws for foreign vessels, there could be an increased utilisation of Indian ports as transshipment hubs, contributing positively to cargo traffic within India.
As per the ministry of shipping, around 95 percent of India's trading by volume and 70 percent by value is done through maritime transport. The ministry has set a target capacity of over 3,130 MT by 2020, which would be driven by private sector participation. Non-major ports are expected to generate over 50 percent of this capacity. As of December 2017, the 12 major Indian ports run by the government had a capacity of 1,358 MT of cargo a year. For the year ended March 2018, it handled a combined 679.35 MT of cargo, operating at a capacity utilisation of 50 percent.
Earlier this year in March, a revised model concession agreement (MCA) was sanctioned to make port projects more investor-friendly and make investment climate more attractive. The agreement will provide exit route to developers by way of divesting their equity up to 100 percent after completion of two years from the commercial operation date (COD). The provision for commencement of operations before COD will lead to better utilisation of assets provided by the port in many projects before the formal completion certificate.
The 100 percent foreign direct investment (FDI) under the automatic route for port and harbour construction & maintenance projects; and a 10-year tax holiday to enterprises that develop, maintain and operate ports, inland waterways and inland ports are some of the initiatives taken by the Indian government. The government is even encouraging the inland waterway sector as an alternative to road and rail routes to transport goods to the nation's ports, and expects to attract private investment in the sector.
At the same time, identifying inland waterways as an alternate transport mode and as an opportunity area, Port of Antwerp finds it as a prospect in contributing to India's logistics sector with its already existing expertise. In the past, the Antwerp Port Authority has already established its credibility of working on Indian port and logistics related projects through its arm, Port of Antwerp International (PAI). PAI has executed projects on terminal efficiency of Kandla & Paradip ports and pre-feasibility studies for inland water navigation from Garden Reach to Patna.
From 1998 – 2017, the port has demonstrated a strong growth in inland navigation, with a 68 percent of total increase and containers to 121 percent. Its ambitious hinterland strategy based on three pillars of infrastructure development, operational efficiency and collaboration aims to achieve a modal split of 20 percent for rail by 2030 from 8 percent today, while keeping barge at the high level of 40 percent. The port has hands-on experience of operational efficiency projects in its own backyard by proposing innovative projects to raise the efficiency of inland navigation and promote the use of this mode in close cooperation with stakeholders such as shippers, shipping lines, terminals and barge operators, which is a concept that has the potential to be replicated in India.
To pep up the project, the Inland Waterways Authority of India has proposed to develop a Freight Village in Varanasi. The objective is to support economic development in the hinterland of the multimodal terminal at Varanasi and reduce logistics cost in the eastern transport corridor. It envisages establishment of multimodal logistics hub in Varanasi to promote the use of waterway transport on river Ganga between Haldia and Varanasi, rail transport on eastern dedicated freight corridor (EDFC) in the north bound direction, to facilitate movement of freight from road to water and rail. The centre has approved Rs 5,369 crore under Jal Vikas Marg Project (JVMP) for enhanced navigation on the Haldia-Varanasi stretch of the National Waterway-1 (NW-1). The project is estimated to be completed by 2023.
Going digital
Commenting on the innovation to be built in the Indian ports, Malini Dutt, India representative, Antwerp Port Authority, said, "Ports like Mundra have been in touch with Port of Antwerp since 2006 to understand our systems and methodologies to build Mundra into a modern and innovative port. We can say the ports like Mundra are well aligned with the latest developments globally. I am sure other ports are also developing on a faster pace."
The Port of Antwerp is a vibrant innovation hub. Creative start-ups, disruptive pilot projects and digital ecosystems are shaping the intelligent port of the future. The Antwerp Port Authority collaborates with partners on a variety of projects to create the port of the future. NxtPort, the digital ecosystem at the Port of Antwerp, links companies and processes in the port and along the supply chain. In line with the guiding principle "Co-create the Supply Chain of the Future", all stakeholders at NxtPort work together to develop intelligent logistics solutions. In addition to the resulting transparency, the collected data is bundled and meaningfully analyzed. Integrated applications are continuously supplemented and further developed and ensure more efficient processes. This makes NxtPort an important partner in the further development of Antwerp into a model for data-driven innovation.
Meanwhile, Krishnapatnam Port Company Limited (KPCL) has announced the installation of 'Rapiscan Eagle P60', a drive through x-ray container scanner & radiation portal monitors. The container scanner will radically enhance the terminal's overall performance while reducing the service time. It will enable the port to increase the volume of handling import containers by at least 5,000 TEUs per month. With this new development, the port is expecting rise in transshipment cargo. The technology will increase the speed of inspection; reduce the manual work at the terminal and enhance the efficiency of the entire logistics chain. The move will benefit Indian exporters who suffer losses when non-scanned containers are shipped back and will encourage increased transshipment activities. Besides backing direct port entry of export containers, the new scanner will help in direct port delivery (DPD) of import containers, thus radically trimming down the congestion at the container terminal and the container freight station (CFS).
Opting for more technological advancement, the Jawaharlal Nehru Port Trust (JNPT) has worked out on an innovative transport solution to achieve seamless and faster movement of cargo from the port to respective destinations through DPD. About 1,600 importers who have chosen for DPD mode of transport will benefit from this process. An exporter or importer will be able to book his cargo from his office, through a technology-backed platform. This new transport solution will promote easy co-ordination between port and customers; end-to-end delivery; faster evacuation of containers from the port area; 24x7 vehicle tracking; container tracking through mobile; and 24x7 customer service.
Few months ago, the standing finance committee of ministry of shipping cleared a project for setting up an exclusive fully-mechanised handling facility for fertiliser cargo at Deendayal Port in Kandla. The facility will be constructed at an approximate cost of Rs 138 crore. The port will further invest approximately Rs 340 crore for the project from its internal resources. Initially, the proposed facility will handle 2.60 million tonnes per annum (MTPA) and subsequently this will be raised to 4.50 MTPA. The project will carry activities right from unloading of bulk fertiliser cargo from the ships to loading of the bagged fertiliser onto the wagons, which will be fully mechanised. The fertiliser cargo will be unloaded using mobile harbour cranes onto mobile hoppers. The conveyor system, along with the tipper system, will transfer the cargo to the cargo storage shed of 38,500 square metre. The benefit for the fertiliser importers will be efficient operation due to end-to-end mechanisation; no contamination of fertiliser cargo due to dedicated mechanisation and closed pre-engineered building (PEB) shed; no internal vehicular movement for transfer of cargo; less number of labour and no multiple handling; lower rake turn-around-time (TAT); lower vessel TAT; and less logistics cost. The facility is expected to be commissioned by October 2020.
In the pipeline
Another project by the government of India - UNNATI has been launched to identify the opportunity areas for improvement in the operations of major ports. Under the project, 116 initiatives were identified out of which 86 have been implemented. At the same time, under Sagarmala programme, the government has envisioned a total of 189 projects for modernisation of ports involving an investment of $22 billion by the year 2035.
Meanwhile, the coastal berth scheme (under Sagarmala Programme) aims to provide financial assistance to ports or states in order to create infrastructure for movement of cargo and passengers either by sea or National Waterways. The Rs 170 crore project at JNPT will be completed by March 2019, which involves construction of a coastal berth and port craft jetty, reclamation and capital dredging in coastal berth. The Karwar port project of Rs 215 crore, which involves extension of the existing southern breakwater by 145 metres and construction of a new north breakwater of 1,160 metres, is likely to be completed in three years.
As per a government release, the permissible financial support from the centre is 50 percent of the total cost of the project subject to a maximum of Rs 25 crore for projects relating to construction and upgradation of coastal berths by major and non-major ports and a maximum of Rs 10 crore for construction of platforms and jetties for hovercraft and seaplanes by ports, and state governments and passenger jetties in National Waterways and islands by states. The other conditions involve a maximum of Rs 15 crore for mechanisation of berths by major and non-major ports, a maximum of Rs 50 crore for capital dredging of operational non-major ports and a maximum of Rs 50 crore in order to construct breakwater for existing and greenfield ports.
Meanwhile, home minister Rajnath Singh and Nitin Gadkari, minister for shipping, road transport and highways have inaugurated a new sea route to Baratang Island and initiated various shipping projects in the Andaman and Nicobar Islands; along with announcement of additional 14 new ships in the island over the next three years. Gadkari has even stated that India will try to make Chabahar Port in Iran operational by 2019 to make countries under Commonwealth of Independent States (CIS) more accessible.
Looking beyond borders
At present, the Deurganck dock, with almost 9 million TEUs annual cargo volume, is the largest container transhipment centre in Antwerp and the scene of a digital pilot project. With the aid of a "smart" quay and an automatic dinghy, berth management and maintenance become significantly more efficient. "A pilot project for the use of blockchain technology for secure container handling has already been successfully carried out by the local Antwerp start-up T-Mining together with established partner companies such as the terminal operator PSA and the shipping company MSC. To promote further potentially disruptive solutions, the Port of Antwerp is also working with the World Port Accelerator PortXL, which accelerates start-ups and innovations in the fields of logistics, shipping and energy," said Dutt.
At the same time, Railport Antwerp, a joint initiative by Antwerp Port Authority, the Left Bank Development Corporation and the industry associations Essenscia Vlaanderen and VOKA-Alfaport will serve rail transport, including intermodal container transport, with the aim of doubling the proportion of rail transport in the port of Antwerp over the next few years. Currently, the part played by rail in overall transport within the port is less than seven percent. Railport's main task will be to coordinate the various rail activities in the port, acting as a link between the rail transport operators, the rail infrastructure operator, port companies, shippers and terminals.
Road ahead
The capacity addition at Indian ports is expected to grow at a compound annual growth rate (CAGR) of 5-6 percent till 2022, thereby adding 275-325 MT. Within the ports sector, projects worth an investment of $10 billion have been identified and will be awarded over the next five years. Thus, increasing investments and cargo traffic mark towards a healthy outlook for the Indian ports sector. The providers of services such as operation and maintenance (O&M), pilotage & harbouring and marine assets such as barges & dredgers are benefiting from these investments.
According to the shipping ministry, the government plans to invest Rs 91,371 crore to expand port capacity as part of Sagarmala. The plan includes 39 road connectivity projects for improving and strengthening the connectivity of major ports to national and state highways.
Speaking at the annual Indian port sector review meeting in Visakhapatnam Gadkari said the most important emphasis for major ports would now be on improving export of agriculture and aqua products. "All ports have been directed to formulate a policy for export of agricultural products and sea food.
In fact, India's seafood export crossed $7 billion for the first time striking a new high in export performance, India's shipment of 13,77,244 tonnes of seafood earned $ 7.08 billion during the financial year 2017-18.
Gadkari also said that the review meeting has also come out with a multi-pronged action plan to not only boost infrastructure in major ports, but also venture into other 'innovative' activities to spur economic growth in the sector as well as other spheres.
On the other hand, the World Bank has stated that India needs more investments in multi-modal connectivity to existing ports than new deep-sea ports, flagging concerns on the country's ambitious plan to build new ports as part of Sagarmala. The same concerns had been expressed by DP World and PSA International, which run multiple facilities in India. However, the opening of the dedicated freight corridor (DFC) would partially offset these concerns, but that is still a few years away.