Budget 2021: 5 reasons why Indian logistics industry is happy
February 2, 2021: The union budget 2021-22 presented by finance minister Nirmala Sitharaman in the parliament increased the infrastructure spending significantly with focus on new economic corridors, improved road, railway infrastructure and push towards digitalisation.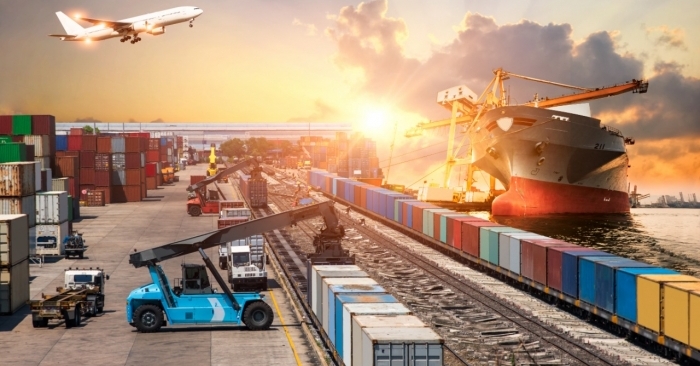 February 2, 2021: The union budget 2021-22 presented by finance minister Nirmala Sitharaman in the parliament increased the infrastructure spending significantly with focus on new economic corridors, improved road, railway infrastructure and push towards digitalisation.
Many logistics companies are pleased with the budget that was in line with their expectations. However, the industry is waiting to see the results of these measures in their field of work. The proposed solutions include a succinct focus on improving road and railway infrastructure; investments in national highway corridors and economic corridors will aid in the speedy movement of goods and improve turnaround time which, in the long run, will bring down logistics costs significantly.
Rajiv Agarwal, CEO and MD, Essar Ports, said, "The Infrastructure spending is going up by 34 percent through NIP and a welcome focus on boost in the road and railway infrastructure with new economic corridors planned will certainly help the growth of the logistics sector and will lead to enhancing trade in the country."
Also read: Budget 2021: Bringing down logistics costs at the core, says FM
"The announcement of the launch of the National Asset Monetisation Pipeline which will include Transmission lines of Power Grid, oil and gas pipelines, airports, toll roads etc will be a game-changer. Government's increased focus on the infrastructure sector will certainly bring in positive measures for the holistic growth of the logistics and maritime sector. No new tax is a very big positive in these times," he added.
1. New economic corridors, better road infrastructure
Shashi Kiran Shetty, chairman, Allcargo Logistics, ECU Worldwide and Gati, said, "Proposals to boost operational contingencies of road infrastructure and build more economic corridors have the potential to increase efficiencies across the logistics ecosystem and simulate regional economies to encourage local entrepreneurial initiatives."
K Satyanarayana, co-founder & director, Ecom Express, expressed, "We are encouraged to see the government's commitment towards ensuring smooth logistics services by creating an outlay budget for national highway projects to the tune of ₹1.18 lakh crore of 8,500 km by March 2022 and an additional 11,000 km of the national highway corridor."
Aneel Gambhir, CFO, Blue Dart, noted, "The national highway work planned in Tamil Nadu, Kerala, West Bengal, Assam will further assist in the final goal of last-mile delivery and we are eager to see its results on our business."
Vishal Sharma CEO, cluster India and Indian sub-continent, DB Schenker, said, "The fund allocation for the infrastructure development of transport sector, including roads and railways, is definitely a positive push for the logistics industry and will have a long-term impact on last-mile deliveries."
Avinash Raghav, co-founder & MD, Shift Freight, said, "The new economic corridor to boost road infrastructure and the decision to award 13,000 km of roads under the Bharatmala project are welcome moves by the centre. This will not only create better connectivity but will add to job opportunities at the grassroot levels. Better connectivity will translate into better service to customers looking for quick and seamless service from logistics support providers."
Anjani Mandal, CEO, 4TiGo Logistics, noted, "The budget announcements were in line with expectations. There is a continuance of large outlay on infrastructure creation, building & improving large tracts of highways to facilitate road transportation, all of which support the logistics industry directly & indirectly.
"When seen in combination with the record budgetary allocation for rail infrastructure toward the freight corridors, the importance of rail & road multi-modal will become increasingly important," he added.
2. More money for Dedicated Freight Corridors
Deepal Shah, chief financial officer, Allcargo Logistics, said, "Placing a priority on the commissioning of the eastern and western dedicated freight corridors (DFCs) has been one of the key highlights (for the logistics sector) of budget 2021 presented by the finance minister. Expediting the completion of the DFC's will decongest highly saturated road networks in the country, facilitate speedier freight transportation and help in reducing logistics costs. The construction of industrial corridors and logistics parks in proximity holds the potential to create local economies and generate employment opportunities on a large scale and push Make in India."
Prem Kishan Dass Gupta, chairman & managing director, Gateway Distriparks, noted, "With road and rail connectivity being an indispensable factor of the economic development, and allocation of ₹1,10,055 crore for railways has been made where the eastern and western dedicated freight corridors will be commissioned by June 2022. This will help in bringing down the logistics cost as well as ensure smooth connectivity between different points of the country and ensure easy and faster freight movement."
Abhijit Malkani, co-CEO & country head, ESR India, said, "National infrastructure pipeline extended to cover over 7,000 projects is a welcome move towards driving economic growth. The commissioning of eastern and western dedicated freight corridors by 2022 and 3 new dedicated freight corridors will boost connectivity and will have an impact towards lowering the logistics cost as a percentage of GDP and provide momentum to the industrial and warehousing sector."
Mandal informed, "In the medium term, the share of railways in overall goods transportation will increase substantially and it will enhance the competitiveness of Indian supply chain across industries by lowering the cost of transportation and also improve connectivity between production and consumption markets - mainly domestic but also global."
Dhruvil Sanghvi, chief executive officer, LogiNext, said, "The proposals to set up freight corridors across the country, as well as the proposal for a future-ready rail system, along with the development of national highways, will bridge the gaps that currently exist, bringing in better connectivity between production and consumption markets."
3. Digital technology got a push
Satyanarayana said, "In particular, we welcome the continued focus of a digital India with the introduction of a ₹1,500 crore-scheme on digital payment which will help smoothen the customer interface for logistics companies like us. ''
Sanghvi, expressed, "Furthermore, the push towards digitisation along with proposals of the one year tax holiday for startups and extending cap gains tax exemption for investment into start-ups shows the intent towards making it easier to do business in India and push forward on the technology wave."
Shah of Allcargo Logistics said, "Enabling time-bound tax assessments and the extension of faceless assessment to the Income Tax Administrative Tribunal will play a key role in ensuring transparency, accountability and boosting taxpayer confidence.
4. Support for more Indian flag ships
The finance minister has announced a new scheme to be launched for flagging of merchant ships in India by providing subsidy support to Indian ship owners. Fund allocation is ₹ 1624 crore to be provided over 5 years.
Rahul Bhargava, COO, Essar Shipping, said, "This will give a boost to Indian ship owners in acquiring ships to service tenders floated by ministries, resulting in the increase of Indian flag ships. With an increase in the fleet, more job opportunities will be created. Job creation has been one of the foremost agenda under the budget, FM announced Indian ship recycling has acceded to Hong Kong convention. Most of the recycling yards are now compliant to the new convention. By 2024 the capacity of the yards will be doubled, leading to the creation of skilled and unskilled jobs.

"SCI privatisation as part of the disinvestment scheme of the government of its CPSE units is likely to bring more efficiency & the improvisation in business & operations from India. The privatisation will bring in foreign investments that will have an overall improved impact in the Indian shipping industry. Under the AatmaNirbhar Bharat programme, renewed trade flows will come into existence with reduced dependence on China," he added.
Gupta of Gateway Distriparks said "The announcement of the massive investment of ₹2000 crore on seven port projects under PPP mode will boost the logistics sector and enable overall economic growth. Under the Recycling Act, 2019, a recycling capacity of around 4.5 million light displacement tonne (LDT) will be doubled by 2024."
5. Sustainability, green energy
Shetty noted, "The government's intent to increase the share of green energy in the national energy grid and transition to a zero-carbon fuel regime is in line with its steadfast commitment to sustainability."
Deepak said, "For the EV industry, it's been a bit of disappointment with no direct mention of any EV focussed initiative or policy including FAME. There were a lot of expectations from the budget including ramping up of charging infrastructure, enablement of retail financing for EVs, and moderation of the inverted GST tax structure with lowering taxes on EV input components including the battery."
Gupta informed, "The Union Budget targets 100 percent electrification of broad-gauge railways to be achieved by 2023. This will increase efficiency, and reduce dependence on conventional fuels."