Boxco Logistics moves two heavy-lift columns from Tarapur to Bhatinda in lockdown
April 19, 2020: Boxco Logistics transported two heavy-lift columns for G.R. Engineering on 16 axle and 12 axle lines from the GR manufacturing facility in Tarapur to HMEL Bhatinda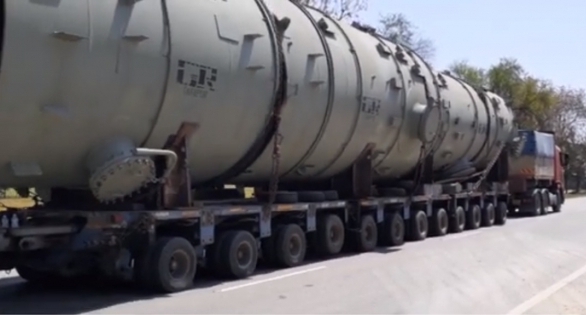 April 19, 2020: Boxco Logistics transported two heavy-lift columns for G.R. Engineering on 16 axle and 12 axle lines from the GR manufacturing facility in Tarapur to HMEL Bhatinda.
This movement had to be stopped en route when these packages were at the Sirsa bypass in Haryana due to the nationwide lockdown announced by the Central Government. Even though essential services and eventually all transport was permitted the instructions did not preculate down to the local state authorities immediately.
"The Boxco Logistics and the J M BAXI GROUP completely supports the decision taken by the Indian Government to Lockdown the country. The cargo, however, was critical for the HMEL Refinery expansion project and we were under immense pressure from the client to move, " says the release.
Boxco Logistics handled heavy-lift packages Amid the COVID-19 Disruption. Two heavy-lift columns were being moved for G.R. Engineering Pvt. Ltd. pic.twitter.com/OIly5FQd7V

— jmbaxigroup (@jmbaxigroup) April 17, 2020
The Boxco Logistic team with support from GR Engineering and HMEL were eventually able to convince authorities to allow the movement. The balance distance of 100 km to Bhatinda was completed in 6 hours time, thus adding another feather in the cap of Boxco Logistics.
The safety of our operators was paramount for Boxco Logistics and we ensured that we affected the movement with a minimum number of staff. Our operators were also counselled on sanitisation and social distancing before the commencement of the movement.
This adds to the long list of ODC's moved in challenging conditions by Boxco Logistics.