Boeing launches 777-8 freighter; first delivery anticipated in 2027
February 1, 2022: Boeing launched the new 777-8 freighter and expanded its market-leading 777X and freighter families of jetliners with an order for up to 50 aircraft from one of the world's largest cargo carriers, Qatar Airways. Qatar Airways will be the 777-8 freighter launch customer with a firm order for 34 jets and options for 16 more, a tota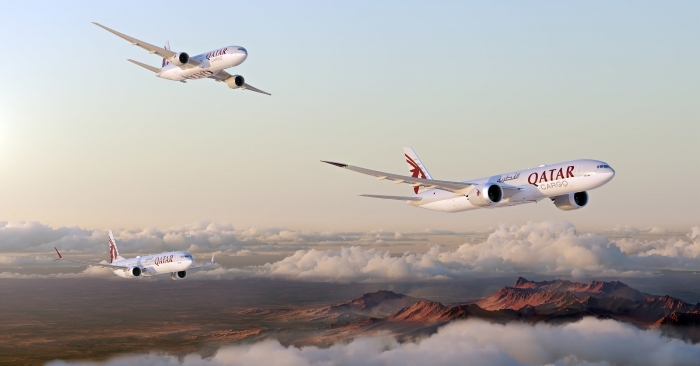 February 1, 2022: Boeing launched the new 777-8 freighter and expanded its market-leading 777X and freighter families of jetliners with an order for up to 50 aircraft from one of the world's largest cargo carriers, Qatar Airways.
Qatar Airways will be the 777-8 freighter launch customer with a firm order for 34 jets and options for 16 more, a total purchase that would be worth more than $20 billion at current list prices and the largest freighter commitment in Boeing history by value.
"Featuring advanced technology from the new 777X family and the proven performance of the market-leading 777 Freighter, the 777-8 Freighter will be the largest, longest-range and most capable twin-engine freighter in the industry. With payload capacity nearly identical to the 747-400 Freighter and a 25 percent improvement in fuel efficiency, emissions and operating costs, the 777-8 Freighter will enable a more sustainable and profitable business for operators," reads the release.
The first delivery of the new freighter is anticipated in 2027.
Qatar Airways Group chief executive Akbar Al Baker, said, "Today marks a great day in the ever-building and strong relationship between Qatar Airways and Boeing. We certainly push Boeing hard to deliver upon our expectations, and the team at Boeing consistently strives to meet and exceed our expectations, giving the opportunity for us to be here today to launch the most significant new freighter aircraft for a generation."
Boeing commercial airplanes president and CEO Stan Deal, said, "Our team is ready to create an airplane that will serve them well for many decades. Qatar Airways' selection of the efficient 777-8 Freighter is a testament to our commitment to provide freighters with market-leading capacity, reliability and efficiency."
Deal added, "We are proud that Boeing provides over 90 percent of the world's dedicated freighter capacity. With global supply chains under pressure and high demand for e-commerce, the performance and capabilities of the fleet is more important than ever."
Boeing is designing the 777-8 Freighter, the newest member of the 777X family, to maximize efficiency and environmental performance. The widebody family features engineering design improvements and innovative technologies, including a new carbon-fiber composite wing and new fuel-efficient engines. With a range of 4,410 nautical miles (8,167 km), the 777-8 Freighter has a maximum structural payload of 118 tonnes, allowing customers to make fewer stops and reduce landing fees on long-haul routes.
Boeing will build the 777-8 Freighter in its Everett, Wash., factory. The company has invested more than $1 billion into the Everett site to support 777X production and sustain thousands of local jobs for decades to come.
As part of the agreement, Qatar Airways will convert 20 of its 60 777X family orders to the 777-8 Freighter. Qatar Airways is also ordering two current 777 Freighters – Boeing's best-selling freighter of all time – to capitalize on the buoyant air cargo market. Customers from around the world have ordered more than 300 777 Freighters since the program began in 2005.
Boeing and Qatar Airways also signed a Memorandum of Understanding for a firm order of 25 737-10 aircraft and purchase rights for 25 additional airplanes. The total value of this 737-10 commitment is nearly $7 billion at current list prices. The largest model in the MAX family, the 737-10 seats up to 230 passengers in a single-class configuration and can fly up to 3,300 miles. The fuel-efficient jet can cover 99% of single-aisle routes around the world.
"Qatar Airways very much looks forward to adding the 737-10 to its fleet, with this new variant of the 737 being ideally suited to our short-haul network, allowing us an opportunity to further enhance our product offering for our customers, modernize our fleet and operate the most efficient aircraft in its category," said Akbar Al Baker.
"The largest member of the 737 family, the 737-10 is an airplane that offers more capacity, greater fuel efficiency and the best per-seat economics of any single-aisle airplane," said Deal. "We are proud of our partnership with Qatar Airways and honored that this world-class airline continues to put its trust in our Boeing team."
An international carrier with a passenger fleet including Boeing 777 and 787 Dreamliner airplanes and an all-Boeing cargo fleet of 747 and 777 freighters, Qatar Airways serves more than 140 key business and leisure destinations worldwide.