Blue Dart unveils Q1 results with sales clocking in at ₹8,648 million
July 31 2021: Blue Dart Express declared its financial results for the quarter ended June 2021, at its board meeting held in Mumbai, posting ₹294 million profit after tax (previous year corresponding quarter loss of ₹1,279 million) for the quarter ended June 30, 2021; revenue from operations for the quarter ended June 30, 2021, stood at ₹8,648 mill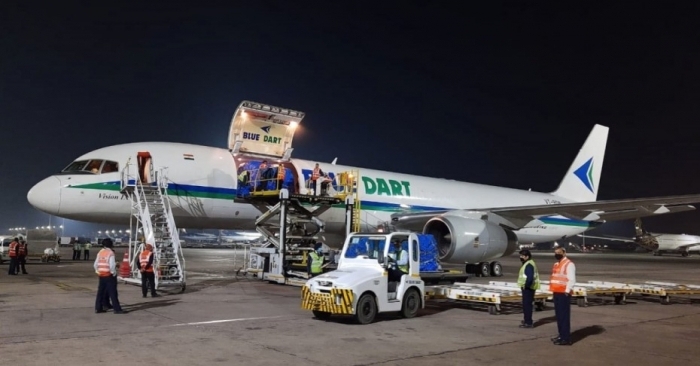 July 31 2021: Blue Dart Express declared its financial results for the quarter ended June 2021, at its board meeting held in Mumbai, posting ₹294 million profit after tax (previous year corresponding quarter loss of ₹1,279 million) for the quarter ended June 30, 2021; revenue from operations for the quarter ended June 30, 2021, stood at ₹8,648 million.
Balfour Manuel, managing director, Blue Dart says, "Our results mirror a recovering economy that is increasingly trusting the digitalization process and a sustainable e-commerce boom - we benefit strongly from both."
"Blue Dart Med-Express Consortium, will signify a new chapter in the newly digitalized logistics space, using drones to guarantee efficiency, reliability and wider reach."
Elaborating further, Manuel said, "The outlook for the year remains cautiously optimistic, amid impending third wave predictions that could impact the economy."
Q1 FY 2022 performance was impacted by the second wave of the Covid-19. Localised lockdowns during the second wave kept economic activity from stalling to levels similar to those during 2020 which impacted the movement of goods. 10 states that have been hit the hardest by the second wave, collectively accounted for more than 60 percent of the pre-pandemic level of India's GDP. Manufacturing PMI and GST collections were also low during the quarter.
The company could achieve robust revenue from operations of ₹8,648 million during the quarter under review, a resilient financial performance despite very challenging market conditions. The company was able to successfully implement GPI with its customers.
The company, known for its reliable, responsive and resilient customer service team, continued to deliver a superior customer experience through its service quality despite restrictions and lockdown measures which was highly appreciated by the customers. The Company carried 51.22 million shipments (last year 15.54 million shipments) weighing 1,84,431 tons (last year 90,188 tons) during the quarter.
The company achieved EBITDA of ₹892 million with EBITDA margins of 10.24 percent. Due to the second wave of the pandemic and restrictions in movement, EBITDA margins were impacted on a sequential basis primarily due to lower utilization levels and an increase in employee costs due to merit increase. Volatility in foreign exchange rates specifically in Euro during the quarter also had an impact on profitability due to ROU liability being M to M under IND AS 116. Profit after Tax stood at ₹294 million with a margin of 3.37 percent.