Blue Dart reports Rs 31, 664 mn revenue for 2019-20; loss Rs 383 mn
May 27, 2020: Blue Dart Express declared its financial results for the quarter and year ended March 31, 2020, at its board meeting held in Mumbai.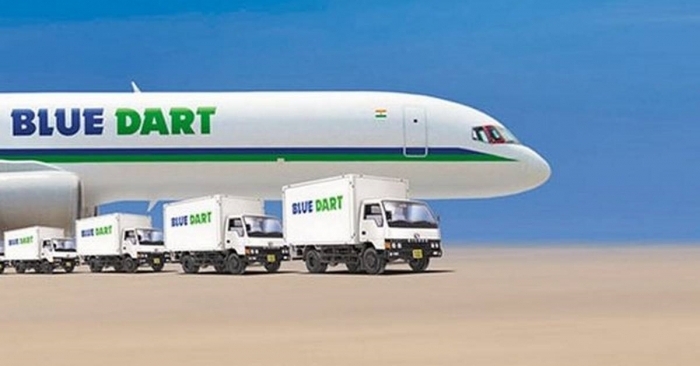 May 27, 2020: Blue Dart Express declared its financial results for the quarter and year ended March 31, 2020, at its board meeting held in Mumbai. Revenue from operations for Q4 FY19-20 stood at Rs 7,241 million and Rs 31,664 million for the year ended March 31, 2020. Net loss for the year ended stood at Rs 383 million after accounting for the adverse impact of Rs 641 million exceptional items.
"The business environment has been challenging during the FY19-20 fiscal year with the overall profitability being impacted due to adoption of Ind AS 116 new accounting standard which led to a higher impact on profit as these are long term leases related to air infrastructure, right-sizing/restructuring exercise undertaken in the quarter ended December 31, 2019, to improve efficiency and lockdown due to global pandemic Covid-19," Details of the impact of each of the event are as under:
Rs millions
Sr No

Exceptional/Additional Costs

Year ended March 31, 2020

Year ended March 31, 2019




Profit Before Tax as per Income Statement

‐472.0

1,283.5

1

IND AS 116 April 1, 2019 ‐ Impact

666.2




2

Right-sizing/Restructuring Cost

641.1




3

Impact of lockdown due to Covid19 pandemic

542.0




Adjusted Profit Before Tax before above impacts

1,377.3

1,283.5
Balfour Manuel, managing director, Blue Dart Express Limited said, "While we had started reaping the benefit of cost efficiency measures and restructuring exercise in the quarter under consideration, lockdown due to Covid-19 in the second fortnight of March impacted our revenues and bottom line. Blue Dart is a resilient company and we expect to see our operations coming to near normal soon after the lockdown is lifted, thanks to passionate Blue Darters who are ever willing to meet and exceed customers' expectations.
He further added, "Blue Dart played an active role in the nation's fight against the Covid-19 pandemic by transporting over thousands of tons of essential supplies in coordination with the Government of India, several State Governments, Municipalities, Pharmaceutical companies, Hospitals and other Research institutions. Our cargo aircraft flew across major Indian and International cities (Guangzhou, Shanghai, Dhaka, Hong Kong and Yangon) transporting mission-critical supplies through Charter Operations. To ensure the safety of our customers and employees, we have pioneered contactless delivery for all products. I am proud to say that Blue Darters have worked round the clock to deliver essentials in a time-bound manner. The company is also honoured to be a part of the Government's 'Lifeline Udan' initiative. Blue Dart played the crucial role of trade facilitator for the country by working across industries during the extended lockdown in May 2020. We are closely tracking the impact of COVID-19 on the economy. As things continue to evolve, we are working along with our customers and partners to ensure safety and ramp-up of operations."
Automation and technology will continue to be the pivots of our business. As a company focused on revenue enhancement, service quality and profitability, we will continue with an unwavering focus on delivering our core competencies of reliability and responsiveness with immense customer-centricity. Our commitment to serving Blue Dart country with the support of our highly passionate team remains persistent.