How to make cold-chain cost-effective and environmentally sustainable
Process of cold-chain involves a chain of tasks to prepare, store, and transport products at the desired temperature.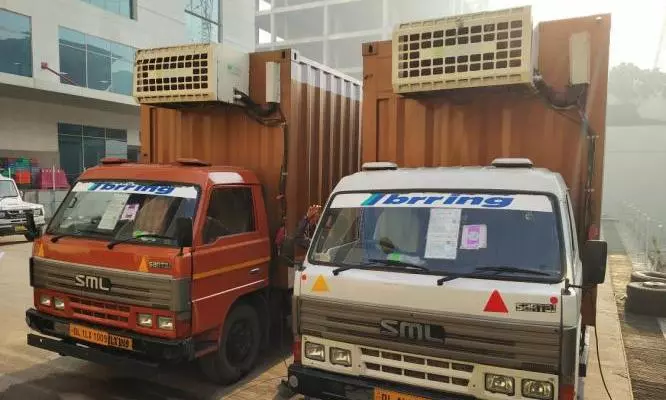 "How did you like that food you ate at the restaurant last weekend? Has your toddler received his vaccination dose? Do you like waking up to the smell of fresh roses on the bedside table?"

Meat, agri-produce, vaccines, fresh flowers and the like have one thing in common: they all require temperature-controlled transport so that they reach consumers in fresh and usable condition. This is where the efficacy of cold chain management comes in.
Managing cold-chain is a process, as it entails performing a chain of tasks to prepare, store, and transport products at the desired temperature. Any failure in the cold chain will render products being transported unusable, which leads to their going waste. When products get spoiled, both the shipper and his client (retailer/restaurant) lose money, and customers.
An effective cold chain ensures temperature-sensitive products are kept within optimal temperature ranges, and maintain their desired states during transportation and storage. For example, fruits like guava and apples must be kept chilled, and ice cream must be kept frozen to preserve their shelf life. If temperatures go above the desirable ranges, the fruits will wither and the ice cream will lose its solid state; and they will no longer be considered to be consumable. Suppliers of food and pharmaceutical products heavily rely on the cold chain to ensure the products don't get compromised before they reach the consumers.

There's something that's even more worrying: in India nearly 16 percent of fruits and vegetables, and nearly 10 percent oilseeds, pulses and cereals grown, go waste every year due to a weak cold chain infrastructure. This estimate was arrived at in the study 'Assessment of Quantitative Harvest and Post-Harvest Losses of Major Crops and Commodities in India' carried out under the aegis of the Ministry of Food Processing Industries, Government of India.
Demand to provide fresh produce, as well as true product experience for processed foods, in an environmentally sustainable manner continues to rise. Organizations are continually seeking out better ways and new technologies to deliver it to consumers irrespective of how far they are from the producers or manufacturing facilities. Many companies are finding that value-added logistics services help give their supply chain an advantage. Once limited to basic transport services, the logistics industry has now evolved to assist manufacturers maintain their products at their true quality during transit.
Pluss Advanced Technologies is one such company that contributes to this segment by having solutions to maintain quality and freshness of food-perishables and pharma products, through 'thermal energy control' which is cost-effective and environment friendly, both. Pluss is a research and manufacturing company that has developed 'phase change materials' that can be used for 'thermal control' in a wide variety of applications. 'Phase change materials' are materials that store and release thermal energy. An example of such a material is water, which changes phase from liquid to solid at 0°C. When solidified water is put in a glass at room temperature, it absorbs heat and changes its phase again while cooling the glass-contents. This phenomenon can be used to maintain a constant temperature without constant electricity.
For the cold chain, Pluss offers solutions ranging from refrigerated trucks to small boxes, made using 'phase change materials'. The small boxes, 'PronGO' and 'Celsure' are being used to transport food and pharma products respectively.
TCI Cold Chain Solutions (a JV between India's leading logistics and supply chain company, Transport Corporation of India, and Mitsui & Co, Japan), is a user of Pluss's solutions. TCI Cold Chain Solutions is one of the leading end to end cold chain logistics companies in B2B grocery transport, cloud kitchen/dark kitchen supply chain and QSR services. B. Sumit Kumar, CEO, TCI Cold Chain Solutions says that they work with various e-commerce companies and restaurant chains to manage their daily food and grocery requirements, and ensure that their products reach their customers on time and at their true quality. The e-commerce business is very dynamic and demanding and we need to proactively think of solutions to ensure that we have customer satisfaction and retention. TCI Cold Chain Solutions have worked with Pluss for the past few years and have found Pluss's solutions to have been very beneficial in maintaining temperature which co-relates to product freshness and quality. TCI Cold Chain Solutions uses Pluss's 'PronGO' boxes to effectively manage products that need to be kept at both chilled and frozen temperatures, and have received positive feedback from clients that it maintains quality of their products during transport and storage to end consumers. These box solutions can be adjusted to various temperature requirements by changing the 'phase change matter' used in these boxes which allows transportation of different types of food products with varying freezing and chilling requirements, in one truck efficiently."
In addition, trucks refrigerated with 'phase change materials' has been giving returns within a year as compared to conventional refrigerated solutions, through 25 percent reduction in fuel consumption and carbon emissions, both, per truck per year. In India and other countries where 24x7 electricity is sometimes a challenge in some regions, Pluss's solutions provide back up in cases of power cuts, by maintaining freezer temperature which preserves the contents when there is no electricity.
In addition to the need for thermal control, India would be at an estimated 2.98 tonnes of CO2 per capita now. With India's commitment to achieve net zero emissions by 2070, companies are switching to more energy efficient solutions and reducing their carbon footprint. Most companies have formed dedicated teams to achieve their brand's sustainability targets, and are always on the lookout for new technologies to make their operations more sustainable and efficient.
Pluss's solutions are supported by and have validated results from organizations like UNIDO (United Nations Industrial Development Organization) and BEE (Bureau of Energy efficiency), among others. Pluss also received an award in 2021 from WWF (World Wide Fund) for our contribution to climate preservation.
'Phase change materials' and its applications have huge potential in India and abroad. While Pluss works with many organizations already, the dependability, cost-effectiveness and environment sustainability of 'phase change materials' will serve to only increase its usage in the years to come.
The views and opinions expressed in this article are those of the authors and do not necessarily reflect the views of Indian Transport & Logistics News