Blackbuck eliminating inefficiency from trucking business through technology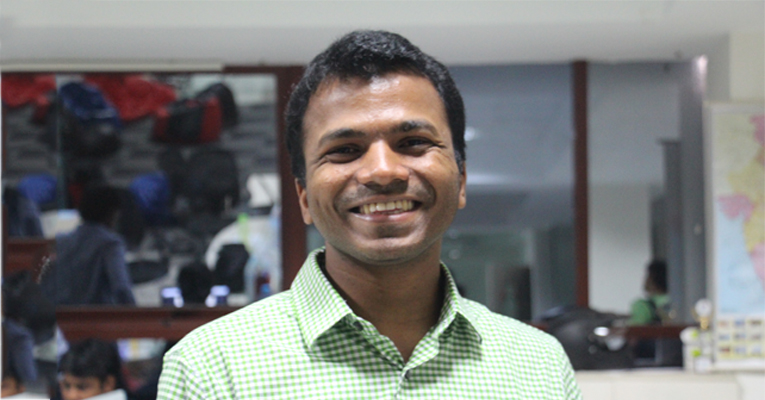 Feb 06, 2017: Logistics sector plays a crucial role in keeping India's economic activities rolling. But when 60 percent of the total freight traffic depends on roads for reaching their destination, the tremendous pressure leads to congestion, delays and eventually higher costs and lower profitability in the trucking business. Keeping technology at core, BlackBuck is redefining the country's logistics landscape, eliminating inefficiencies and making it more reliable. Founded in 2014 by former IITians Rajesh Yabaji and Chanakya Hridaya, Blackbuck is an app-based aggregator that allows anyone who owns or operates trucks to join the platform. The transporters essentially need demand and B2B clients need trucks. BlackBuck provides these trucks to these businesses based on their requirement of size, timing, and other shipment specifics for inter-city freight services. The Bangalore-based B2B logistics startup is working with over 150 companies, including some of India's biggest brands like Britannia, Asian Paints, Marico, Unilever and Godrej Consumer. It has been able to achieve a considerable recognition in the industry and thus attracted big investors like Tiger Global, Russian billionaire-investor Yuri Milner's Apoletto fund, Accel Partners and Flipkart, raising about $30 million in two funding rounds.
In an interview with Indian Transport and Logistics News, Rajesh Yabaji the Co Founder of BlackBuck shared his vision.
The logistics sector has seen several start ups mushrooming in India over the recent years. What innovative technologies and approaches have you adopted or plan to adopt that would set BlackBuck apart from other logistics solution providers? Technology penetration in logistics is at the lowest. BlackBuck has built technology, which integrates both demand and supply on to a single platform. BlackBuck works with customer through tech-integrated platforms, where they can place orders very easily. This is done through technology integrations, portals and mobile apps. At the click of a button, customers can track and trace their shipments, analyze the shipments carried out on the platform.
Truckers across the country are empanelled on the platform through a mobile application, through which they interact with us. Transporters through the platform have real time visibility of customer's demand. BlackBuck is also using technology to bring about a change in the payments structure in the industry and eliminating the use of cash. The entire transaction has been made seamless for the eco-system using technology.
Logistics is all about optimized networks for transportation and warehousing and scale indeed plays a critical role in bringing optimization into play. We believe that our business model, products-first approach, technology at the core and the scale we have achieved already will definitely set us apart from other solution providers.
What do you think are the key challenges in organizing the inter city logistics market? The current players operating transportation are asset-light and very fragmented. The suppliers to them again are completely fragmented with average ownership of three trucks per person. The commerce in this industry happens in a broken offline method. The market is highly communication intensive with lowest technology penetration.
You have managed to earn an investment up to $25 million in Series B funding led by marquee investors like Accel Partners, Flipkart, Tiger Global, Apolette, and Yuri Milner's Founder's Fund – DST Global. How have you utilized these funds in boosting your business? We have invested in building technology led products for this industry, which are responsible for bringing out efficiencies for both customers and truckers. Apart from products, the money is being used to scale the business.
How challenging it becomes for you to convince the truckers to adopt technology? It has often being observed that trucks are most of the times empty while returning from trips. How do you ensure optimum utilization of your resources? For the business to scale, it was extremely important for us to persuade supply fraternity to abandon age-old practices of doing business and to bring them on the online platform. The entire exercise was very difficult and took significant amount of efforts from all of us. However, the way supply partners have started using BlackBuck app and the traction it got made our efforts successful.
BlackBuck which is the largest player in inter-city freight provides a multitude of advantages for truckers. For a community that has resisted technology, the Blackbuck app has resulted in higher efficiencies and less dependence on manual processes. We also have multi-lingual app which has languages such as English, Tamil, Telugu, Hindi etc.
The optimization of resources on BlackBuck happens through multiple reasons, for instance the BlackBuck app gives analytics-led guidance for fuel refills on a particular route; it enables truckers to service demands on return trips, lowering their costs and maximizing their fleet utilization; BlackBuck provides automatic load suggestions and load availability across country; it builds in a 96 point extensive checklist for empanelment of trucks on its platform, ranging from vehicle health to KYC norms, which is deemed a 'stamp of approval' for truckers. This ensures that the truckers know the condition of the trucks and ensure they are well maintained. On the other hand, customers see them as reliable partners. In addition, BlackBuck is making all transactions cashless for the convenience of the truckers and BlackBuck.
How much have you gained in terms of business since the inception of Blackbuck? BlackBuck now has a pan India network, servicing over 230 customers across 300 locations across the country. BlackBuck has been able to empanel more than 70,000 trucks on its platform and it is already largest tech-enabled FTL inter-city player in India.
What are your future expansion plans? With respect to plans and vision, we want to see the world of transportation to be run using technology completely. We believe this would be the best way to execute freight, which will make us the largest freight company in short term. In the long run, we are looking at possibilities of launching multiple business segments and also taking the story global.
Have any of the Indian government's recent trading policies given impetus to your business? It is difficult to attribute the impact of policies on the business in short term. However, the belief is that the initiatives Indian government has taken are going to provide impetus to the overall logistics industry specially the integration of 'Make In India' and 'Digital India' with the new trade policy.
How do you think the GST is going to impact the Indian logistics market and to your firm? Overall GST bodes well for the entire logistics industry. The supply chain networks will become more business efficient rather than tax efficient. We have reasons to believe that optimized supply chain networks will demand increase in long hauls. For an organization doing business in intercity transportation, this is definitely a plus point. Also, I believe that implementation of GST will completely de-bottleneck multiple constraints in this segment.
Photo Caption: Rajesh Yabaji, Co Founder of BlackBuck