FROM MAGAZINE : Big makeover of Indian ports
Sagarmala is a project for port-led development to harness India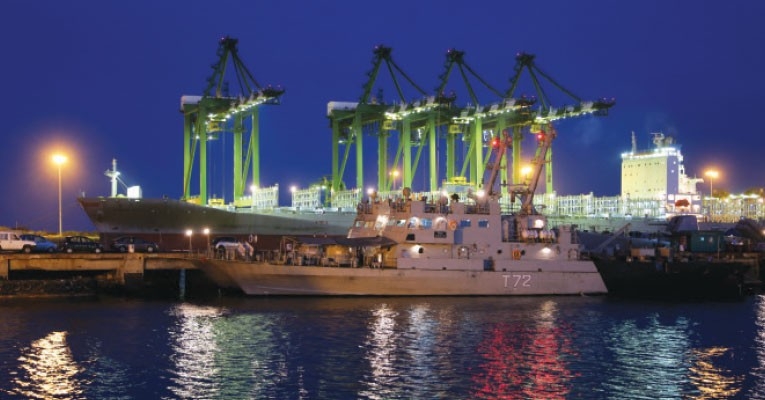 Sagarmala is a project for port-led development to harness India's 7,500-km coastline, 14,500 km of navigable waterways and to enhance access to international maritime trade routes. The concept was approved by the Union Cabinet in March 2015 and a National Perspective Plan (NPP) for the comprehensive development was prepared and released in April, 2016. Since then many projects have been rolled out under this programme. Devendra Kumar Rai, Director, Sagarmala, talks to Reji John about the progress of the projects so far and the larger aim of this initiative. Edited excerpts.
What's the update on various projects under Sagarmala?
Under the programme, 605 projects have been identified and are expected to mobilise more than Rs 8.78 lakh crore of infrastructure investment. These include projects for capacity addition and improving the infrastructure at the Indian ports, enhancing the road and rail connectivity to the ports and increasing industrialisation opportunities in the proximity of the ports. Focus is also on improving the livelihood of the people living along the coastline by development of fishing harbors, providing opportunities for improving the skills through various training programs. Out of the total 605 projects, 80 projects (cost: Rs. 13,701 crore) have already been completed and 213 projects (cost: Rs. 2.5 lakh crore) are under implementation.
How important is port-led economic development for India and what are some of its highlights?
Ports are important gateway between hinterland and overseas that facilitate EXIM trade and fuel the economic development of the country. Taking inspiration from most the major cities in the world that are port cities, development of cities started with ports which led to increase in economic activities around them such as logistics, insurance, banking etc. In order to reduce EXIM costs, industrialisation also flourished in the proximity of the ports, leading to further economic development and generating employment.
Sagarmala Programme not only includes projects for improvement of port infrastructure but also development of economic centers around ports. For promoting port-led industrialisation, 14 National Employment Zones (NEZs) have been identified in the coastal states. Policy framework for development of NEZ is under finalisation based on recommendation of IMC for NEZ development under the aegis of CEO, NITI Aayog.
Vision of the Sagarmala Programme is to reduce logistics cost and time for the movement of EXIM and domestic cargo and development of port-proximate future industrial capacities near the coast is a step in this direction. In this regard, 38 potential port-linked industrial clusters across three sectors, namely – energy, materials and discrete manufacturing, have been identified. These include 12 bulk clusters for basic input industries such as power, refineries & petrochemicals, steel and cement; 24 discrete manufacturing clusters, in the labour intensive sectors of electronics, apparel, leather products, furniture and food processing; and two maritime clusters.
What are the opportunities for foreign investment under Sagarmala initiatives?
Various projects are already been executed under public-private-partnership (PPP) model with participation from foreign companies and there is an opportunity for further investment. Some of the key projects with participation from foreign players include development of fourth container terminal at JNPT Mumbai costing over Rs 8,000 crore and expected to add 60 MTPA capacity. Phase-1 of this project is already operational.
What's the progress of different port modernisation projects and capacity enhancement at major ports?
There are 266 projects under the port modernisation theme of the Sagarmala programme. These include port capacity addition projects, efficiency improvement, development of new ports, development of ship repair facilities, initiatives to promote cruise tourism and development of Ro-Ro, tourism jetties and coastal berths to increase movement of passengers and cargo through water. From the port modernisation, capacity addition of 1177 MTPA has been planned. Out of the 266 projects, 51 projects (cost: Rs. 8,679 crore) have already been completed adding 144 MTPA port capacity and 67 projects (cost: Rs. 28,995 crore) are under implementation.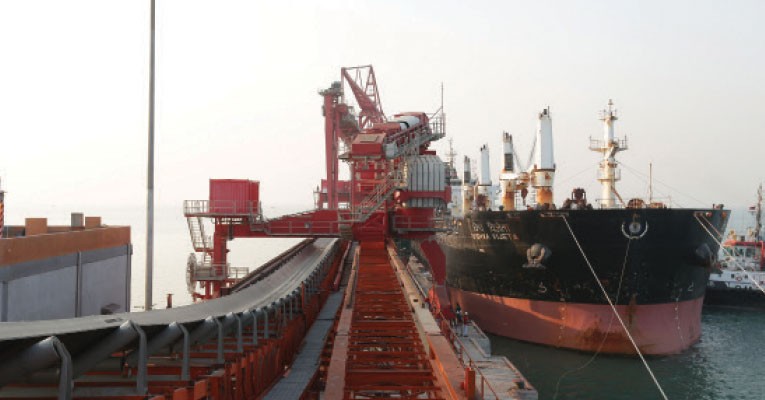 Connectivity and infrastructure around Indian ports are a serious concern, how will projects under Sagarmala solve this challenge?
Providing good quality road and rail connectivity to ports is very improvement for the efficient movement of cargo and evacuation from the ports. Under the Sagarmala programme, total 213 port connectivity projects (cost: Rs. 2.5 lakh crore) have been identified. These include development of over 8,700 Km of road, 4,220 km of rail, 3,900 km of national waterways and 1,200 km of pipelines. 15 multi-modal logistics hubs are also under development to improve the country's logistics sector by lowering overall freight costs, reducing vehicular pollution and congestion, and cutting warehousing costs.
How will Sagarmala initiatives push more cargo through coastal shipping and inland waterways?
In India, about 54 percent of the cargo is transported through the roads, 33 percent by rail, 7 percent by pipelines and 6 percent by coastal shipping and waterways. Sagarmala programme is promoting the movement of cargo through coastal shipping as it is not only cost effective compared to other modes, it also helps in reducing pollution and traffic congestion at roads and rails. It is estimated that the cost per tonne per kilometre of moving cargo through the coastal route can be 60 to 80 percent cheaper than moving the cargo through rail or road. Sagarmala programme aims to double the share of domestic waterways (inland & coastal) in the modal mix from current 6 to 12 percent.
Ministry of Shipping is developing perspective plan for coastal shipping in collaboration with Asian Development Bank. This will include identifying opportunities for promoting coastal shipping and bottlenecks that industry is facing. It has also made relaxation u/s 406/407 for easier licensing requirement for chartering vessels for coastal movement of EXIM/empty containers, agricultural and horticultural commodities, animal husbandry products and farm produce and fertilizer. Development of national waterways is in progress. Cargo movement has already commenced in few sections of NW-1 and NW-2.
What's the update on National Multi-Modal Transportation Grid?
As part of national multi-modal transportation grid, aim is to shift the logistics in India from point-to-point model to hub-and-spoke model. 35 multi-modal logistics parks are planned across the country at the cost of Rs 50,000 crore with the investments from states and private sector. These would be developed in an integrated approach with collaborative development of railways, highways, inland waterways and airports.
Efficient logistics are important for boosting India's competitiveness. It not only reduces transportation time and costs but also reduces the cost of production by minimising the need for large inventories. This means less capital required for warehouses, insurance, etc.
How will projects under Sagarmala bring down the cost of logistics?
Logistics costs in India is 14 percent of GDP compared to the global average of 8 percent. Sagarmala aims to generate logistic cost savings of Rs 35,000-40,000 crore per annum by 2025. This can be done by efficient evacuation of cargos from port to hinterland and vice-versa by improving the quality of transportation infrastructure and development of port proximate Coastal Economic Zones (CEZs) and Industrial clusters.
Assessment of Indian ports as against international ports
Attempts are being made to improve the efficiency of Indian ports to the level of other major international ports. As per Berthing Policy 2016 released by Ministry of Shipping, a standardised methodology was laid down to calculate norms for dry bulk berths. An exercise was undertaken to benchmark port capacity with global standards set by the berthing policy and re-rate the capacities of major ports. Declared capacity of major ports was 1066 MTPA. After the re-rating exercise, the effective rated capacity and desired occupancy of major ports were 1359 MTPA and 989 MTPA respectively as on 01.04.2017.
Under Project Unnati, the global benchmarks were adopted to improve the efficiency and productivity KPIs for 12 major ports. Around 116 initiatives were identified across 12 major ports to unlock more than 100 MTPA capacity just through efficiency improvement. Out of which, 86 initiatives have already been implemented to unlock around 80 MTPA capacity.
What has been done to ensure connectivity by road and rail between ports and multi-modal logistics parks?
To ensure proper connectivity of road and rail to the multi-modal logistics parks (MMLP), three projects have been identified under Sagarmala and they are planned in proximity to the ports at Paradip, Vizag and Chennai.