FROM MAGAZINE: BIAL steps up initiatives to become South India's cargo gateway
Bangalore has catapulted from a sleepy backwater to a world-class export hub all thanks to its start-up ecosystem, driven primarily by IT and ITES sectors. That apart, the manufacturing and perishables industry has also contributed to its growth. And Bengaluru's Kempegowda International Airport serves as a catalyst to accelerate international trade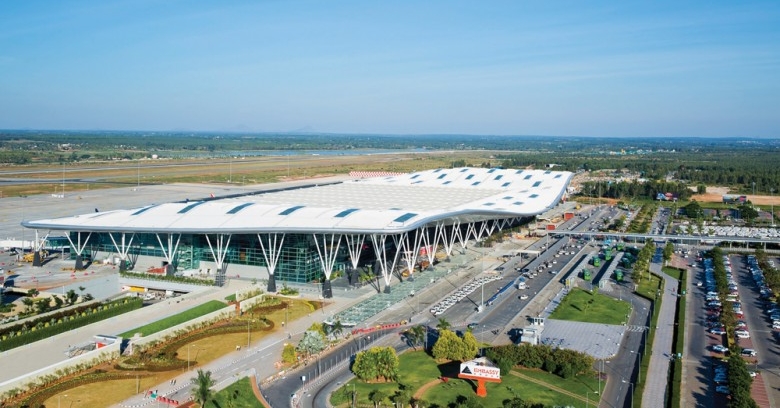 Bangalore has catapulted from a sleepy backwater to a world-class export hub all thanks to its start-up ecosystem, driven primarily by IT and ITES sectors. That apart, the manufacturing and perishables industry has also contributed to its growth. And Bengaluru's Kempegowda International Airport serves as a catalyst to accelerate international trade.
Surya Kannoth

The cargo business at Bengaluru International Airport (BIAL), which operates Kempegowda International Airport (KIA) contributes 11 percent of Karnataka's GDP (approximately Rs 12,50,000 crore), substantially higher than the global average of 2-3 percent. To sustain this growth in the long term, BIAL has embarked on a journey to enhance and build on its infrastructure, standards and best practices ensuring that they consistently raise the bar in easing the movement of goods and products to and from South India.
Next on the cards, is the creation of a free trade area (FTA) or a special economic zone (SEZ) on the campus in an effort to make the airport a cargo hub for the region.
"At this point, we are exploring multiple options. We know that we have to start thinking of what next when the current cargo facility reaches its capacity (5.7 lakh tonne annually) - whether we want to expand by scaling up the current facility or setting up a multi-model logistic hub or a free trade zone is currently under consideration," revealed Raj Andrade, vice-president (business development, marketing & strategy), BIAL during a recent interaction with media.
According to Andrade, close to 100 acres of land has been earmarked in the masterplan for the FTA or SEZ. The feasibility study for the same is currently underway. The airport's expansion plan also involves the Terminal 2 and a second runway.
"To enhance the passenger experience, we are already developing Terminal 2 and the second runway, which will be operational in the next few years. With the free trade zone, we can develop the airport as the single gateway for cargo traffic," he added.
According to statistics provided by the airport, cargo operations have grown by 142 percent from May 2008 when the airport started operations. In the current financial year, cargo handling at the airport is set to scale 3.5 lakh tonnes, up from 3.2 lakh tonnes in 2016. Cargo business is growing at over 8 percent, a release from BIAL stated.
"We are expecting to reach the capacity over the next five years, and we need to consider ways of expanding cargo handling business," said another official representing BIAL's cargo operations. He further added that the final feasibility report is likely to be out in the next couple of months.
In another first, BIAL introduced the Knitwork Connect and LOGI Connect this year with an aim to connect Tirupur and Coimbatore in the neighbouring state of Tamil Nadu to the world via the road feeder service. Exporters are guaranteed that their consignments will be transported via road in an efficient, safe and highly process driven manner. BIAL, in collaboration with its cargo partners, Menzies Aviation Bobba Bangalore (MABB) and Air India SATS Airport Services (AISATS) initiated this dedicated bonded trucking service operations in an attempt to synergise cargo movements of the two important cargo hubs.
"We started our connectivity to Tirupur this year and we are currently handling about 100 tonnes a month. Our shipments from Coimbatore, at this point of time, stands at 30 tonnes a month," said the official from BIAL.
Speaking on how BIAL compares against its competitors – Delhi, Mumbai and Chennai Airport, the official said, "In terms of customs clearance, Bengaluru has the lowest dwell time in the country. What works in our favour is the high level of safety and security - pilferage is low in terms of perishable cargo; it is secure and damage is minimal. The confidence that the importer or exporter has is the handling experience, safety and security." The airport has one of the highest customs revenues in the country with Rs 7,700 crore of revenue generated per annum as of March 2017.
Strategically located within the airport premises, the airport houses a Cargo Village, which allows 3PLs to leverage on the hub's excellent connectivity and superior handling efficiency for quick turnaround of value-added logistics and regional distribution activities. Today, the 11-hectare facility with separate office and warehousing facility is almost fully occupied by 3PLs providing their customers with fast and efficient value-added replenishment and fulfillment activities for the entire region.
With the growth of e-commerce, a dedicated counter for couriers is on the anvil at Kempegowda International Airport. According to BIAL officials, currently about 1,000 tonnes is being handled on a monthly basis, and the regional distribution hub, which is coming up on nine acres of land, is expected to handle about 60,000 to 70,000 tonnes per annum.
What's cool about AISATS CoolPort
In order to enhance Karnataka's status as the pharmaceuticals and perishables hub of India, BIAL's concessionaire Air India SATS has come up with AISATS CoolPort at the Kempegowda International Airport, which is India's first integrated on-airport perishables cargo handling centre.
The state-of-the-art facility is well-equipped to meet the ever-increasing demands and handling requirements of temperature-sensitive cargo by developing modern cargo storage infrastructure and process to maintain an unbroken cold chain.
The 11,000 square meter facility with handling capacity of 40,000 tonnes per annum will handle a wide range of perishable products. In addition, the facility will also provide customized cold storage solutions and value added services as required.
AISATS Coolport is a one stop shop facility comprising customs clearance, state-of-the-art Drug Controller lab facility and plant quarantine inspection and certification office.
In July 2017, AISATS has launched a mobile app - 'AISATS Cargo' - to facilitate the cargo tracking process at AISATS Air Freight Terminal and at AISATS COOLPORT, located at Kempegowda International Airport (KIA), Bengaluru.
Perishables exports from Bengaluru peak
Perishables that are exported from the airport include mixed vegetables, fruits, cambodge extract etc. and the top export countries are Qatar, Singapore and UAE. The total export cargo value is pegged at Rs 59,742 crore and the total import cargo value at Rs 81,849 crore.
The highest exports of roses and mangoes from the region takes place from the airport as 303 tonnes of roses were exported in February and 562 tonnes of mangoes were exported in April and May this year.
Exports of pomegranates have been another driver of growth for BIAL. Peeled pomegranates from Bengaluru have high demand in markets of West Asia and South East Asia.
"Pomegranates procured from nearby areas are brought to the cargo village in KIA where they are peeled and packed in small containers before being put in cold storage," said the official from BIAL.
"During our interaction with exporters and importers, we were informed about the increasing demand due to the fruit's perceived health benefits. In fact, pomegranate exports from Bengaluru alone has peaked one tonne per day," said Venkata Reddy, chief executive officer, Menzies Aviation Bobba (Bangalore), which is among the two cargo handlers at Kempegowda International Airport.
With seven dedicated freighter aircraft bays and facilities to handle a wide range of goods - including life-saving drugs and temperature-controlled products – BIAL has indeed made its mark for efficiency, speed and the introduction of new initiatives. The present design capacity of the combined cargo terminals is at 350,000 tonnes, catering to both the international and domestic air cargo traffic with the option to scale up infrastructure and support systems
as required.