Bengaluru airport posts 11% increase in total cargo throughput in 2018-19
April 22, 2019: The Kempegowda International Airport, Bengaluru (BLR Airport) has witnessed a sharp increase of 11 percent in cargo throughput, handling 386,780 metric tonnes (MT) in 2018-19 as against 348,403 MT in the previous year.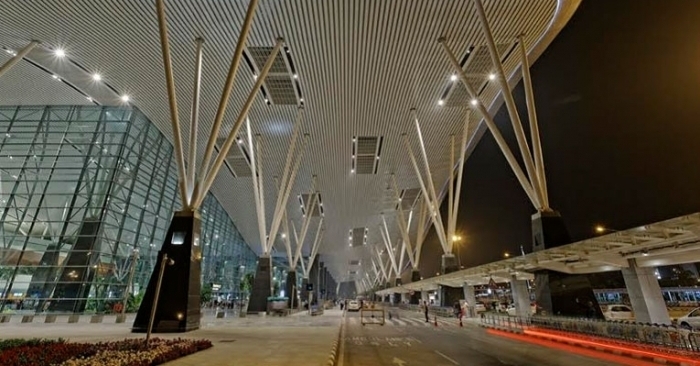 April 22, 2019: The Kempegowda International Airport, Bengaluru (BLR Airport) has witnessed a sharp increase of 11 percent in cargo throughput, handling 386,780 tonnes in 2018-19 as against 348,403 tonnes in the previous year.
The international cargo processed during this period was 242,650 tonnes (+10.3 percent) compared to 2017-18 which recorded 219,899 tonnes, while the domestic cargo was 144,130 tonnes (+12.2 percent) as against 128,504 tonnes last year.
On the passenger front, a record 33.30 million passengers transited through the BLR Airport. As passenger traffic continues to grow exponentially, Bangalore International Airport Ltd (BIAL), the operator of the BLR Airport has undertaken a massive Rs. 13,000 crore capacity expansion to cater to the long-term demands of the aviation market in India. This includes the first-phase construction of a 255,000 square metre Terminal 2, an advanced Cat-IIIB Code-F Capable Runway and landside expansion, which, once ready will give the airport a substantial capacity boost.
Hari Marar, MD & CEO, BIAL, said that creating a smooth and pleasant travel experience for passengers remains his top priority. "Passengers at the BLR Airport have come to associate our Airport with a high-quality travel experience. Maintaining this experience poses a challenge, given the growth in passenger volumes we are currently witnessing. However, with careful hourly capacity management and investment in new technology, BIAL is committed to providing this to the best of our ability. In order to support the growth at the BLR Airport, we have introduced several technology initiatives such as the fully-automated self-bag-drop machines, enabling passengers to complete the baggage check-in in less than 45 seconds and the Smart Security Lane with Automated Tray Retrieval System to make travel seamless. Our other pioneering initiative that is set to go live soon is the biometric-based self-boarding solutions as part of the government of India's Digi Yatra programme."
Traffic Details - FY 2018-19

Type

18-19

17-18

Growth %

Pax Total

33,307,913

26,910,431

23.8%

Domestic

28,825,152

23,096,380

24.8%

International

4,482,761

3,814,051

17.5%

Total ATMs

240,251

197,330

21.8%

Domestic

211,795

172,665

22.7%

International

28,456

24,665

15.4%

Total Cargo (in MT)

386,780

348,403

11.0%

Domestic

144,130

128,504

12.2%

International

242,650

219,899

10.3%
Until the first phase of the new terminal is ready for operations in 2021, BIAL will continue to make various technology enhancements and innovations to ease congestion and ensure that travel through the airport is both seamless and delightful.
"Meanwhile, work on the second runway and terminal, as well as other supporting infrastructure, is on at full throttle. All this will provide the BLR Airport sufficient capacity to meet the demand over the next decade that this unprecedented growth has created," Marar added.
The addition of new airlines and new routes to familiar destinations were the main driving factors as BLR Airport achieved this new milestone in passenger numbers, registering a 23.8 percent growth over the previous year's 26.91 million. During the 12-month period, domestic traffic continued to be the main driver of growth, accounting for 28.82 million passengers, an upswing of 24.8 percent over last fiscal's 23.09 million. A total of 4.48 million passengers travelled to and from international destinations - a growth of 17.5 percent over the previous year's 3.81 million.
BLR Airport plays a key role in driving the economy of the region offers a wide air-route network - with over 37 passenger airlines and 12 cargo airlines connecting Bengaluru to the rest of the world. Amongst the airports in South India, BLR Airport continues to be the destination of choice for both domestic and international flights.
Air traffic movements (ATMs) increased by 21.8 percent with a total of 240,251 landing and take-offs compared to 197,330 movements last year. The average ATMs per day for the year was 658.