Being in touch, reallocating, prioritizing and digitalizing the key to solve last-mile challenges
April 24, 2020: Since the lockdown began on March 25, 2020, last-mile delivery of essentials was something logistics companies across the country struggled to fulfil even after all the easing up from the government side.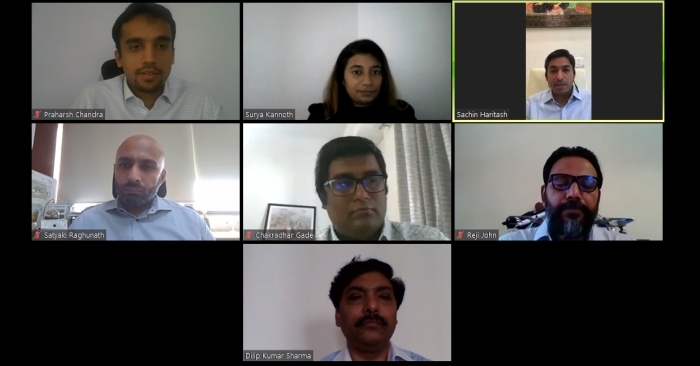 April 24, 2020: Since the lockdown began on March 25, 2020, last-mile delivery of essentials was something logistics companies across the country struggled to fulfil even after all the easing up from the government side. In its third in the series of the webinar, ITLN brought together end to end logistics companies, airports and last-mile specialists. Take a look into what our speakers today spoke out.
Chakradhar Gade, co-founder, Country Delight
"We have faced problems is the last-mile delivery. From sourcing and production point of view, it was pretty smooth as when police and regulatory authorities understand the essentiality of service. But in the last mile, we had to constantly communicate with our people on the ground and solving their problems locally. We are also insuring all our last-mile and plant personnel against Covid-19 to an extent of Rs one lakh," said Gade.
Praharsh Chandra, co-founder & COO, Shadowfax
"First one week of the lockdown was a learning experience for us. Our business caters to B2B movement of goods of food, grocery, pharmaceuticals and e-commerce with each of them behaving differently. Grocery and pharmaceuticals saw almost four to five times jump immediately after the lockdown announced. Food had a varying curve but less impacted than e-commerce which is almost shut," said Chandra.
"The real challenge was in dealing with the huge demand started coming in from a few verticals and reallocating our resources to them. Also, technology is doing an immense job in fighting the pandemic as in telling drivers where to go and where not to go or even in providing digital passes. We are expecting to lift the lockdown post-May 3, but we do expect some relaxation in the e-commerce sector," he added.
Dilip Kumar Sharma, SVP and country head-operations, Ecom Express
Ecom Express is a B2C e-commerce logistics company with a workforce of 35,000 as drivers, handlers, people into warehouse and last-mile.
"As the lockdown started we immediately identified the demands for groceries and essentials, went to the government, took necessary approval and started operating in 35 cities with a priority. As government allowed to move held up consignments and as non-essentials are still not allowed, a huge amount the cargoes are piled up in the inventories, said Sharma.
"Around 35 percent of our workforce has been migrated to their native places. Some of our workforces is the red zone and can't be employed. As and when the lockdown is lifted we expect the demand to surge and logistics companies have to ready to deal it. We are already working on technology to help supply chain when things will go back to normal dealing with both workforce and the customer. Businesses will get completely reset as we already know about it as social distancing will become a norm," he continued.
Sachin Haritash, founder & chief executive officer, Mavyn
With no office, completely paperless and faceless, Mavyn is a digital tricking that witnessed 2-3x volume business surge during Covid-19.
"Small truck owners and drivers are our heroes and trucks are their livelihoods. Enabling them to manage their trucks, repairing them and finding food is something we fought after and we found that the support system of government as reasonably good. Even the biggest logistics players will have to redesign their supply chain systems to adhere to the new normalcy. The only challenge is about bringing these drivers back from their home towns," said Haritash.
Satyaki Raghunath, chief strategy & development officer, Bangalore International Airport
"We are doing about 25-35 percent of our normal business right now. During the lockdown period, we have done about 7000 metric tonnes of cargo compared to about 35,000 metric tonnes in a normal situation which shows a huge impact on our business. But we could also see a lot of innovations and collaborations from all stakeholders and especially from the government," said Raghunath.
"DGCA and MoCA rose up to the challenge and gave permission to use passenger aircraft for cargo-only operations which never happened before. Our airport is managing the cargo well and we have our Coolport open to moving essential commodities like pharmaceuticals and perishables," he continued.