Riyadh Air to launch with fleet of 72 787-9 Dreamliners
Saudi Arabian carriers to purchase up to 121 787 Dreamliners; 5th largest commercial order by value in Boeing's history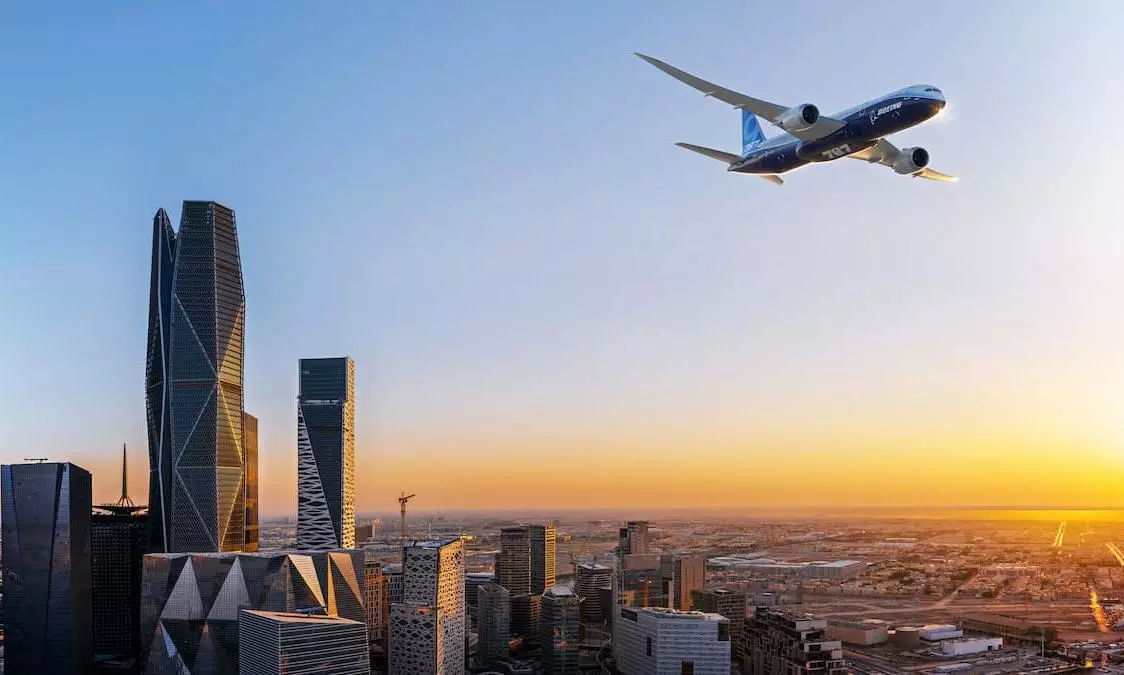 Boeing and Riyadh Air announced that the new Saudi Arabian carrier has chosen the 787 Dreamliner to power its global launch and support its goal of operating one of the most efficient and sustainable fleets in the world.
Owned by Saudi Arabia's Public Investment Fund (PIF), Riyadh Air will purchase 39 787-9s with options for an additional 33 787-9s, says a release from Boeing. "Based in the capital city, Riyadh Air will play a key role in growing Saudi Arabia's air transport network."
Saudi Arabian carriers announced intent to purchase up to 121 787 Dreamliners in what will be the fifth largest commercial order by value in Boeing's history, the release said. "This will support the country's goal of serving 330 million passengers and attracting 100 million visitors annually by 2030."
Tony Douglas, CEO, Riyadh Air says: "The new airline reflects the ambitious vision of Saudi Arabia to be at the core of shaping the future of global air travel and be a true disrupter in terms of customer experience. Riyadh Air's commitment to its customers will see the integration of digital innovation and authentic Saudi hospitality to deliver a seamless travel experience. By positioning the airline as both a global connector and a vehicle to drive tourist and business travel to Saudi Arabia, our new 787-9 airplanes will serve as a foundation for our worldwide operations as we build a wider network and connect our guests to Saudi Arabia and many destinations around the world."
Stan Deal, President and CEO, Boeing Commercial Airplanes adds: "This is a significant order that will support Riyadh Air's commitment to deliver a world-class travel experience while supporting American aerospace manufacturing jobs at Boeing and across our supply chain. We are incredibly proud of our nearly eight decades of partnership to drive innovation and sustainable growth in Saudi Arabia's aviation sector. Our agreement builds on that long standing partnership and will further expand access to safe and sustainable commercial air travel for decades more."
The 787-9 provides the longest range of the 787 family of airplanes, flying approximately 300 passengers 7,565 nautical miles (14,010 km) with additional cargo capacity, the release said.
Riyadh Air gets COO
Peter Bellew has been appointed as the Chief Operating Officer (COO), Riyadh Air, according to the LinkedIn post by Bellew. Bellew was earlier CEO, Malaysia Airlines, COO, Ryanair and COO easyJet .
Saudia orders 49 Boeing 787 Dreamliners
Boeing and Saudi Arabian Airlines (Saudia) announced that the national flag-carrier will grow its long-haul fleet with the selection of up to 49 787 Dreamliners.
"Saudia is set to purchase 39 787s with a further 10 options, utilising the outstanding efficiency, range and flexibility of the Dreamliner to sustainably grow its global operation. The agreement will include both 787-9 and 787-10 models," says a release from Boeing.
"Saudia continues its expansion efforts in all aspects of the airline; whether it's introducing new destinations or increasing the aircraft fleet," says Ibrahim Al-Omar, Director General, Saudia Group. "The agreement with Boeing delivers on this commitment and the newly added aircraft will further enable Saudia to fulfil its strategic objective of bringing the world to the Kingdom."
Saudia currently operates more than 50 Boeing airplanes on its long-haul network including the 777-300ER (Extended Range) and 787-9 and 787-10 Dreamliner. The additional 787s complement Saudia's existing fleet, enabling it to effectively harness the value of the 777 and 787 families.

"Adding to its 787 Dreamliner fleet will enable Saudia to expand its long-haul service with outstanding range, capacity and efficiency," says Deal. "After more than 75 years of partnership, we are honoured by Saudia's confidence in Boeing products and will continue to support Saudi Arabia's goal to expand sustainable air travel."