Qatar Airways Cargo reports record revenue of $6 billion in FY21-22
Qatar Airways Cargo accounted for 7.9 percent share in the global market from April 1, 2021, to March 31, 2022.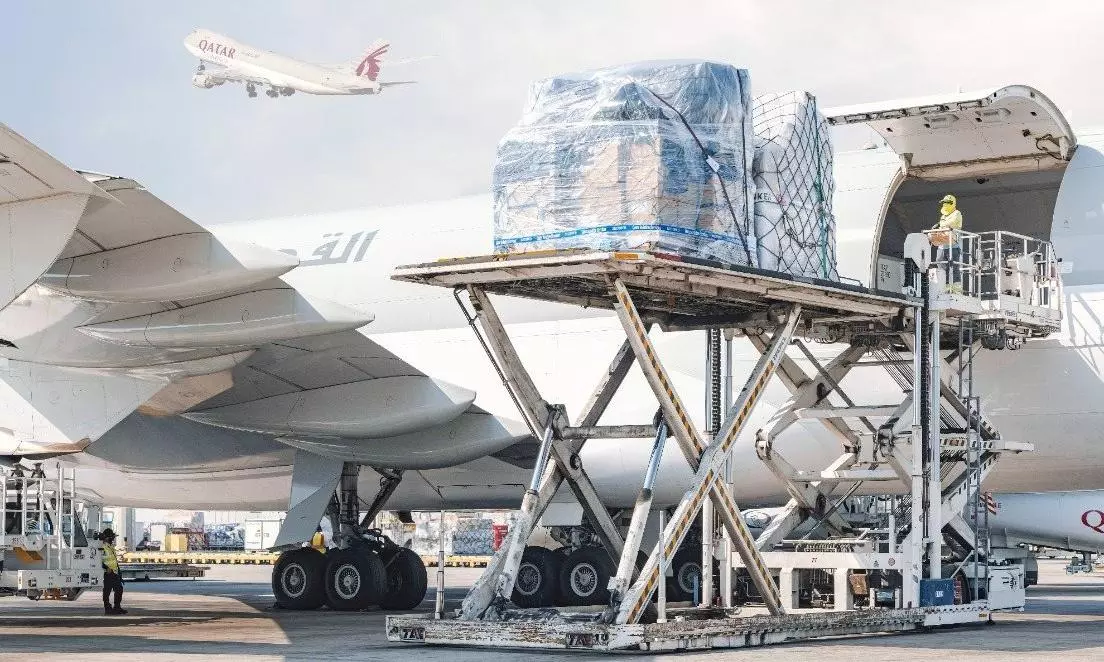 Qatar Airways Cargo, the cargo division of Qatar Airways, reported record revenue of $6.3 billion for the financial year 2021-22 ended on March 31, 2022, an increase of 25 percent, and 10 percent growth (272,975 tonnes) in freight carried to over 3 million tonnes.

"Qatar Airways Cargo accounted for 7.9 percent share in the global market from April 1, 2021, to March 31, 2022," reads the annual report.
The airline transported more than 600 million doses of Covid-19 vaccines over the course of pandemic to date and also concentrated its efforts on enhancing its pharma product and industry presence, while also ensuring commitment to its WeQare initiative which is based on sustainability, environment, society, economy and culture.
Qatar Airways Group reported a record net profit of $1.54 billion during the fiscal year 2021/22. Overall revenue increased to $14.4 billion, up 78 percent compared to last year and a two percent higher than the full financial year pre-Covid (i.e., 2019/20).
"Qatar Airways Group is celebrating its 25th anniversary year of operation with its strongest financial performance," reads the release.
The national carrier of the State of Qatar grew to more than 140 destinations in 2021/22, opening new routes including Abidjan, Côte d'Ivoire; Lusaka, Zambia; Harare, Zimbabwe; Almaty, Kazakhstan and Kano and Port Harcourt, Nigeria in addition to resuming flights to key markets across Europe, Africa, the Middle East and Asia. The company has operated continuously the largest network among all Middle Eastern airlines, as measured by the number of destinations as well as weekly flights.
Minister of state for energy and Qatar Airways group chairman, Saad Bin Sharida Al-Kaabi, said, "Qatar Airways Group has demonstrated a robust role in the aviation industry, and these financial results are a clear indication of the Group's strong performance."
Qatar Airways Group chief executive, Akbar Al Baker, said, "This year Qatar Airways Group celebrates a quarter of a century of history since its relaunch, whilst maintaining strong performance and growing profitability."
"As the world continues its recovery from the devastating impact of Covid-19 pandemic, Qatar Airways remains committed to keeping passengers and cargo moving across the globe, maintaining and building on the exceptional standards of our first 25 years of operation," reads the release.
The airline serves over 65 dedicated freighter destinations and more than 140 belly-hold passenger destinations worldwide, operating a maximum of 155 flights per day at its peak in the month of June 2021.

With a tonnage growth of 272,975 tonnes in chargeable weight, Qatar Airways Cargo demonstrated almost 10 percent growth in the same period in the previous year transporting 3,000,961 tonnes of air freight and accounting for a 7.99 percent share in the global market from 1 April 2021 to 31 March 2022.
In January 2022 the airfreight carrier places a $20 billion order for up to 50 of the world's largest twin-engine cargo jet Boeing 777-8 freighter.
In July, Qatar Airways Cargo became a member of both Pharma.Aero as well as the Cool Chain Association.
The carrier became the first to join the IATA CO2NNECT platform launching a new voluntary carbon offsetting programme.
The financial year also saw the completion of Freightos WebCargo third-party e-booking platform, offering real-time pricing and booking platform for customers across Europe, the US, and the rest of the world between February and August 2021.
The carrier also increased its presence across Central Eastern Europe with the appointment of a new GSA for Bulgaria, Croatia, Czech Republic, Hungary, Romania, Serbia, Slovakia, and Slovenia and adding belly-hold cargo capacity to 140 destinations in FY 21-22.
Qatar Airways Cargo also became the first cargo carrier to adopt Safran Cabin's new fire-resistant Container FRC solution, having taken the delivery of the initial batch of containers in September 2021. Over the next five years, the cargo carrier will be injecting 12,800 FRC's out of which 9000 of these will be received by December 2022, and replace the 9500 AKEs or lightweight containers that the airline currently uses.