India enters new era of cargo drones; more sectors to see their deployment
The recent Indian Budget for fiscal year 2022-23 saw drones emerging not only as a key talkabout, but also found its place in the GoI's large scheme of Make in India, which emphasized on encouraging drones' development business in India. Various corporate sectors have expressed interest in incorporating cargo drones into their operations.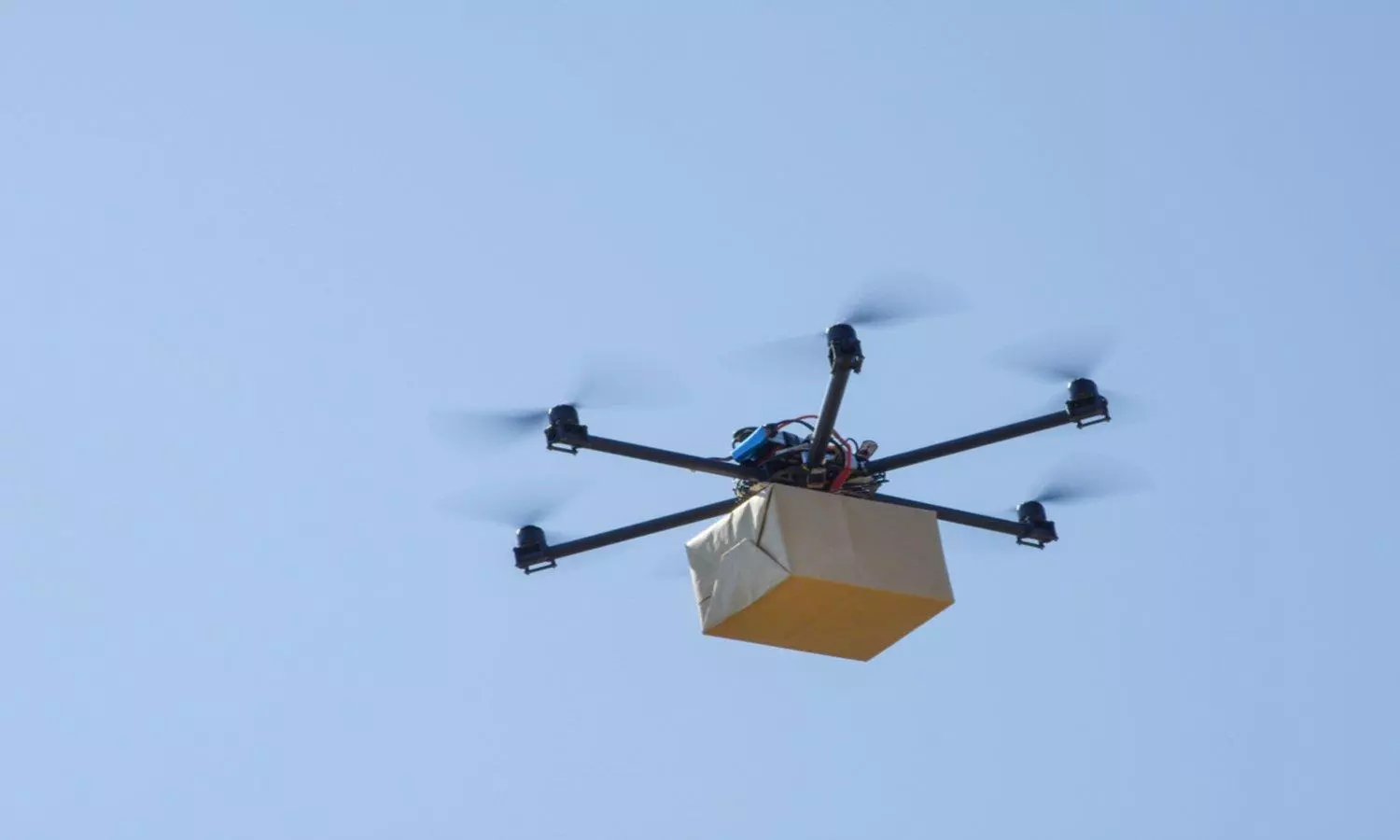 The government's heightened emphasis on the drone sector was evident when Finance Minister Nirmala Sitharaman mentioned it in this year's Union Budget. It was another step forward in the government's plan to make India a drone center by 2030.
The drone business in India may be in its infancy, but it has already piqued the interest of the government and major enterprises. Drone services would be pushed for which the government has already implemented various production-linked incentive programmes (PLIs) for the drone sector.
Drone logistics attract new business sectors
According to the Civil Aviation Ministry, India's drone business would generate a total revenue of ₹ 120-150 billion ($ 1.63-2.04 billion) by 2026, up from its present revenue of around ₹ 800 million ($ 10.88 million), reported in October 2021.
The government is also encouraging start-ups and MSMEs (Micro, Small, and Medium Enterprises) to invest in drone technology by lowering the yearly sales threshold to ₹ 2 crore ($ 267.63 thousand) for drones and ₹ 50 lakh ($ 66.91 thousand) for drone components.
On 22 February, a few days after the Union Budget was presented in the Parliament, Bengaluru-based food delivery firm Swiggy announced a call for bids in the drone-as-a-services (DaaS) market to assist execute its drone delivery ambitions for middle-mile and B2B operations.
What exactly would the middle-mile operation involve? If a Swiggy InstaMart shop runs out of a certain product, a drone will be deployed to the next Swiggy InstaMart store that has the product in stock, restocking the first store. The goal is to not keep customers waiting and to get the items to them as fast as feasible.

Swiggy's non-food delivery division, which includes Instamart, Swiggy Genie, and SuprDaily, accounts for around 25% of the company's total income.
"Because the airspace is approximately one-third the size of the road network, it saves a significant amount of trip time. So, if anything is on the road, it takes a long time, whereas everything via air is much faster. The second advantage is speed, which is useful if someone has a time limit or if it needs to be delivered within an hour. Later, the company can plan on introducing a time-bound delivery with guarantee, something similar to Dominos," said Prem Kumar Vislawath, Founder & CEO, Marut Drones.
Cargo drones in India are increasing in popularity among corporate sectors as well. Previously, the government was involved in drone initiatives, but Swiggy's entry into the industry demonstrates the relevance of the technology and the fact that many people can come forward and accomplish it.
Marut Drones is looking forward to joining hands with Swiggy and has also submitted its bid response. "Swiggy is a big company, and its entry into drone logistics is encouraging many companies in India. We are willing to work with Swiggy so that other logistics and e-commerce companies can come forward and give an attempt to drone deliveries in India," said Vislawath.
"We also want to show the world that logistics in India is more than healthcare and the country is capable of e-commerce and more. With this attempt, we hope international companies will see the potential in India and show interest in Indian drone logistics."
Reliance Industries Limited (RIL) is also trying to carve out a portion of the market that is predicted to expand to $2 billion in size. According to Business Standard, RIL intends to be a prominent participant in the area, holding a major stake, through its Bangalore-based business Asteria Aerospace.
"2022 is the year of experiments while regulations, and processes are already in place and the industry is a little more organised. As a result, the year will mark the transition from validation to broad acceptance."

Vikram Singh, Founder and CEO, TechEagle
2022 - the year of drone promotion
Indian drone manufacturers are now working on the country's first heavy lift drones, which will be capable of transporting up to 150kg of freight across a distance of 150km. Because many of India's highways are notoriously in poor condition, a cargo drone might reduce delivery times, making e-commerce more mainstream and accessible to rural regions.
2022 will witness the market flooded with Indian manufactured drones because the demand for drones have gone beyond agriculture, surveillance and mining.
"Cargo drones will be useful in the Indian market because we (Marut Drones) have received several requests for cargo drones in agriculture production, particularly from North Eastern states producing turmeric, vegetables, and other crops. There is unquestionably a high demand in the country. By 2023, a large number of businesses will be offering cargo drones in the country. And, without a doubt, 2030 will be accomplishing something exceptional in cargo drones," said Vislawath.
The next phase is commercialization. The drone market is about to shift dramatically, and TechEagle's creator is looking forward to a busy year.
"The year 2021 was marked the tipping point and 2022 is the year of experiments while regulations, and processes are already in place and the industry is a little more organised. As a result, the year will mark the transition from validation to broad acceptance. The platform will be ready, and from 2023 onwards, we will see many firms emerging into drone projects. This year, we (TechEagle) will fly cargo drones in several locations and for a variety of cargo applications such as healthcare, e-commerce, hyper-local, and marine," said Vikram Singh, Founder and CEO, TechEagle.
TechEagle hopes to collaborate with B2B players, e-commerce, logistics firms, and hyperlocal enterprises such as food delivery, pharmacies, and rapid grocery deliveries after collaborating with the governments of Telangana and Meghalaya. The drone company is excited to expand across the UAE, GCC region, Abu Dhabi, and neighbouring countries as a result of its recent partnership with Astral Aviation.
Ban on drone import: What's next
To stimulate domestic drone manufacturers, the government has prohibited the import of any drones in completely built up (CBU), completely knocked down (CKD), and semi-knocked down (SKD) form. But is this a good move?
"This is a great move. The government is attempting to support the local ecosystem by ensuring that there is sufficient demand for local manufacturers. As a result, local players can spend in R&D and create a game-changing product for a feature. So the goal is to manage the input to a significant extent in order to generate local demand. And I believe that's a fantastic step," said Nagendran Kandasamy, Founder & CEO, Throttle Aerospace Systems.
While the sector is focused on how to fulfil the market demand, some players are advising the government to focus on the export of the India-made drones.
"As we are still focusing on the prohibition of drone import, we should begin planning strategies to position ourselves as a country to facilitate export. As a result, we now aspire to become the world's drone hub. We now intend to produce everything in India. So, as a drone producer, I want to scale the efficiencies, and that will only come with time. Although India is a small market, adoption will occur at its own pace. We should prioritise exports and work on such regulations," Singh comments.
"We are willing to work with Swiggy so that other logistics and e-commerce companies can come forward and give an attempt to drone deliveries in India"

Prem Kumar Vislawath, Founder & CEO, Marut Drones
India gears up to be drone hub by 2030
According to the Union Civil Aviation Minister Jyotiraditya Scindia, the government's goal is to make India a global drone hub by 2030, in which logistics will play a major role.
"Today, we are relieved that we have a target date of 2030. It relies on a variety of things whether we will complete the task on time or not. However, the government is presently working on making the ecosystem as simple as possible in order to attain global reach. First and foremost, they are settling policy concerns and now, the government is also attempting to boost demand," said Kandasamy.
India notified the Drone Certification Scheme on 26 January this year, in order to build an ecosystem that would enable easier, quicker, and more transparent type-certification of drones.
"So, although Indian entrepreneurs may produce a respectable amount of revenue, they can also earn a large profit, which they will reinvest in the ecosystem's research and development. That is exactly what the government is ready to accomplish. So I can certainly say that the present government initiative is leading India in the right route toward being a global center by 2030. However, how the next three to four years play out will have a significant influence on 2030," he added.
Over the next three years, the government plans to attract ₹ 5,000 crore in investment in the drone manufacturing industry, creating over 10,000 job possibilities. It would be interesting to see how the cargo drone sector evolves and how India implements technologies for fast, seamless, and easy freight delivery.
This article was originally published in Indian Transport & Logistics News' March - April 2022 issue.