Carlyle Aviation to pick up 7.5% stake in SpiceJet
Part dues to be converted into compulsory convertible debentures of SpiceXpress, conversion at valuation of $1.5bn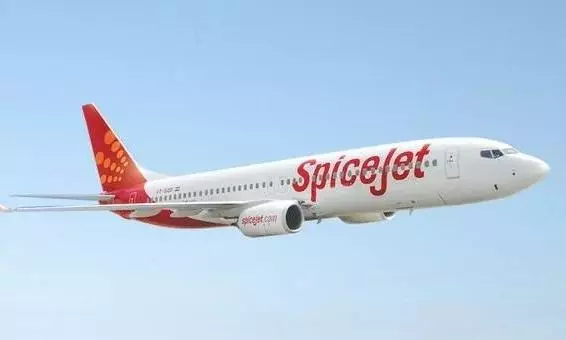 SpiceJet has restructured over $100 million outstanding dues to aircraft lessor Carlyle Aviation Partner into equity shares and compulsorily convertible debentures (CCDs).
Carlyle Aviation Partners is the commercial aviation investment and servicing arm of Carlyle's $143 billion global credit platform.
The transaction will wipe out over $100 million debt of SpiceJet, thereby strengthening its balance sheet for future expansion. The move will substantially deleverage the company's balance sheet, says an official release.
The board of directors of SpiceJet approved issuing fresh equity shares of $29.5 million or Rs 244.28 crore to Carlyle Aviation Partner at Rs 48 per share or the SEBI determined price, whichever is higher, the release added. "Following this transaction, Carlyle Aviation Partner will have over 7.5% equity stake in SpiceJet."
Ajay Singh, Chairman and Managing Director, SpiceJet says: "Carlyle Aviation Partners picking up a stake in our passenger and cargo business reinforces the huge potential of SpiceJet and SpiceXpress. Carlyle, a global aviation leader, partnering with us will tremendously boost our business and this deal would be a transforming moment of change and opportunity for us. The transaction will substantially deleverage our balance sheet thereby allowing us to access fresh funds at a competitive rate and we aim to follow suit with other lessors as well in the near term."
The board also approved a proposal to enter into a business transfer agreement with its subsidiary, namely SpiceXpress and Logistics (SXPL), for transfer of its cargo business undertaking as a going concern on slump sale basis. "Accordingly, cargo business shall be exclusively undertaken by SXPL effective April 1, 2023 or such other date as may be finalised. The consideration for the said transfer of cargo business undertaking shall be discharged by SXPL by issuance of securities in the combination of equity shares and CCDs to SpiceJet for an aggregate amount of Rs 2,555.77 crore ($308 million).
"Additionally, SpiceJet will transfer CCDs of SXPL, held by SpiceJet aggregating to $65.5 million, subject to regulatory approvals. The CCDs will be converted into equity shares of SpiceXpress at an anticipated future valuation of $1.5 billion or Rs 12,422 crore." The outlook is that the valuation is likely to be hit over the next 2-3 years, according to an official spokesperson.
The remaining $5-odd million would be adjusted in cash and cash equivalents, the spokesperson added.
The board has also sought shareholders' approval to raise fresh capital of up to Rs 2,500 crore ($301.9 million) through an issue of securities to qualified institutional buyers, the release added.